Stana Katic's Mid Length Hairstyle

Can you say "Ooh la la!"? Stana Katic gives new meaning to the phrase when she stepped out at the 2013 Billboard Music Awards (May 19th, 2013) looking drop dead gorgeous! The young actress looks positively divine. Major volume is created in this hairstyle with tons of chunky curls and awesome root lift. This is definitely a style for going out.

This look is very hard to recreate at home so grab the celebrity stylist at a salon near you and bring in a picture of Stana looking totally hot! Her hair is a great mid length hairstyle with lots of medium length cut layers. The length is probably a couple of inches past her shoulders but the curls spring up and land right at the shoulder line. A few wispy bangs help add even more drama. The bangs are a great length because they can be worn forward or flicked to the side to blend in with the curls and disappear.

Stana has a massive amount of hair and we love seeing her show it off in such a stylish way. The teasing at the roots rounds out the top of the style and it gives it a slight retro vibe. Her caramel hair color is perfection. A medium, beigy brown is spiced up with sandy colored highlights. The lighter hues are blended in beautifully to create that perfect touch of silky ribbons. The roots are slightly darker but it only adds to the depth of the color. Simply stunning!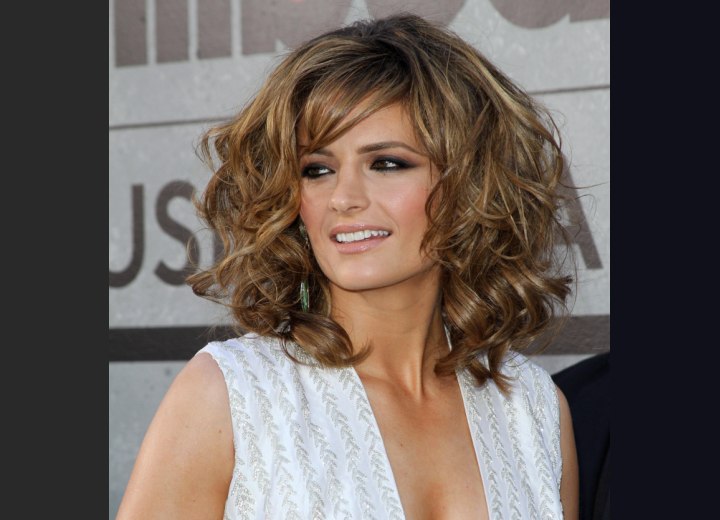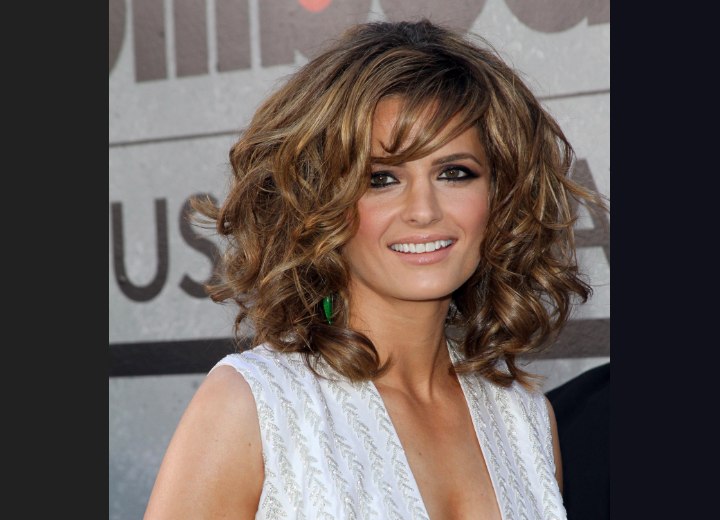 Related Post: More Stana Katic hairstyles
Photos: S. Bukley / Shutterstock