Sarah Gadon's Hair with Curls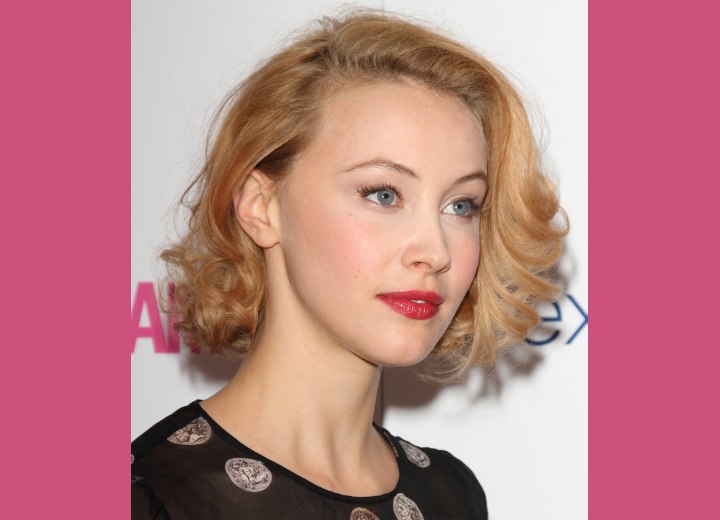 Click to enlarge

Here's a photo of Sarah Gadon at the 2014 Glamour Women of the Year Awards in London on the 3rd of June, 2014. Sarah's exquisite strawberry blonde locks are styled in waves and curls framing her face in old-Hollywood glamour. Sarah's hair actually falls past her shoulders, but is curled tightly so that it looks as if her hair is cut into a short bob.

This hairstyle is a bit more technical and may take some practice and effort to achieve yourself. Thus make sure that you practice it a few times before you plan to actually wear it to a party or event.

Apply styling-gel to wet hair, comb the hair in a side-parting and roll the hair in rollers, using medium-sized rollers. Use large sized rollers to create the larger curls of the fringe. The hair around the face is rolled in a vertical position, away from the face. Sit under a dryer until the hair is completely dry. Roll out a few rollers to check that it is dry. When it is dry, roll out the rollers and comb the hair with a boar-bristle brush to smooth out the curls. Don't over-comb the hair as this will relax the curl too much.

When you've combed out the gel-effect, finger-style the curls with the tips of your fingers to achieve the look that you want. If you have difficulty with the big waves combed to the side at the fringe part, simply use a large barrel curling tong to reform those curls. Spray the hair with a medium to strong-hold hairspray when you're done to secure the hair.


Related Post:
More celebrity hairstyles