Edged Up Bob

Sarah Harding in her first appearance on the face and body of Ultimo Lingerie on 12/05/06.

Lack for abundance is not on celebrity Sarah Harding's menu as she poses for Ultimo Lingerie. Her straightened hair is styled with an edged up bob in the back moving longer and angled alongside her face. Her top is sleek and smoothly designed to meet her sides beginning with a straight part.

Should you desire to have this most attractive look, you are to tell your stylist you would like a bob with a clipped up back. Yes, we are talking about being almost shaved. How high depends upon you and your stylist. The other hair will fall partly over the clipped area and begin to graduate in length as it moves to the sides. The top will be parted on one side and measured to be in sync with the longer angled sides that will point to your chin. Use a flat iron along with a styling aid for stability.

Her color gives a blast from the past into the whitish platinum color so prevalent in the 1960s. Completely fashionable for today is her darker new growth that lends contrast and depth for her eyes. Considering Sarah's hair color, most hair would have to be completely bleached out to a high pale yellow to achieve this tone with a white platinum toner applied afterwards and plenty of conditioner. I would not advise this if you have fine, delicate hair.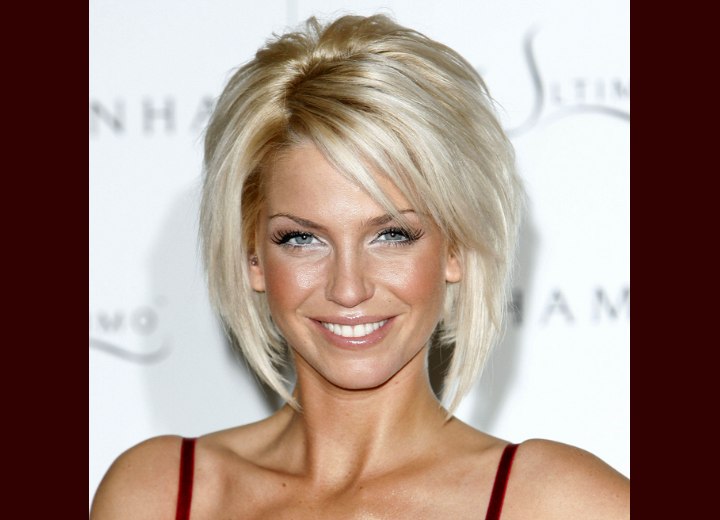 See also:
Short celebrity hairstyles
More Sarah Harding hairstyles