Brittany Flickinger & Rashida Jones
Rashida Jones - 07/15/2009


Rashida Jones wears her informal hairstyle patterned with thick wedges of hair chunked over her forehead and brushed back and over the shoulder in lazy messy curls. I can easily envision Rashida with her hair up and fastened in the crown with a cluster of curls. The bangs would remain much the same and her earrings would be something like a centerpiece on a table and be displayed much more. Her swan neck has such a feminine quality and would be the bridge between the white dress and her hairstyle.

Rashida's pink lip tint brings a sparkle to her eyes that have eyeliner on the top, smoky and beige shadows, lashes and mascara, lovely blended brows and bronzing/blush.

Brittany Flickinger - 07/16/2009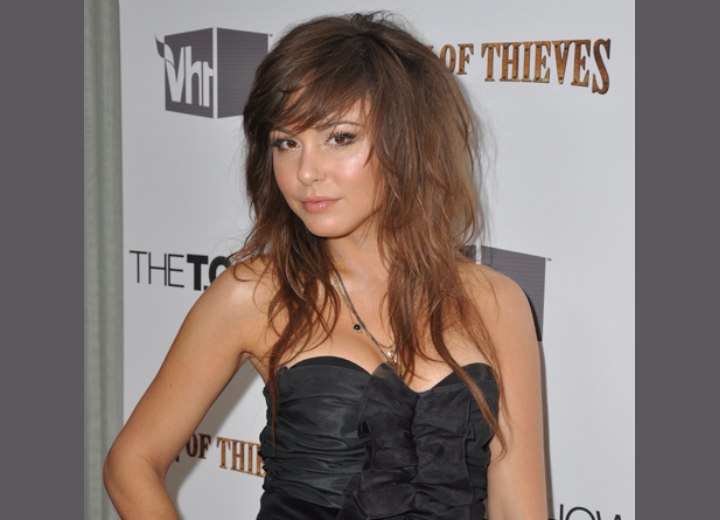 Click to enlarge

There are plenty of poufs in Brittany Flickingers's long layered hairstyle, with blown sections of her hair styled crossing her forehead and stretching out to go over her brows. The fluffiness is mostly in the crown where her shortest hair is as we can see the wisps of hair that are scattered around her face. The longer parts of her hair wind around the front part of her dress in spindly threads. Tip: one way to achieve a good amount of billowy pouf is to blow dry your hair with your head positioned upside down and when you pop your head up, coat underneath the hair with hairspray to keep the volume.

Brittany's eyes are "attrayant et tout a fait beau" and she wears her eyebrows in a tweezed form with a little shading to slightly darken them, there are light mixture of subtle shadows, eyeliner, lashes and mascara, light translucent blush and lip tint.

Her strapless black dress is gathered vertically in the front with one large ruffle that climbs up to the top.