Drew Barrymore & Marlee Matlin
Drew Barrymore - 04/14/2009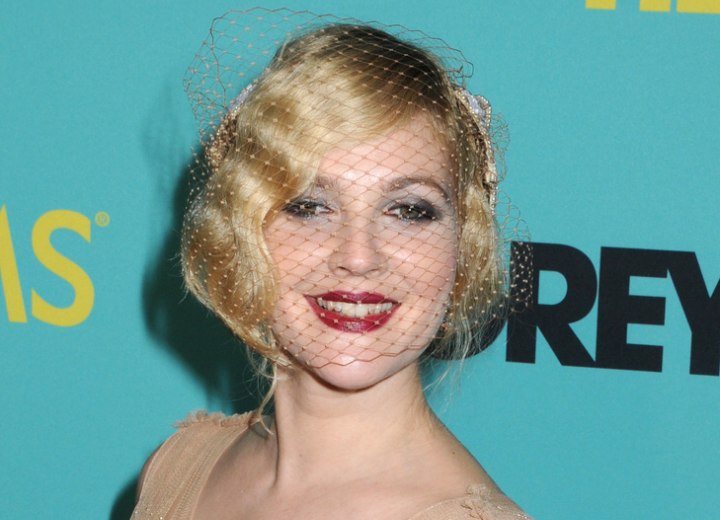 Look at Drew Barrymore! She has blonde hair again! Remember when she went gradually brown? I for one, watched her graduation to the brown to see how long she would keep it. Take a look at her hairstyle! It looks like a page out of a 1930s magazine. Her hair is styled to look short, complete with the waves, but in reality; the back of her hair is styled up; and that is a sign of a good hairstylist. You simply take the back sections of your hair and put it up in a twist or knot. Then, take the rest of the hair and make your waves. Here we can see Drew has an old fashioned hat on with the netting over her face. What a refreshing change and very formal looking. Chic!

Under her veil gives a little bit of mystery and hidden appeal to Drew's make up and she is wearing plenty. Darker brows, light blue shadow, eyeliner, lashes, mascara, a hint of blush and ruby red lips! Her whole look goes well with her sexy flesh toned evening gown.

Marlee Matlin - 04/14/2009


Marlee Matlin has lightened her hair through the lifting processes of an array of lighter browns and blondes. The lighter colors soften her facial lines and put a little bit of warmth in her face. Normally, her hair is a medium dark brown. Tip: If you are thinking of highlighting your hair and are considering putting a bit of red in it, there are two ways you can look at this; one is to remember that most browns already have a base of red in them and when the slices begin to fade you will have a pretty caramel color already. Try this color out first before you choose an additional red. Two: When you bring your hair up a couple of levels like Marlee, there will be plenty of red for you to see if red is really for you. If the colors are still not dynamic enough for you, go for it! Marlee is keeping her long layers into a smooth structure that reveals the angles along her face. Just a small part goes a long way to magnify all those light and dark tones in her hair.

Marlee wears light bronzing/blush, a little darkening brows, light to medium shadow, eyeliner, mascara and a rosy coral lip color. Her black turtleneck lends a stunning effect next to her hair and the grey knitted top over the shirt neutralizes anything that might be too brassy.