Eva Longoria & Sofia Milos
Sofia Milos - 03/31/2009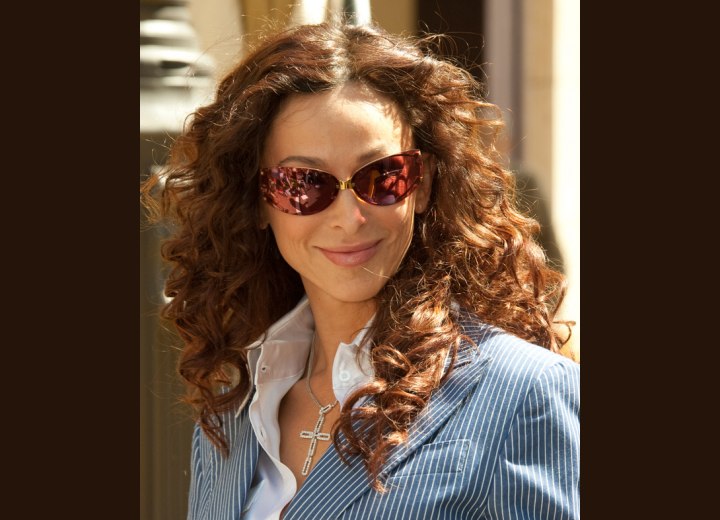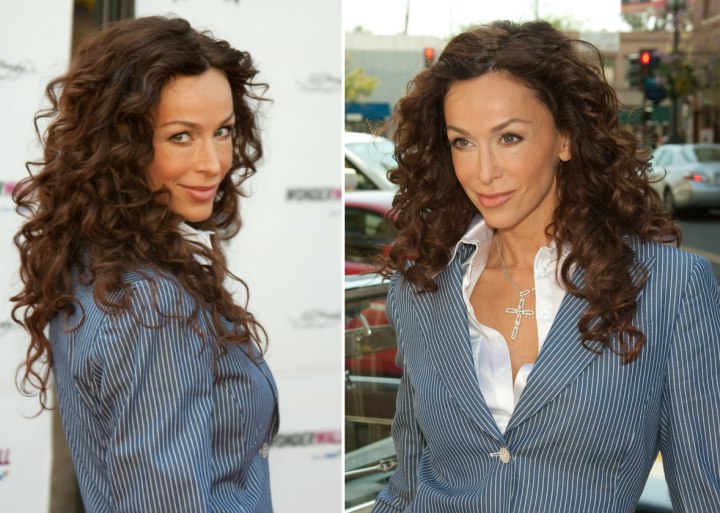 (Click to enlarge)

Sofia Milos has gorgeous cinnamon colored hair that is shaped in long layers and probably has a body perm in it. Her long spirals have been selectively placed to fall upon each other in a disarray of curls like that of a lion's mane. Her hair is kept out of her face with both of the sides sprayed especially at the roots to allow for the volume of pouf along the head. Tip: there are several types of sprays you can use for your roots to achieve this volume while you are styling. One such spray is called "0Frederic Fekkai Full Volume Instant Root Lifting Spray." There is also "Fudge Root Juice" and "Kenra Root Lifting Spray" to only name a few that you can find online. I haven't tried them, so cannot attest to their claims, but feel it would be worth a try if you have long hair like Sofia and like her hairstyle.

We can also tell from Sofia's picture that she is a naturalist, as her makeup is involved with bronzing, muted soft shadows, eyeliner, mascara and transparent lip color. Everything points to looking natural today, even though I estimate 98% of women still tint their hair in one way or another and wears oodles of makeup. The whole idea is to appear like you are a natural beauty.

Eva Longoria - 03/31/2009


Eva Longoria is always full of surprises, especially when it comes to her hair. Remember when she was wearing it in a bob? How did her hair get this long so fast? Is it extensions? Only her hairdresser knows for sure. One thing is for sure, she likes to keep her hair in about a three to four levels up from her normally dark brunette hair and seems to favor a smoother look most of the time as pictured in the photo. I think she also favors a center part so she can have the desired wings that ride along each side. To accomplish this kind of hairstyle for yourself, be prepared to use a lot of heavy product while you are styling your hair. Note the thick bulky look of Eva's hair. This has to do with the type of gel her stylist used. Smoothing serum is another finishing touch after you are done to calm the cuticles back down from all of the heat of the blow dryer.

Tip: something to remember is that one size doesn't necessarily fit all when you are shopping for gels to use while styling your hair. Today there are gels for thin hair or thick hair and curly and straight. If you have naturally curly hair and desire a smoother appearance, you will want a straightening gel to use while you blow dry your hair. There are products for every hair need.