Simona Ventura & Uma Thurman
Valentino Garavani Designer Exhibition 07/06/2007


Italian celebrity Simona Ventura used to have long dark hair that matched her olive skin. As you can see, she has opted for the trendy bob we are seeing on more women today. Having her shorter hair gives her a more simple look and she can be sure in knowing, that whatever she decides to put on; she will look very good. Allow me to explain how this happens. Your hair is something like icing on a cake, if it has too much icing it looks overly done and fat looking, but when the icing is properly applied; it makes the whole cake look more appetizing.

Here is another example for you: Look at a nail. You know, one of those little things you use a hammer with to connect things together. The top is flat and larger, but not exceptionally bigger, than the body. Notice how streamlined the body of the nail looks? That is because there is a lovely contrast with the head of the nail and the body. If the nail head hung down half way below the top, the body would not look that long. There are shorter nails with larger heads, that make the body of the nail appear short. Case in point: when you have shorter hair, your clothes will look better on you, because you will appear thinner. No wonder some people shave their heads!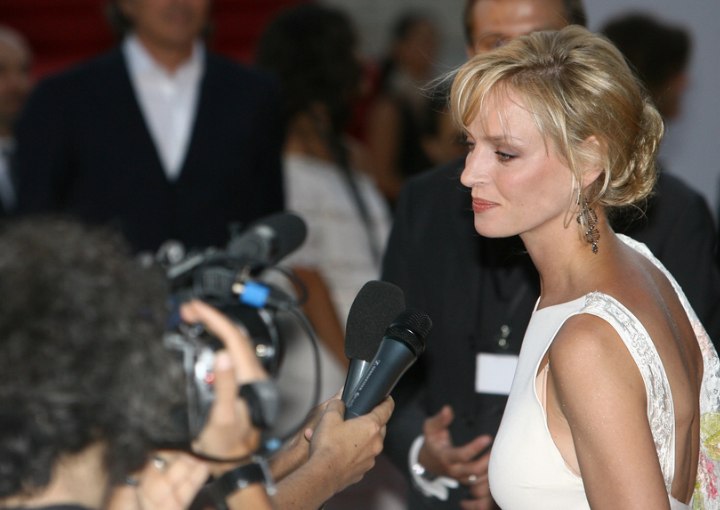 This character actress is one of the best I have seen. She has many successful films to her credit and one of them was the highly acclaimed, Pulp Fiction that was based on Danish actress Anna Karina. And, did you see Where's Bill? Outstanding.

You never really know how Uma is going to look when you see her. Uma Thurman isn't afraid of change, but does try to stick to something that works for her hair. She has naturally blonde hair, that is tinted to bring the color level up a few degrees. Her hair has been brushed back and secured with a hair comb or clasp. Then, her hair is gently styled around into a oblong chignon that flatters her profile. The top has wisps of hair that hangs around her face and thin tweaked bangs that could lay in anyway she would desire. Her total look is amplified with the earrings she is wearing and the lovely dress that is so flattering.

Do I like to watch Uma, when she is acting? Yes, because I know there is going to be some kind of challenging story involved that will keep me on the edge of my seat.