Brittany Snow & Elizabeth Banks
Elizabeth Banks - 03/06/2009
Elizabeth Banks is wearing a long shag haircut. The top is exceptionally long with a lot of chunkiness involved and is combed away from the face in subtle waves. Her hair in the back brushes her neckline in small flips and poufs and could be the cause of Elizabeth having a little bit of natural wave. If you desire the smooth bulk that is preformed on her head, use a jumbo curling iron to straighten and smooth your hair in large sections and comb away from your face.

Elizabeth is wearing a dressy scooped front neckline with large gold earrings. She is wearing her make up in neutral tones that appear quite accommodating with her dress. Warm appealing shadows, blush, mascara, eyeliner and a muted lip tint are all excellent choices for today s trend of going natural.

Brittany Snow - 03/07/2009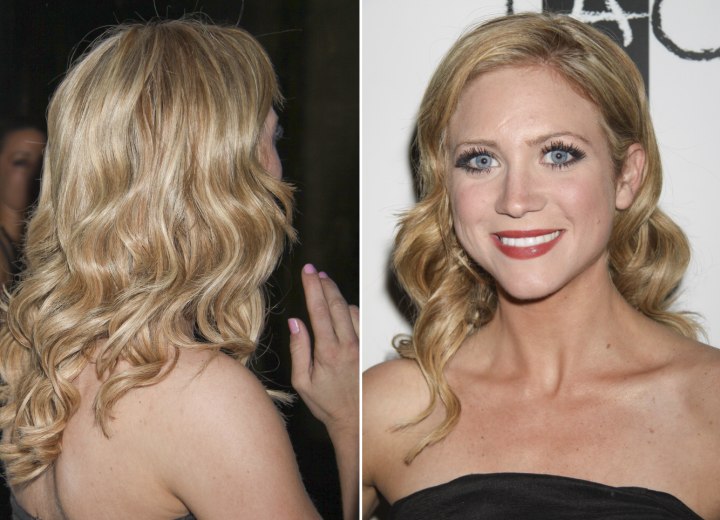 Brittany Snow gives us a glimmer of glamour from the past with her long hair tightly combed close to her head and coiled waves hanging easily around her shoulders. The use of a coiling iron would assure the idle coils. The multiple streaks in her hair are complimentary shades of various blondes that range from gold to the lighter tones. There are also tweaks of darker brown and maple hues that favor the blonde shades.

The way we apply our makeup can give various first impressions to the onlooker. Brittany has ultra thick lashes with a lot of mascara accompanied with thin brows, similar to the way they wore it through the thirties and parts of the forties. Her whole look gives smatterings of yesterday. Her lip color is a very attractive light rose red and is an excellent choice for her coloring and her blue eyes.

Tip: If you haven't changed your hairstyle yet, why not experiment with medium sized rollers and when dry, brush out vigorously to catch the enviable waves that are becoming so trendy for today.