Mikalah Gordon & Audrina Patridge
Mikalah Gordon - 02/07/2009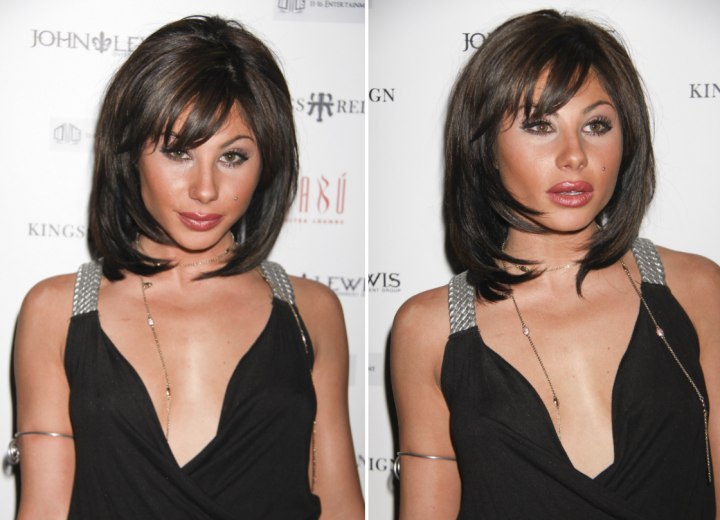 Click to enlarge

Mikalah Gordon has average length layers in her hair that are angled around the frame of her face. The individual sections of hair that we see are made with smoothing serum. Use the serum generously if you desire this type of look. The top is combed over from the side part to bring a few scattered long sections over the one eye. The rest of hair is blended over the sides. Blow drying under will achieve this hairstyle. Just about every hairstyle that you see has plenty of helpful products used to accommodate the coiffure they desired. Test and try them for yourself. Mikalah has a good average length that could be put up into a graceful abstract of fans or away from the head with curls plunging from the crown. Her hair is both short and long to develop many other hairstyles.

Mikalah's colors on her face are blended pretty well in light and smoky shadows, mascara, thick dark eyeliner, bronzing and blush and a shimmering coral lip tint. The secret to a good make up job is always in the blending. It is something like the flow of a good haircut.

Audrina Patridge - 02/08/2009


Audrina Patridge has gorgeous reddish brown hair that has slices of gold and a dark brown paneled throughout her hairstyle. With all of her hair brushed over to the one side, the stylist has creatively brought the whole of her hair into many large rolls being careful not to be too neat, but allowing a few stray thin wisps of hair to have their way. The bangs are combed over from the part into the straight mode we see today that is across her face to interlace with the roll on the side. For the most part, today's hairstyles are not arranged to be a neater than neat look, there are usually poufs of hair purposely escaping from the hairstyle or thin whips of hair that look like they need to be combed somewhere on the models head. Try this updo for yourself and don't worry if it looks unkempt, you'll be right in style.

Audrina has stunning light golden brown eyes. If you are one who doesn't especially care about the color of brown, one look at Audrina's eyes will change your mind. The makeup she is wearing is an orange/brown shadow, eyeliner, lashes and mascara, bronzing/blush and bright orange lip tint. Seriously, take a good look at her bright orange lip tint. I personally feel she can get away with it quite successfully, but someone like Angelina Jolie, no way!