Scarlett Johansson & Jennifer Aniston
Scarlett Johansson - 02/02/2009


Scarlett Johansson wears her long hair in a super straight structure with chopped splayed ends that hang down her back. Her color is a reddish brown that shines from the glossy spritz. Be sure to use generous amounts of thermo styling setting lotion when you blow dry and iron. Apply smoothing serum to achieve the thick look we see in the photo. Her makeup is a combination of a light foundation, heavy eyeliner, light blended shadow on the lid and a warmer color blended upon the bone of the eye that has been brushed unto to the outer ends. There is a little color on her cheeks, a few penciled strokes in her brows and a moist lip tint. This is today's look. Usually, heavy on the eyes and light shading and blending everywhere else. The warmth of her shadow and the color of her hair is the bridge that connects the two together. The flowery strapless dress is a ray of sunshine in an otherwise wintery day.

Jennifer Aniston - 02/02/2009


In some parts of the globe, Jennifer Aniston has become a household word because she has already appeared in so many movies. She is wearing her hair in a casual ponytail that reveals her multitude of blonde, brown and caramel stripes, there is also the heavy bangs that drag over to the side and down the face. Ever the beauty with a smiling face, her makeup includes an abundance of bronzing, light and warm shadows, thin eyeliner, lashes and mascara, thicker brows and a neutral lip tint. I'm glad to see Jennifer with the thicker brows as it softens her face and she looks more attractive.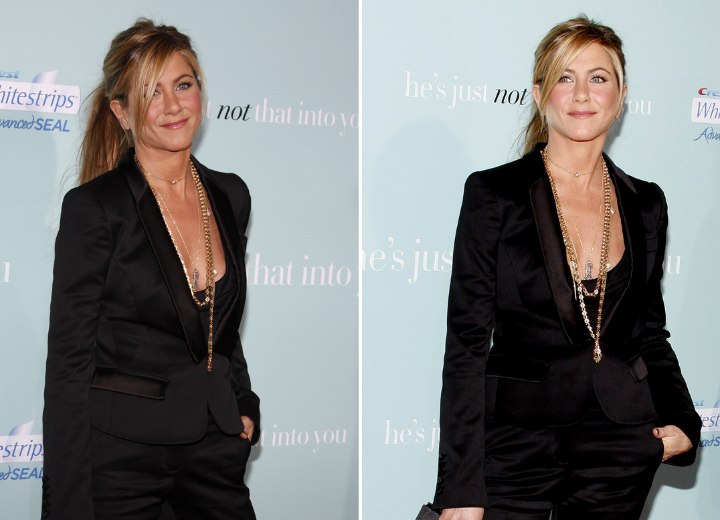 She is wearing a dark suit that plunges down her chest with the gold chain. Let's envision something different for Jennifer. Keep her hair up in the pony and wrap the hair around the band instead. Let's put a gold satin long sleeved blouse under her suit coat that requires gold cuff links. The final touch would be small gold post earrings. What do you think? Can you see it? Tip: Remember, just because the trend in fashion moves into a certain direction doesn't always mean you will look good in it. Nor does it mean that it is attractive. If you want to be classy, forget about the latest fashion trends and think about acquiring tailored made suits that will always be in style. They will accent your positive attributes and minimize your negatives. Another thought, you may have a gorgeous face, body and nice outfit, but unless your hair is fashioned into a good clip; you will still look unkempt and sloppy. This applies to all ages.