Rachel Roy & Kate Hudson
Rachel Roy - 01/05/2009


Rachel Roy has a rich Tami look, with thick straight dark hair and olive to dark skin tones. A crooked slanted side part is established with a flat iron following through to the tip of her shoulders. Smoothing serum and gloss is applied in generous amounts to get the thick appeal and the sheen we see in the photo. Her eyes are rich with depth with thick brows and a wide eyed charm that makes her an easy wear for thick eyeliner on the top of her eyelids. Smoky browns and taupes are blended for shadows with subtle bronzing and very translucent lip tint. A large golden bauble type of necklace gives the appearance of making her seem smaller than what she is and most unusual are the delicate wiry earrings. A purple and black colored arrangement for her attire is second only to the necklace.

Kate Hudson - 01/05/2009


Kate Hudson is one of those unique beauties who you just do not forget once you see her talent on the screen, just like her mother Goldie Hawn, yet; Kate is definitely her own person. Kate wearS her hair in shy strawberry blonde colors that has many lighter streaks of blonde panels for contrast. Kate seems to be a natural, no added lips or elsewhere and this is what makes her so special. She is wearing a slanted part that is combed over to one side of her face, while the other side is coiled in messy idle curls. The back is gathered together and positioned in a braid along the nape of her neckline.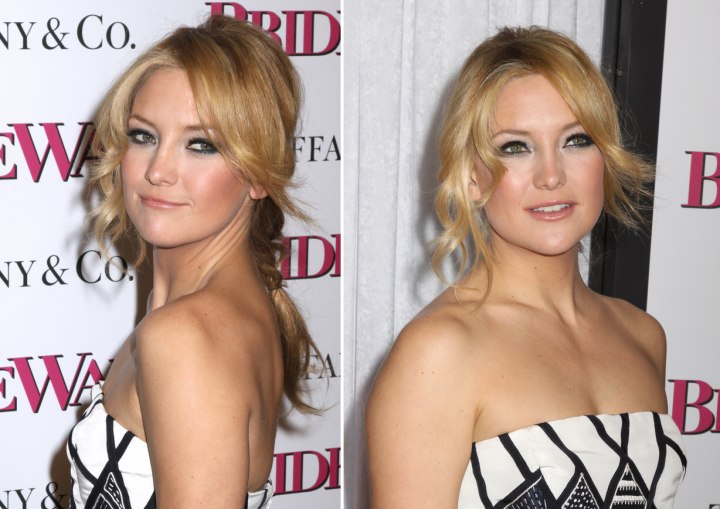 Kate has the perfect oval face and can wear any hairstyle imaginable. I'd like to have a little fun with her coloring and add a little bit more red to her hair because it would definitely bring out more of her blue eyes. Seriously, does she not look like a young Ann Margret? Heavy eyeliner, flicks of penciled brows, lots of blue tones of shadow, blush, bronze and light pastel lip tint makes up our photo and Kate can wear it all, because she is young! Tip: something to think about when you are applying a shadow. The metallic, glittery shadow that Kate is wearing won't look good on you if you are "mature" because it will reveal your webby, alligator skin. Better to stick with light blending of flat shadows.