Rachel Smith & Amber Stevens
Rachel Smith - 05/01/2008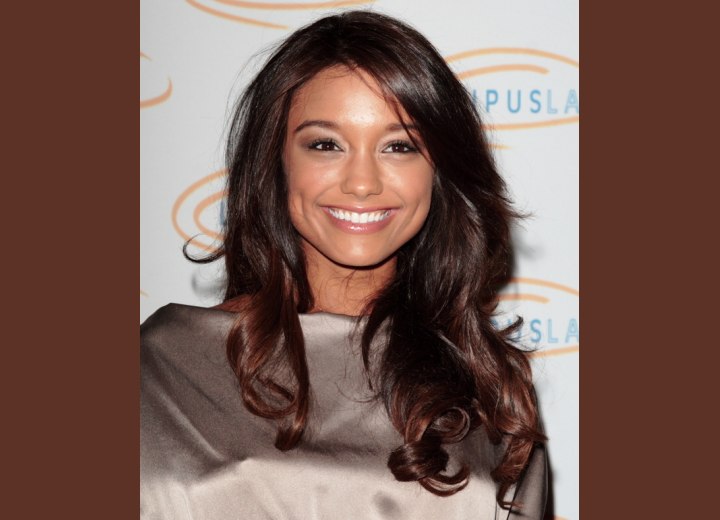 Click to enlarge

Rachel Smith's lovely smile gives an added appeal to her long chestnut hair. Clipped in layers with an off centered part, the top area is a dark brown combed smoothly with just a slight edge over the side of her face. For a contrast, the ends are warm brown in spiral curls that lie below her shoulders.

Warm olive facial hues are encouraged with some bronze, light shadow, a small amount of eyeliner and a neutral lip color. To give the illusion of appearing as natural as possible is trendy for today. "Why darling, I always look this way when I get up in the morning!" That and buying the Brooklyn Bridge will get you a free ticket to planet Pluto.

Is the dress silver? No, it is grey! No, it is silver! Let's call Rachel's dress a light silver grey, then, everyone will be happy. You must admit, it looks smashing on her, because the color is so close to her face. The contrast with her reddish brown ends on the grey magnifies the red! Tip: Wear your colors as close to your face as possible and see what it does to your skin tones and your eyes. Many a beautiful dress is wasted because it doesn't do anything for the eyes or hair of the wearer.

Amber Stevens - 05/01/2008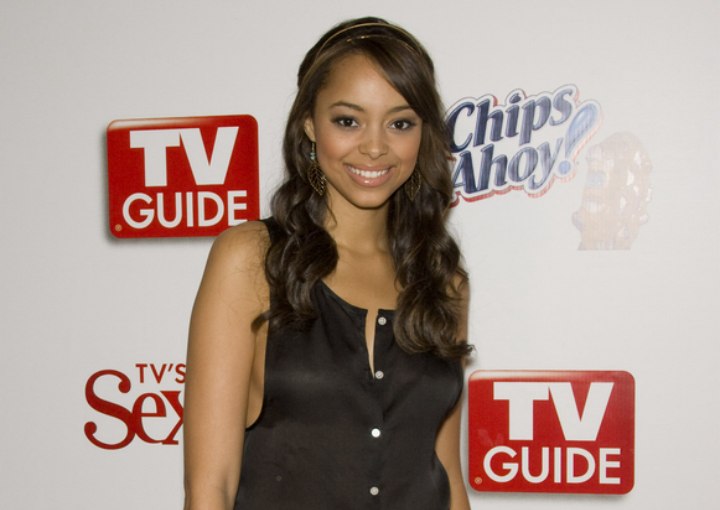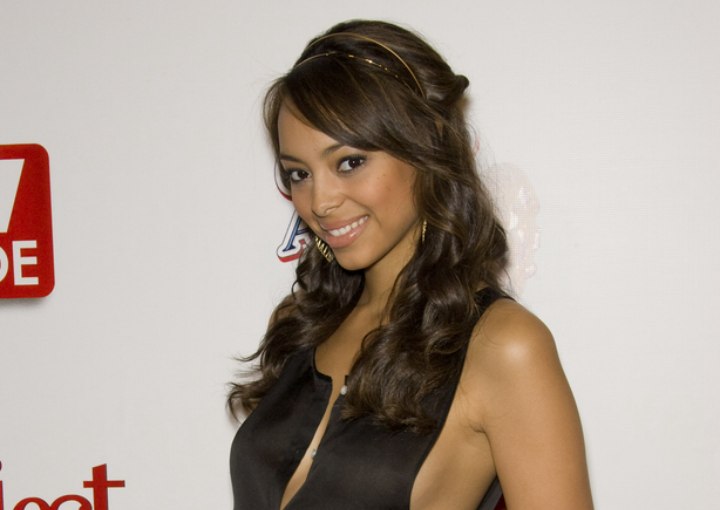 (Click to enlarge)

Amber Stevens presents a winsome expression with long brunette layers that rest in spiral curls below her shoulders. Beginning with an off centered part, the heaviest area is combed smoothly over one side of her forehead and integrating with the rest of the hair. Two hairbands are set on the top to divide the crown from the top and a section of the sides.

Complete with olive warm tones, Amber presents an earthy look with bronzers, light blush, light eyeliner, lower smudges and medium shadow in the outer corners of her eyes, mascara and a light pink neutral lip tint. Tip: With the natural make-up that is so in vogue today, when blending your brows, make small strokes that would be comparable to your own brow when darkening or filling in the gaps and always use your brow brush to blend.

Super trendy low rise jeans are compatible with Amber's dark grey sleeveless silk blouse that is tucked in under her jeans and an addition to her fitting combination is the basic black purse.