Lindsay Lohan & Eva Longoria
Lindsay Lohan - 07/17/2008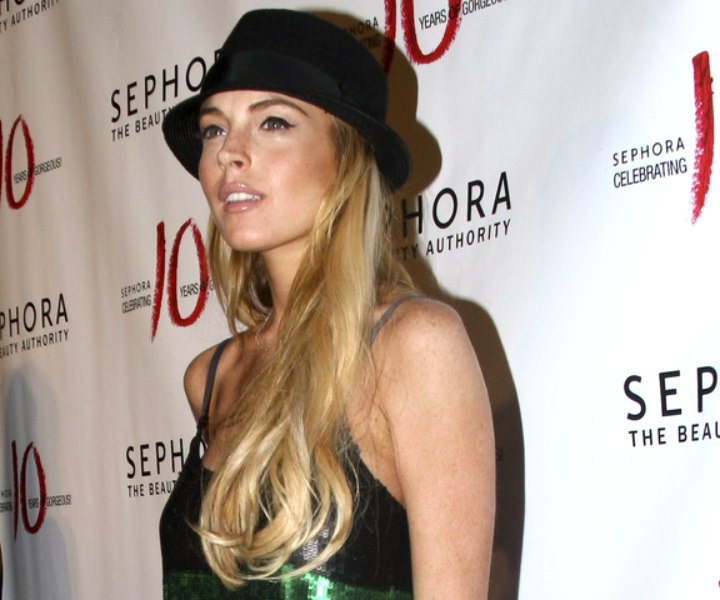 Lindsay Lohan has become a young woman and looks a little bit like a young Sharon Stone. Instead of her signature red color that we are so accustomed to seeing her with, we find her with very long taffy colored hair that lies way below her shoulders and complete with a black ribbon fedora.

The whole idea of looking this great is to not look like you are wearing scads of make-up. Lindsey fits the bill, with the exception of her thick eyeliner, but that is quite suitable, because she barely has mascara on the lower lashes to make up for this luxury. With a light luminescent green shadow, she readily brings out the strength of her blue-green eyes. Touches of pink glaze are monitored on her high cheek bones and mouth. Our darling is wearing modestly small jeweled earrings that add to her beauty and fit well with her hat. Wouldn't it be nice if hats came back! We'd be saying, "Hey, wait just a second, I forgot my hat!"

Eva Longoria - 07/21/2008


Eva Longoria is wearing her hair combed over to one side and cut into a short bob that tips the top of her collar. The bangs are kept long to ride upon her brow in a small rise that falls into the gentle swoop. The different sheets of color bring a three dimensional appearance with the darker brown that is in between the lighter shades. Use your thermo styling gel and the tool of a large round or flat brush that will come in handy when you begin to blow your hair. Always begin underneath the bottom of the hair. Although, you may not be able to have the foiling done at this time, it is imperative to begin your new look with a professional haircut. Communicate with your hairstylist so that she knows what you are expecting in your new style. Do everything you can to relate to your stylist, bring snap shots or pictures and this will help give them insight.

Eva has lovely sharp clear brown eyes and makes the most of them with light shadow on the upper lids and dark outlines on the top and along the bottom. There are light flecks of fillers on her brows that happen to be a tad lighter than her hair or the darkness of her eyes. Viva La Difference!