Nadine Velazquez & Camille Belle
Camilla Belle - 05/07/2008


Camilla Belle has luxuriant rich brown hair that is sectioned into a short side part and designed with lazy spirals resting below her shoulders. The top is brought over to one side in a smooth line, framing the side of her forehead and then, mixing in with the rest of the long hair. Use your large medium spiral curling iron and don't forget the gloss.

With fair to medium skin tones, Camilla's brings out the pink colors in her skin with subtle light bronzing, smoky taupe shadow, eyeliner on both the upper lid and lower, mascara and neutral lip tint. Camilla has an old world Brazilian look that can only be achieved by those who are born with it, or by applying heavy make-up. The thicker brows are a rare commodity and lovely approach to the natural theme for today.

The praise of a dark gray and parrot green satin outfit with a high neckline increases the soft neutrality desired and looks smashing next to her face!

Nadine Velazquez - 05/12/2008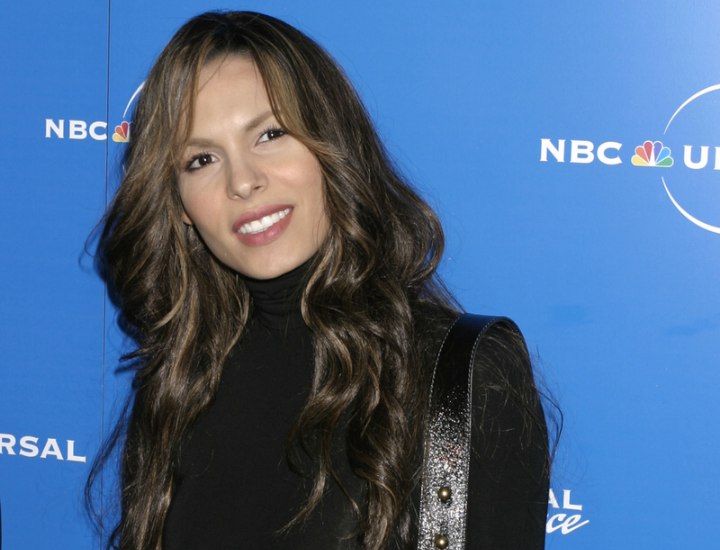 Click to enlarge

Nadine Velazquez displays her animated brown hair in long layers with a part on the side and styled with large spirals moving away from her face. Stripes of dark gold/caramel become apparent while studying the smoother areas along the top and the crown. Generous portions of gloss were sprayed to achieve the high shine.

The whole idea of today's make-up is to be able to wear as much as you'd like, yet give the illusion of being beautiful naturally. Nadine is a prime example of this very thing. Wearing very light foundation to match her light complexion, the hint of blush can barely be seen. There is eyeliner, mascara, brushed brows and a neutral lip tint to add to the charm of being earthy.

Soft black is back, but did it really ever leave? Nadine wears a tight turtleneck hugging her top and tucked in below her belt, along with the accessory of her purse with the picture of the large shoulder strap.