Jennie Garth & Sharon Lawrence
Jennie Garth - 04/24/2008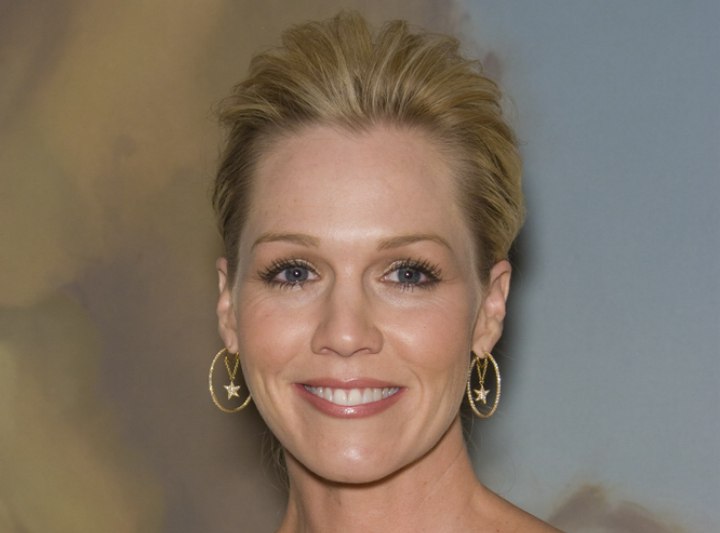 Jennie Garth is all dolled up, with all of her hair brushed back and coiled into a chignon centered in the middle lower section of the back of her head. Note the different levels of blonde that build the natural momentum to her hair. Jennie has white pinkish tones in her skin and is basically a natural blonde, although she could probably wear strawberry blonde, the pink hues brought out from the reddish color might be too much.

Light appealing tones in her make-up give her the natural appearance that is so becoming on a day to day basis. Tweezed eyebrows with hints of a darker blonde help mold her blue eyes that are lined carefully on the upper lids and tasteful touches on the bottom. Here is a little secret: Everyone wears concealer usually in the corners of their eyes. If your eyes are set a bit too far apart, wear darker concealer and this will help bring them together. If your eyes are too close together apply a lighter tone. The light neutral tone of Jennies lip tint blend well with her overall appearance.

Jennie's most unusual gown has silver on the top that runs into black and then stationed with gold on the bottom. Silver was a good choice to wear closest to her blonde hair instead of gold. If it were the other way around, the gold sometimes brings out more gold in blonde hair. The color silver will tone it down.

Sharon Lawrence - 04/26/2008


Sharon Lawrence wears medium length red hair with a few thin defining lines of a lighter hue that keeps her haircolor brightened. Styled in a semi blunt fashion with long layers moving down from the top and choppy jagged bangs completely full of moxie! The ends have been edged bluntly completely around the hair.

With radiant pink undertones, Sharon increases her warmth with the red hair building a resplendent picture to behold! Look just a little bit closer and you will see how the irises in her eyes reflect the coppery tone in her hair. Dark shadow has been applied on the eyelids closing the appearance of the eyes and the thickness of her eyebrows lends a young and gentle image. Thin eyebrows can generate a harsh, strict image if the model cannot wear them successfully. The final touch is topped with a rosy coral lip tint that brings a hint of perfection to Sharon's overall appearance.

Sharon's dress is a classy silver tone with reflections of the color of her hair in the undertones of the fabric. The coppery color of Sharon's hair, her make-up and dress, reflect good taste for a very youthful touch!