My Face Type (2)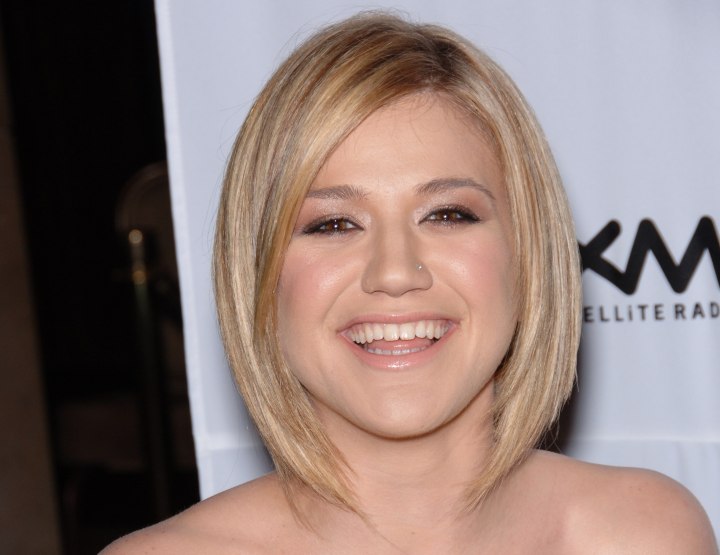 Previous Page

2. Round shape is not perfect, but can look it with just a few touches of make up and the right hairstyle. With a round face you will see a rounded hairline and a round chin line. Our whole objection here is to creation that object of illusion.



Kelly Clarkson wears her hair straight in a bob and just below her chin. She has bangs that go straight across one part of her forehead giving the illusion of a more oval face. Her eye make up has a light covering in the corners of her eyes to spread out the space between them with a burnt brown shadow beginning in the center and moving toward the ends of her eyes.

She is wearing heavy eye liner on the top of her lids and below to bring focus on her eyes. Her brows have been subtly darkened for the attention getter that she is. Her lips are a neutral beige pink, as is her blush on the apples of her cheeks.

Natalie Portman, born in Jerusalem, had much more of a rounded face when she was younger. Although, her lines are still there, is not quite as obvious as they once were. She wears her hair long, but not necessarily touching her shoulders with waves sprinkled about her face. Her facial color is an attractive tanned olive with a natural bronzer applied all over to appear very healthy and fit. Her lips are full as she colors them with a neutral watermelon to harmonize with the rest of her look.

Her eyes have just a little bit of natural light coloring crème in the lower part of the inside of her eye. She is wearing a neutral light tawny shadow on her lower lid, with a taupe brown on the upper lid from the middle into the outer corner of her eyes. There is a smudge eyeliner on the bottom of her eyes and only streaks of color drawn in her brows. With her mascara makes her incomparably beautiful.




Chaka Khan is a good example of today's woman with big hair. She has one of the most beautiful smiles in Hollywood. This is a another prime example of the beauty of a round face. She chooses to wear her hair in curls and waves flowing all over to balance out her body shape.

Arranging her hair on top of her head would help minimize the roundness of her face and slim out her body. She wears a lot of eye liner up and down and bronzes her face, along with a good blusher just below her cheeks to bring in that break where needed. She has wide generous lips that greet others with that vivacious personality she naturally has.

Next Page