Bridget Moynahan's Shag Layers Haircut
Bridget Moynahan is probably most widely recognized for her big movie break in the film Coyote Ugly, and later starring opposite Will Smith in I, Robot. Ms. Moynahan is a lovely woman and a fresh change of pace from so many of the blonde clones in the entertainment industry. Her wavy hair has a beautiful mix of hues, ranging from warm auburn to rich chestnut tones, and dark chocolate. The color makes a fantastic medium for many sexy hairstyles.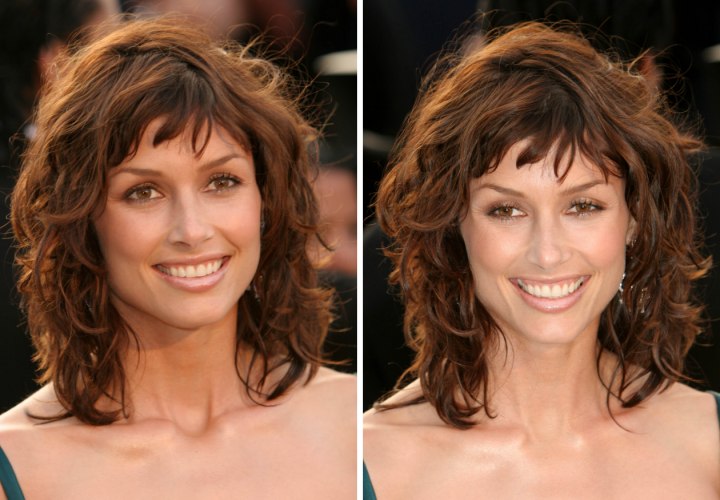 Click to enlarge

The Cut:

In the photo shown, taken at the Vanity Fair Oscar Party in 2005, Ms. Moynahan's hair is cut in heavily-textured, shag layers with a choppy fringe/bangs area. This cut can be achieved by sectioning the hair in the standard seven-section parting with a half-inch perimeter hanging down. You should also leave down a deep triangle of hair at the fringe area.


Cut the perimeter with softly curved fringe area and rounding down along the sides to the base length at the side and back of the head. Once the perimeter shape is established, take down the top section and determine the length you want for the upper layers of the hair by cutting an initial guide cut at the top center of the head. Bring the hair of the rest of the section up to this central point and cut it using this stationary guide.

Continue with the cut by raising the hair of the other sections up to the guide point and cutting it. The end result should make for a horizontal plane if you hung your head upside down. After the cut is completed, you go back over the cut and add texture by cutting steep notches into the layers, including the bangs/fringe area. The finished style is a funky, layered look with lots of visual interest.

Next Page