Blake Lively's Long Hair with Applied Braids
Everyone wants to spice up their look now and then without falling into a complete makeover or settling for a trend that will be out of fashion in a few weeks and have to be grown out. So let's look at some style quickies that can take a simple classic style and jazz it up. This time around, our inspiration is Blake Lively, television's Gossip Girl and costar of the hit Sisterhood of the Traveling Pants movies.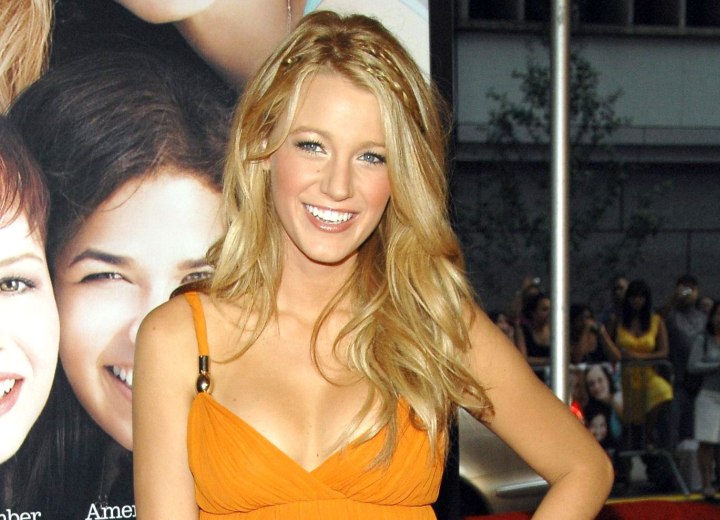 Click to enlarge

Blake is a beautiful young woman with a head full of lush blonde hair, somewhat fine in texture and mostly straight. Her color is a blend of creams, beige and honey that is very natural looking and that many women would sell their boyfriends for. The cut is a razor-executed long-layered cut with smooth texturing to create softness and allow for a lot of play with the light and shadow.

To get Blake's lovely look, assuming you have a similar cut and a color you're happy with, start with freshly washed hair that is well-conditioned and towel-dried gently. Use plenty of protective products and blow dry the hair in sections until it is almost, but not-quite, completely dry. Dry the hair on low air and low heat settings using your fingers to lift the hair at the roots for added volume. Use the fingers to comb through the hair with a touch of smoothing serum and create a parting that is off-center and more natural looking. (No crisp dividing lines here.)

Follow up by using a dab of pomade on the fingers and rake through the hair to smooth the layers and add some definition. Helping the hair form natural-looking, thick locks will enhance the play of color and reflectivity. If desired, you can use extra-large Velcro rollers to add extra curve and bend to the hair. Just roll large segments on a roller, warm it with a diffused blow dryer, and allow the hair to cool before you take the curls down. Then comb them out using the fingers or a very large toothed brush.




The very special key elements in Blake's look, though, are the judiciously applied braids. This is a case of using the hair as its own accessory. Taking strands of the hair an inch or so from the parting and braiding them into simple queues that are then styled in with the layered hair, adds a visual interest and can be used to control the hair better by anchoring them near the scalp under the rest of the hair.

Braiding of the hair has been used by women of all ranks and stations throughout history as styling technique, design element, functional style, and adornment. Here we see a clever, modern way of incorporating a simple braid into a hairstyle and adding interest, and even function (if desired). At the very least, it's a cute look and one many women will find flattering.

Stacy - Hair Stylist ©Hairfinder.com