Antonio Banderas' Slicked Back Curly Hair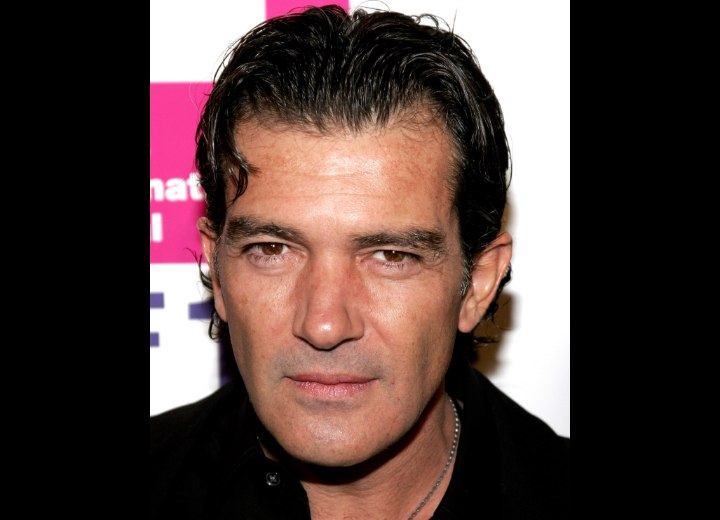 Okay, here's one for the gentlemen out there. For years, Antonio Banderas has been considered one of Entertainment's sexiest men. His suave latin features and dark curly hair have made women swoon worldwide.



Banderas was already a major film star in his native Spain when I first saw him in Madonna's documentary Truth or Dare. Soon after, he exploded onto the American entertainment scene.

From roles in action-adventure films such as The Legend of Zorro and Assassins, to Broadway roles in the musical, Nine, to voice work in the popular Shrek series as Puss-in-Boots, Banderas has become noted as much for his sultry, accented voice as for his swarthy, good looks.

The Cut:

We usually see Mr. Banderas' hair worn mid-length for a man - as shown here. The top area of the head is cut to a length of approximately 4-1/2 to 5 inches, tapering to around 3 to 3-1/2 inches at the crown and nape of the neck and to 2-1/2 to 3 inches at the sides. The hair appears shorter due to the curl of Mr. Banderas' hair.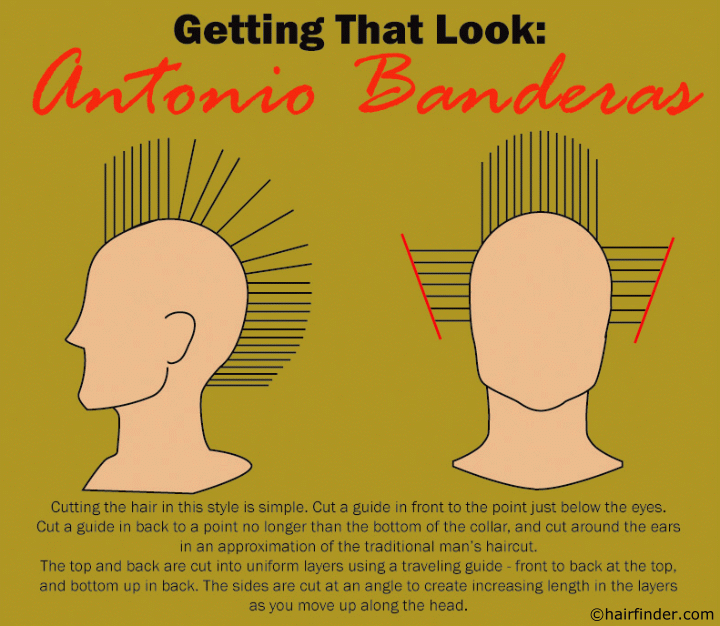 The lengths are not set in stone. You want to select lengths based on the proportions of your client's head. The length of the hair at the top of the head should be enough that the hair at the bangs area reaches to the point just below the eyes. In back, the hair at the bottom of the neck should only be long enough to reach the bottom of the collar at most. Cut the hair around the ears in a close approximation of a traditional man's cut.

Use these lengths as guides, cutting the hair in layers by cutting the hair vertically. Cut the hair in uniform layers with a traveling guide from front to back at the top of the head and from the bottom up in the back of the head. Cut the sides at an angle to create longer lengths as you move up along the head. Be sure to blend the lengths together where the sections join.

The hair should be long enough to give a sense of free movement and some variety of styling, yet short enough to allow the hair to be styled into a sleek debonair look when it is needed. The hair can be blown out free-form for a full, wild look, gelled and slicked back for evening/formal wear, or simply plied with a small amount of product and allowed to air dry with its natural curl.

Styling:

Just because you weren't born with natural curls doesn't mean you can't get the same look shown above. Today, many men get body waves and large curl perms to add a little accentuation to their hair's texture. In fact, for men with fine or thinning hair, a body wave can actually increase the diameter of the hair shaft and make the hair look thicker.

So, whether your hair is naturally curly, or you've permedit to add curl, all you have to do to get the look shown is shampoo and condition the hair, towel the hair dry - squeezing and blotting away as much of the excess moisture as possible, and blow dry the hair with a diffuser, holding the hair up from the scalp to maximize the volume.

Once the hair is mostly dry - not completely dry - you can take a small amount of styling gel and spread it out and work it through the hair with your fingers. Finish the look with a wide-tooth comb, styling the hair back from the face and toward the crown and nape area where the curls are allowed to flourish on their own.

If you need a smoother look, you can use more styling gel (or your preferred product) and a fine-toothed comb to create a slick, even look.

Stacy - Hair Stylist ©Hairfinder.com
Photos by PR Photos