Andrea Osvart's Short Haircut
The lovely, Hungarian-born model and actress, Andrea Osvart, is seen here with what is a nearly-iconic gamine haircut. She is widely-recognized by her signature short haircuts, and the beautifully-textured layers in this short hairstyle are colored with a multi-dimensional spectrum of colors that give the look added visual interest.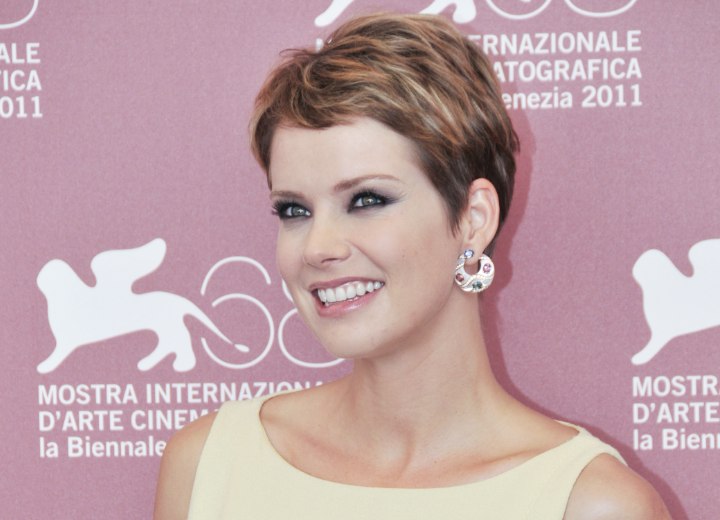 Click to enlarge


The Basics of the Cut

This haircut follows the traditional lines of feminized super-short hairstyles. The perimeter cutting lines feature a wedge-cut at the front of the ear, and a nape cutting line that curves gently to a tapered point at the center nape.


The layering involved is steep along the bottom edge of the style, building to what is not-so-much a "weight line" as a "zone" where the increased lengths form a curved fullness. The longest lengths are in the crown and top sections, allowing for some added versatility in the specifics of the styling of the hair.

The layers are textured using a point-cutting technique to give an almost feathered look to the hair when styled. The fringe area is short to balance Andrea's modest forehead, and is also textured to give a softness which is perfectly suitable for the look as it prevents the prominence of any hard angles that would work against her delicate features.

The Color

Starting from a base of warm brown, Andrea's hair is given dimension with a blend of highlights and lowlights that are each one to two shades lighter than the base. The result is a fully-realized natural color that seems to be even deeper than it is due to the play of light and reflectivity of the color on the hair.

Next Page