Ophelia Lovibond's Lob Hairstyle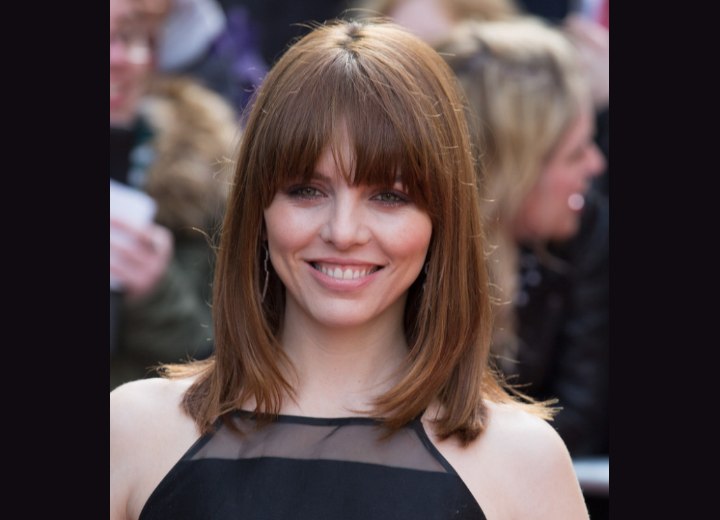 Click to enlarge

English born actress, Ophelia Lovibond, best known for her role in the hit show, Elementary and the blockbuster movie Guardians Of The Galaxy hits the red carpet of the 2015 Jameson Empire Film Awards in London on March 29th in an interesting black and mesh long Milly dress with horizontal cut outs. Her unique dress is a statement in of itself, so it stands to reason that her makeup and hair are done in a minimalistic manner.

While we have seen Ophelia with every shade of hair color found naturally, red, dark brown and shades of blonde have graced her head but here, we see her as a lovely chestnut brown. Bangs, on the other hand are something that Ophelia has rocked for many years. Her length has varied from time to time but most recently she is wearing a lob (a long bob). While her hair is considered a lob, it has a few inches of layers that frame the face.

Initiate styling with freshly shampooed hair. While the hair is still damp, part the hair into two sections on each side and the crown. Then apply a root boosting spray directly to the scalp in the crown area. Begin directionally blow drying the roots up off the scalp. Once the hair is 80% dry begin round brushing the hair under, from the bottom, upward to the top layers with a large barrel brush. Heat it up for 20 seconds, then let it cool off for 20 seconds and hair spray generously to finish.




Click to enlarge

See also: More celebrity hairstyles