Meagan Good's Long Hair

Click to enlarge

What could be the reason beautiful celebrity Meagan Good has for such a generous smile on January 8th, 2007? Do you know; once upon a time she was a member of the singing group "Isyss?"

Meagan has lovely long black hair that hangs down in half coils below her shoulders. This is a casual style that few can get away with successfully; yet it looks quite natural on our girl.

Does this style beat to your drum? Is your hair this long or almost as long? If so, begin with a clean head of toweled dry damp hair and section off on the sides, crown, lower back, top and bangs. Apply styling lotion. Use medium sized regular rollers and begin rolling vertically on the bottom, all going in the same direction, Work your way up right into the crown area.

Now take the top section and roll backwards. Begin on one of the sides and roll vertically going towards the back. Comb the bangs over the forehead and fasten with hair tape and spray. When dry, brush vigorously and bring back and clasp with a hair comb on each side.

Another way is to use hot rollers if you want to use heat or a medium-large size curling iron. Take the hair tape off and comb. There is no guarantee you will look as striking as Megan Good though. You could even look better!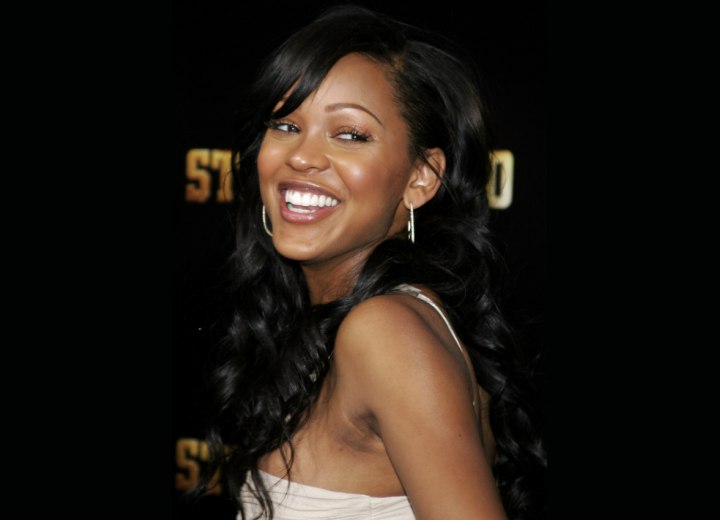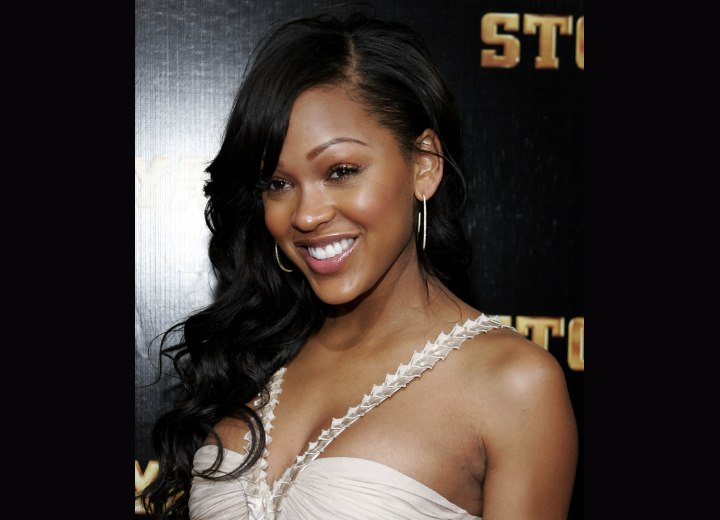 More Meagan Good Hairstyles