Hairstyle That Takes Years Off

Linda Gray certainly has done a lot of amazing things in her life - film, stage, television actress, director, producer and former model. Would you believe it if you were told that she is over seventy years old? Her gorgeous hairstyle might as well be called the fountain of youth.

Her silky strands of hair turn back time and add and extremely youthful appearance to Linda's look (March 13th, 2013). Grey hair is aging and adds years to our look. By coloring her hair a deep chocolate color, grey hair is eliminated.

The look is taken a step further by adding bright caramel highlights throughout the hair. The highlights are positioned in the bangs and layers and woven finely to create rich ribbons of color. By placing the highlights on the top, a sun-kissed effect is created.

The other element that makes this hairstyle give her a youthful appearance is the fresh haircut she's received. The full, tousled bangs help cover any lines or wrinkles that may have formed on her forehead. Her layers are cut all around the face for framing and are rounded in to help hide wrinkles around her neck.

The styling of a haircut is almost as important as the cut itself. Correct styling can take years off your look while incorrect styling can cause an unfortunate aging and dating effect. Linda's smooth, and tousled style has lots of movement that help keep it young.

Many people say that the older you get, the shorter your hair has to become but that is just simply not the case. Linda proves that you can still look incredible with longer hair at such a golden age. Whatever age you are, remember these coloring and cutting tips and tricks to stay young.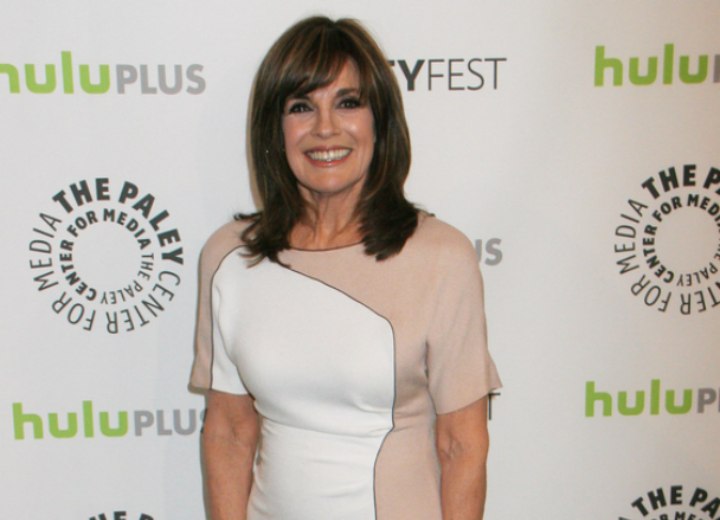 Related Post:
More Linda Gray hairstyles