Easy Maintenance Hairstyle
Busy girl Bryce Dallas Howard attended the Museum of the Moving Image Salute to Ron Howard on 12/04/2005. Bryce looks a lot like her famous father Ron Howard and I guess we know where she got her red hair.

The professional eye will tell you that she had a little bit of help with the richness of her red and the gold streaks. The statistics of women who color their hair today far outnumber those who do not.


Bryce is wearing her long layered hairstyle in a smooth rounded coif that is developed around her face in large rounded curls. The back flips up within the layers and this hairstyle is easy maintenance. Use the high side part to set your hair going down on each side and continuing to go down around the head, then about halfway down your head, begin to roll your hair upward.

There are several products that will help you set your hair in curls such as Matrix's got2b Curled-Up Curling Spray and it happens to be a good product. Just be sure and follow directions. It is best for those who have naturally curly hair.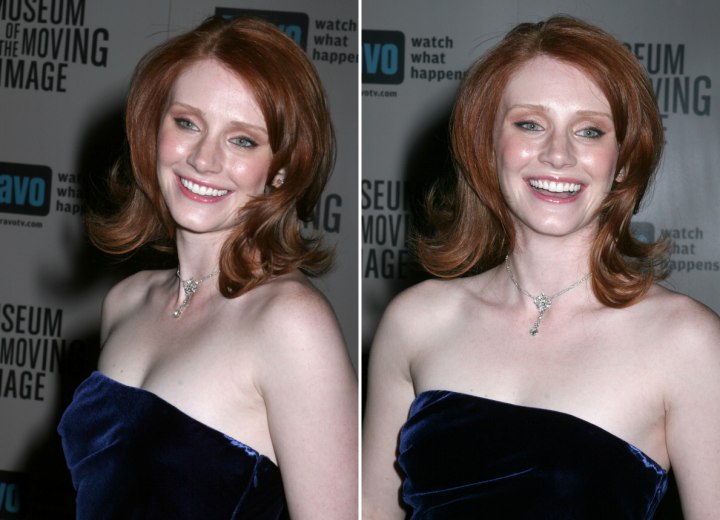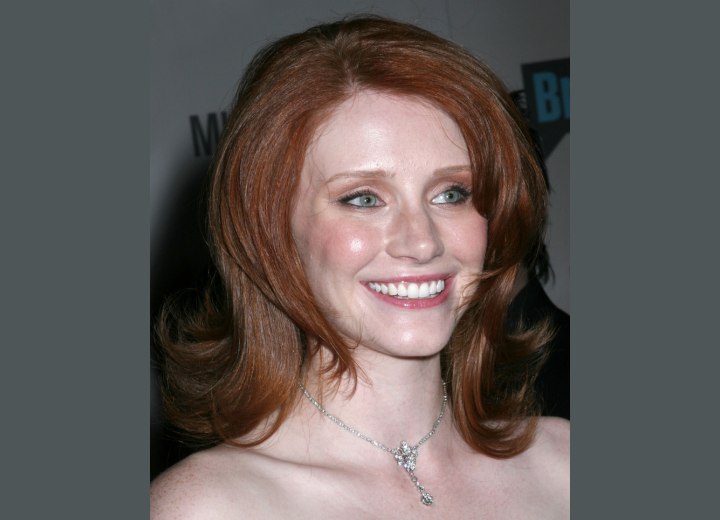 Bryce wears her light foundation and the concealor in the creases of her eyes, light and dark eye shadow that has been blended into the outer corners, eyeliner, lashes and mascara. Her pale light blush coincides with her medium pink lip tint. Her strapless black dress and red hair stand out that much more with her porcelain skin tone.

Related Post: More Bryce Dallas Howard hairstyles