Hair Lights


Glowbys Fibre Optic Hair Lights – Illuminate Your Locks

Wanting to dazzle the dance floor at the nightclub? Wondering how to stand out from the crowd at the carnival? Or wanting to astonish admirers at the prom? Glowbys knows how to get you noticed with their Fibre Optic Hair Lights, by putting sparkle and glamour into any hairstyle.

These unique hair accessories glisten and glow in the twilight hours and, like stars in the night sky; the darker it gets the more they twinkle, guarantying to cause a sensation.



Being discreetly slender but up to 14 inch-long, each individual strand consists of 50 to 60 fibers each. These fun fibre optic threads are attached to the hair and a small and inconspicuous barrette holds two 1.3 inches by 0.6 inch batteries, which causes a galaxy of bright lights to lighten up the hair.

Unlike many other accessories, which can be only used once, Glowbys fibre optic hair lights can be worn time and time again. And with such diverse and varied ways they can be incorporated into a hairstyle, it is impossible to tire of these unique and distinctive hair garnishes.

Pony tails can be enhanced and glamorized by threading a fiber optic hair light through the locks. Bunches can be brimming with shimmer and shine by entwining these fantastic fiber optics into the hair, and long, tousled tresses can be transformed by attaching as many fiber optic hair lights as you desire.

As the hair lights can be cut, they are not confined to longer hair and can also be worn in short hair. Short hair looks sexily stunning when Glowbys fibre optic hair lights are intertwined throughout the hair.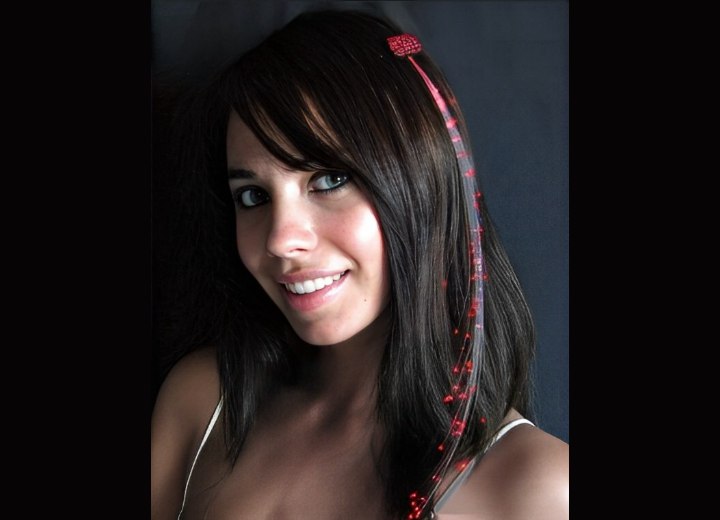 Whatever fashion hair is styled in, the Glowbys Optic Fibre Hair Light is secured to the head by attaching it underneath a section of hair. This way the barrette is concealed but the lights will gracefully sneak through and being visible in the dark.

Being available in a whole spectrum of different colors, Glowbys hair lights can compliment a multitude of outfits and frocks. "Diamond White" Fibre Optic Hair Lights, glint like diamonds, and look fantastic when wearing white, a great way to add some spice to a wedding outfit.

As the name suggest, "Glitzy Gold" creates glamour and glitz, and looks particularly stunning with black. "Rainbow" is a very popular color, as the fiber optics flash consecutively through every color of the rainbow. "Ruby Red" is arguably the most vivid and stunning of the Glowbys hair lights, especially when worn with a red outfit.

The "Blue-Red" fiber optic is another flashing one, which lights up the two different colors separately with a one second interval. Other fun and bright color options include, "Princess Pink", "Bright Green", "Electric Blue" and "Deep Violet".

Loop them, plait them, or even put them in a bun, the more imagination used, the more stunning the hair lights will look and all eyes will be upon those who dare divulge in Glowbys Fibre Optic Hair Lights. Available from www.luminence.com

See also:

Hair crystals

How to combine your hair and jewelry