Combine Hairstyles and Jewelry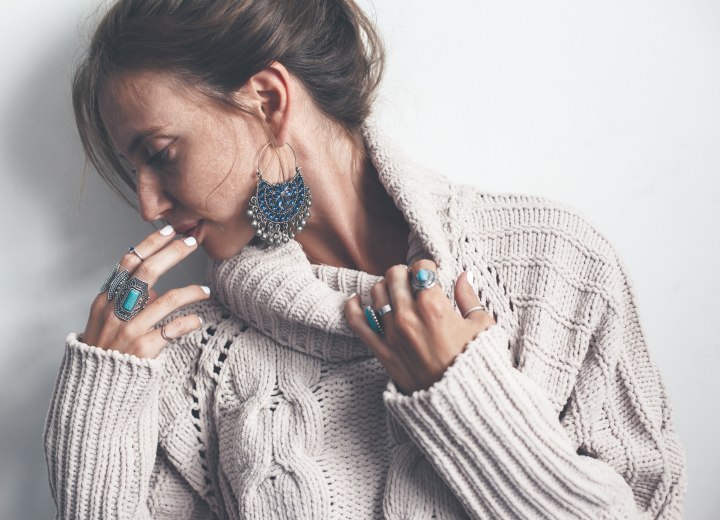 Does it make a difference what kind of jewelry you wear? You bet! Hanging something around your neck and on your ears just because it is sparkly, trendy or expensive does not automatically make it a good choice and is not always of benefit.

You put a lot of effort in your hair, found the perfect look that matches your lifestyle and features – make it shine by picking the right kind of jewelry. Earrings have an especially big impact since they are closest to your hair and your face. Should you wear them long and bold or small and elegant?



If you pick the right jewelry, you will have a gorgeous finishing touch to your overall style and draw attention to your face and hair.

Updos

Among all the hairstyles it is the updos that just scream for a pair of earrings and a necklace. When your hair is out of your face and more or less elaborately draped around or piled up on your head – get out your finest! If for a festive occasion like a wedding, a ball, a formal party or for a casual date, up styles underline your femininity, they are romantic and even dramatic.

Your jewelry will be seen and be a part of the whole look. Long chandelier earrings, large creations made of rhinestones or, depending on the budget, diamonds get their chance to shine. There is no need to be humble and hold back.

If you are wearing a modern updo, wear edgy modern earrings or anything geometric and bold from the 60s and 70s. For traditional, classic looks you'll be the star of the evening with your heirloom and beautiful vintage jewelry.

Short Hair

Just as updos most short haircuts keep the earlobes exposed and leave a lot of room to fill with some baubles. Keep in mind that there is less volume and most short cuts have a distinct expression, be it sporty, modern, punk or tomboyish. To make the most of your hair and jewelry combination, the most important word is "balance". Keep the jewelry in the same spirit that your general look has.

Overly bold and long earrings, for example, will distract from the fine lines of your haircut and also from your face. Keep it subtle and remember that in some cases less is really more. Stud earrings, loops and hoops are a great match for many short styles. For a classic look still nothing beats a simple pearl stud in both ears.

Medium Long Hair

With a hair length that is somewhere between your chin and your shoulders you can wear about any kind of jewelry that catches your fancy. Bold or delicate – it all depends on you and the occasion. To make your earrings more prominent, try tugging your hair behind an ear or use small hairclips to keep it back. An interesting way to make your short bob appear a bit longer is to wear earrings that peek out below the cutting line.

Long Hair

Wearing jewelry with long hair can be tricky. Unless you choose a style that keeps the hair out of the face and behind the ears, any kind of earring tends to be "swallowed" by the mane. Long chandelier earrings or others that consist of multiple parts and tiers even have the tendency to get tangled up and that is no fun at all.

Wearing the hair down, pick earrings that are bold enough to be seen but also have a smooth surface. Large hoops are a good choice or dangling slinky earrings out of metal, art glass or anything else that does not snag the hair.

Match the Color

Find out if your skin type works best with gold or silver. Pick the color of gemstones, beads and rhinestones to match your eyes or hair. Imagine a short hair cut on a woman with green eyes. Short emerald stubs would look spectacular on her.

Redheads also benefit from green or blue stones while rubies or garnets would be overpowered by the color of the hair. Blondes do well with lighter colors like aquamarine, turquoise, quartz, moonstones and diamonds. Brown and black hair makes bright colored stones like rubies, amethyst, sapphires, opals or citrine glow.

Straight and Curly Hair

Try to find earrings that are the opposite of the texture of your hair. Curly hair would make curvy, fancy earrings disappear, but it enhances straight lines and smooth surfaces. To offset the sleek lines of your straight hair wear the elaborate and fancy dangles and chandeliers.

What about the Necklace?

You can apply the same ideas about style and color to your necklace as well. When you pair earrings and a necklace, make sure that not both of them are of the bold and eye-catching kind. That would be overkill. Make a choice for either a breathtaking necklace or the big earrings and keep the other one soft or only wear one or the other. It is just like with make-up – if you opt for the big eye-shadow, keep the lipstick neutral and vice versa.

©hairfinder.com
Photo: Alena Ozevora/Shutterstock

See also: What makes a hairstyle stylish?