Short Layered Haircut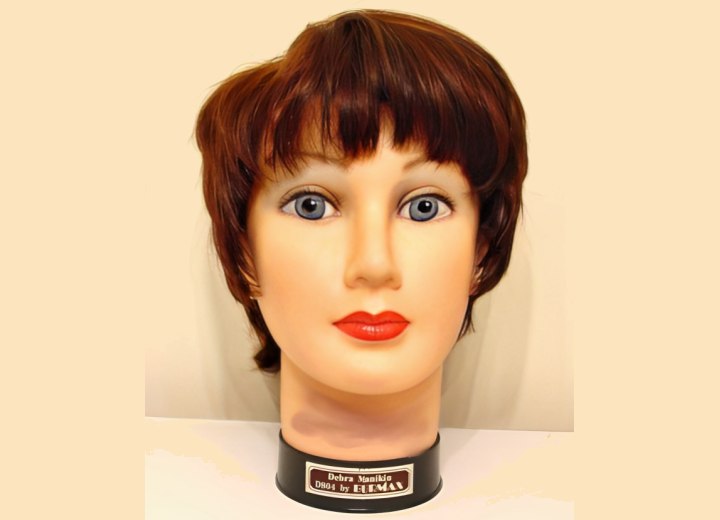 How to Cut this Razored Wedge Style

Many women have active lifestyles, busy schedules, or just a preference for convenience in their lives, and short hair is a reflection of these factors - usually, at least. In some cases, a woman opts for short hair just because she likes the style.

Short hair styles in a woman usually signify a strong personality, a no-nonsense attitude and someone whose focus is spending valuable time on something other than hours of grooming. That doesn't mean short hair is less attractive, just generally less demanding in the amount of time it takes to maintain it.



Here we have a short hairstyle with bangs, an angled wedge at the ears and lots of shape.

Step One:

Shampoo and condition the hair as needed. Towel-dry the hair and comb through to remove any tangles. Separate a section of the hair at the fringe area for bangs. (Remember that the bangs/fringe area should RARELY extend beyond the outer corners of the eyes.) Section-off the hair at the top of the head and clip it out of the way.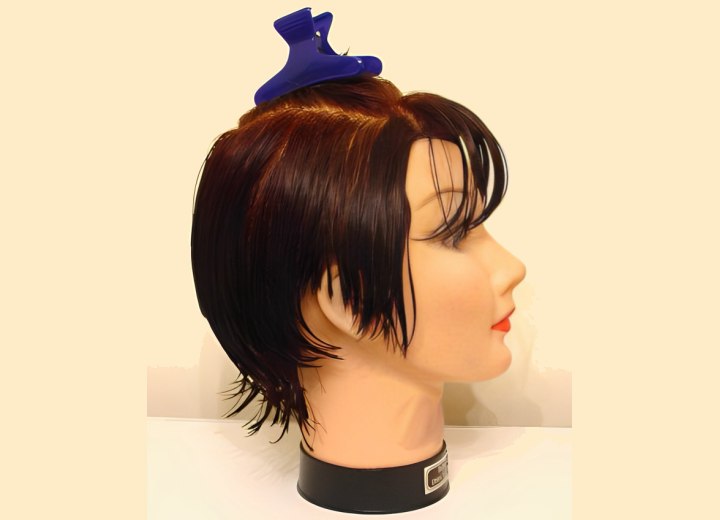 You're now ready to cut the perimeter of the hair. Start in front and cut the fringe or bangs to the desired length. Next, choose one side and clip the perimeter of the haircut. In our demonstration, we choose to cut a long-angled wedge over the ear. Repeat this step on the opposite side, carefully noting the landmarks of the head (where the cut starts in relation to the ear, how far down along the face the cut line extends, etc.) so that you can assure balance in the style.

In the areas of the head behind the ears, cut the hair into a sloping curve around to the nape of the neck. Move to the opposite side of the head and repeat this step so that the cut line meets in the back of the neck.

Step Two:

As you can see in the diagram, the hair is then cut in layers at a steep angle. Begin step three in the back of the head and work your way from the cut line upward to a point about two finger widths above the occipital bone.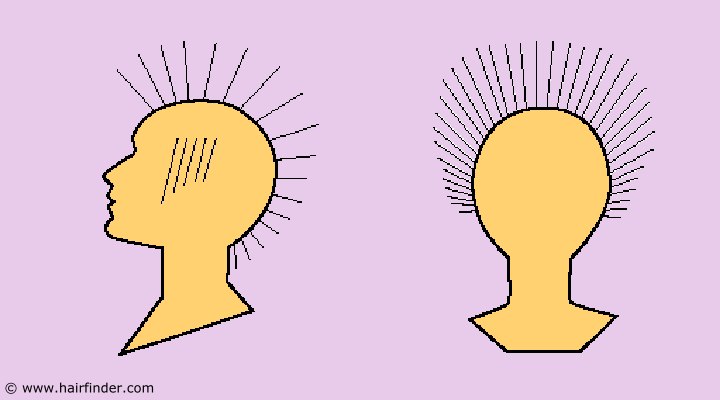 Working back to front on one side, then another, continue layering the haircut around to the front of the face. Use the parietal ridge as a guideline on where to stop in the upward motion of the layering process.

Step Three:

Take down the previously bound top section of the hair and comb it out. Divide it according to the desired parting (or the natural part in the hair). The top of the head, including the previously uncut hair along the parietal ridge is then cut as though you were performing a traditional circle cut.

Once the top and sides are blended together, a razor tool can be used to soften the edges of the cut and smooth the tapering effect of the layers. It is important to be very careful in this step, as the already layered edges leave little room for errors. A light touch will produce the desired results.

Step Four:

Our demonstration was styled with a flat ceramic brush, a blow-dryer on a low-heat, low-speed setting, styling mouse for volume and a small amount of gel on the sides for control. A light misting of hairspray and the wide-tooth end of a styling comb added definition to the style.

The finished style is short and easy to maintain. The shape of the cut (and the volume on top) will elongate short and round faces, accent the eyes and emphasize the upper portion of the head. It is a great style for athletic women and busy professionals alike.

Advice: Practice this hair cut on a manikin before trying it out on a real person.

Stacy - Hair Stylist ©Hairfinder.com

See also:

How to use a razor tool for haircutting

How to cut a short pixie

How to cut a short layered haircut with weight line

More hair cutting instructions