How To Tie A Scarf (2)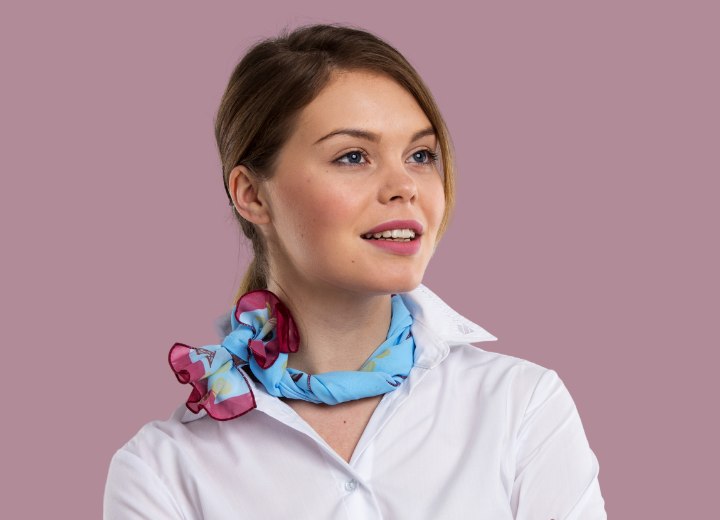 Previous Page

Uses for the Kerchief Fold:

Among the uses for the kerchief fold are the Neckerchief and Cowl/Bandana which are worn around the neck. Create the neckerchief by taking the folded scarf with the border-side down and wrap it loosely around the neck. Tie the ends so that the knot falls along the sternum (breastbone) of the chest. The triangular remains of scarf will drape along the shoulders and down the upper back as a mini-cape.

The cowl/bandana ties similarly except that the scarf is tied so that the knot is in back and the triangle of material covers the upper chest and drapes loosely around the neck. Both of these looks are useful for dressing up a simple top and adding a pop of interest and color to any otherwise plain outfit.



As a hair accessory, you can take the kerchief fold and lay the border-edge along the forehead or front of the hairline and bring the corners around to be tied at the nape of the neck. This is the traditional "kerchief" look for which the fold is named. The rear point can be left loose, as is traditional, or can be tucked under the knot in back to create a skullcap look that is sometimes desired to better control and cover short hair.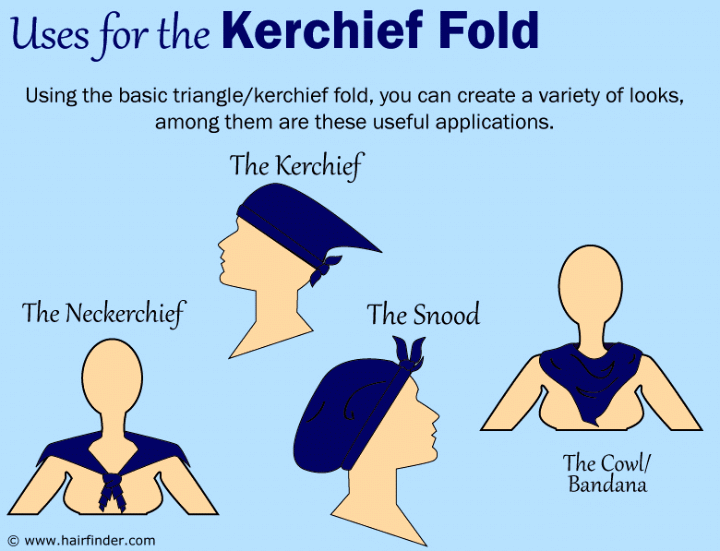 And as with the neckerchief/cowl looks this, too, can be reversed. By taking the kerchief fold scarf and placing the border edge along the nape of the neck and tying the ends at the top of the head, you can tuck the point under the knot and create a snood, which is great for keeping the hair covered while doing chores, or for hiding rollers and styling tools which need to be worn while the hair dries.

And depending on the type of scarf you use, it can also be used as an accessory to hold a nest of curls for a quick and easy up-style, and by adding decorative hairpins to secure the scarf you can create a lovely look.

Bias Fold: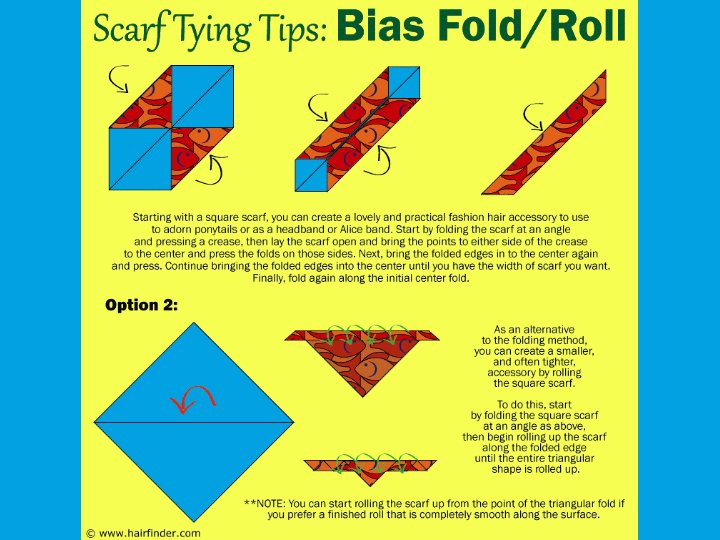 The bias fold is the last of our basic scarf folds, and is as versatile as the linear fold. It adds a little more finesse to the same uses as the linear fold scarves since it offers pointed ends due to the specifics of the fold.

To do the bias fold, you take your square scarf and lay it onto a flat surface. Then, take opposing corners and fold them over so that the points meet in the middle of the scarf. Crease these folds and then bring these folded edges over to meet along the center of the scarf. Continue in this way until you've made the scarf as narrow as you wish it to be when you fold it along the center line where the initial points met.

As an option, you can instead choose to roll the scarf. To do this, take the square scarf, fold it at an angle bringing two opposing point together and crease the center fold. Roll the folded edge of the scarf and continue until you wind the scarf completely. This has the benefit of creating a spiral effect along the length of the rolled scarf and gives an added decorative touch when the scarf is worn. (If you want the scarf to look smooth, just roll the scarf by starting with the point opposite the folded edge.)

Uses for the Bias Fold/Rolled Scarf:

The uses for this fold of a scarf are the same as with the linear fold of scarf. You can use it as an Alice-band, Pony Tie, or Neck Knot. The difference is that when folded/rolled on the bias, you get pointed ends, or in the case of the rolling technique, you get decorative spirals along the loose ends of the scarf.

Try your hand with different folds and uses of scarves and see how the variety works for you. It can make a big difference when it comes to adding just the right pop of color, or interest to your look.

Stacy - Hair Stylist ©Hairfinder.com
Photo: Denis Galushka/Shutterstock

See also: Style and Fashion Tips