Celebrity Hair Looks and Why They Work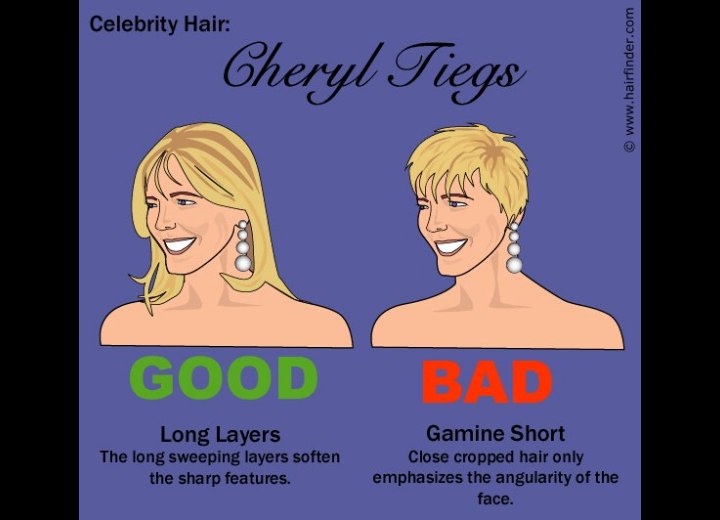 It's no surprise that much of the trends of hair fashion come from the celebrities we admire. We see models and actresses with whom we identify wearing hairstyles that we feel look beautiful and we want to look like they do. But rarely does anyone take the time to discuss why a hairstyle looks good on a particular celebrity, even when doing so would help people to better understand whether or not the style would work for them.

That's our goal here. We'll be taking a look at a handful of celebrities and analyzing the shapes of their faces and the hairstyles they are wearing. We'll tell you why a hairstyle looks good on that celebrity, show you what a difference it makes to change the style. We'll show you styles that are attractive, but just not right for that person's specific needs.



We hope that this little exercise will let you learn to better analyze your own features and make better choices for your own hair.

Cheryl Tiegs:

This supermodel from the late-seventies and early eighties is more famous for her beautiful face and body than for her hair. She was one of the world's first "super" models and became a household name after appearing in magazines as varied as Cosmopolitan, Vogue and the Sports Illustrated Swimsuit issue.

Ms. Tiegs has an angular face and a high forehead. Her angled jaw-line and sharp chin, prominent cheekbones, and sloping nose all give a lot of visual interest to her face, and there's no denying her beauty. However, they present their own problems when it comes to choosing the right hairstyle.

The long layers and soft curving lines offer a balance for the harder angles of Ms. Tiegs' face. Light wispy fringe camouflages the high forehead, and the almost haphazard look of the crisscrossed parting helps hide her dark new growth and avoids the hard line of traditional partings.

Our illustration shows the difference made in Ms. Tiegs' appearance by a less flattering gamine hairstyle. The short cut layers would only exacerbate the angular face and cause her to look hard and actually older than she does with the softer style.

Sigourney Weaver:

Best known for her role as Lt. Ellen Ripley in the Alien film franchise, this academy award nominee and Golden Globe winner has played everything from a tough spacer (Alien, et al), to a wicked queen (Snow White) and virtually everything in between. And (in my personal opinion) always looks stunning when she's seen out an about at celebrity functions.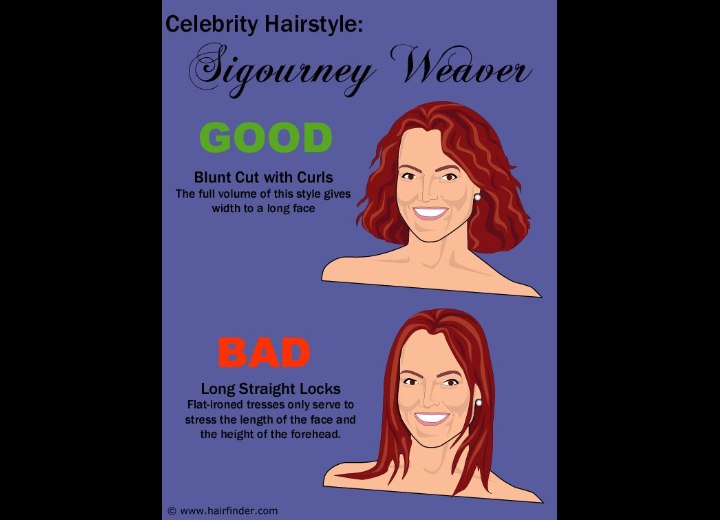 Sigourney Weaver has a longish face with a high forehead and a long straight nose which emphasizes the vertical line of her face. She has classic features and only seems to get more beautiful as she gets older, yet the length of her face requires some careful attention to the hairstyles she wears. Presenting an additional problem is her curly hair which must be considered in any hairstyle.

Ms. Weaver's hair is blunt cut and styled to make use of her natural wave pattern. The rich reddish brown color is lush and perfect to accentuate the dark romantic eyes. Because of her wavy locks, the blunt cut offers plenty of side volume to widen the face and the offset parting helps to disguise the height of her forehead.

In our illustration, we wanted to show what would happen if Ms. Weaver had long, straight layers. The resulting look is one that is not wholly unpleasant, but appears too elongated and makes her nose and forehead appear much too prominent. The straight lines in this case also tend to age her appearance which is never the desired effect.

Next Page