Colorful Pixie Cuts

Sometimes, hairstyles are so unique and daring that you can't help but fall in love with them. Whether you like short hair or not, the three colorful pixie cuts in this video will surely put a smile on your face. The beautiful haircuts and hair colors were created by Estel. Who knows, maybe these daring yet feminine short hairstyles will inspire you to do something completely different with your hair too!



It takes a lot of courage to go for this type of short look, but the makeover process is undoubtedly a fun yet shocking experience. It makes a big difference, however, whether or not you already have short hair. Is your hair currently long or medium length? Then you'd better be prepared to brave the scissors and possibly even the clippers. In addition to the new hair color, you will need an extra bit of courage to cut your hair very short. Think about it carefully, as once your hair is cut there is no going back. Have you thought it through and are you sure you are all set for a refreshing pixie cut? Go for it!

The next step is to get a new hair color. Are you ready to stand out from the crowd? Which color are you considering? What looks good on you and what doesn't look good on you at all? Do you want a really bold color, or do you prefer something less daring? Do you want a color that has a certain significance? These are all things you need to consider carefully, and your hairdresser can advise you on this. With such a drastic change in appearance, good professional advice is essential.

This kind of hairstyle with a fun, daring hair color is not suitable for every profession; you should think carefully about this. It shouldn't be this way, but with some jobs you can get into trouble for having a bold hair color. Most hair lengths are acceptable for any job, but it would be a shame to be reprimanded because of the color of your hair. If you are unsure whether it is allowed or not, it is best to discuss it with your boss beforehand. It is better to be safe than sorry!

However, for some professions, such a bold hair color can be quite advantageous. There are jobs where one has to stand out as much as possible. One wants to attract the attention of potential customers, and what could be better than a unique hair color? Think of jobs in fashion and marketing. In many cases, your boss could be grateful because you are willing to do something unconventional with your hair! These hair colors are also acceptable in a trendy hair salon. When hairdressers cut their hair short and go for a daring hair color, there is a chance that clients will be more daring and spend more on their look.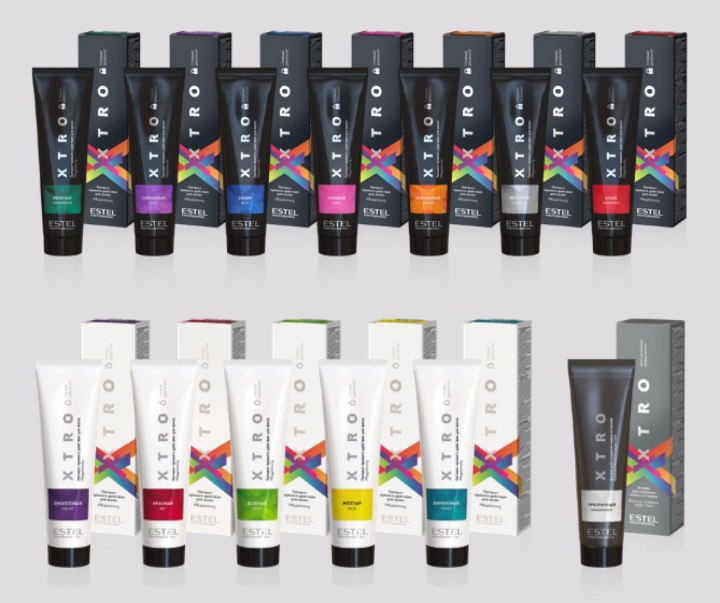 Powerful XTRO hair colors by Estel were used for these looks. XTRO Black provides good color resistance. XTRO White, on the other hand, can be easily removed with bleaching powder, allowing you to change your hair color more often. The formula is free of ammonia and hydrogen peroxide. XTRO hair coloring is available in 12 different colors and also one transparent corrector to create powdery shades. The colors are: blue, green, lilac, metallic, orange, pine, pink, red, scarlet, turquoise, violet and yellow.

Hopefully, this has inspired you to do something special with your hair. A cute, feminine pixie cut with a bold hair color, or longer hair with or without a special color? The choice is yours!


See also: More about coloring hair