New Mommy Make-Over: Becca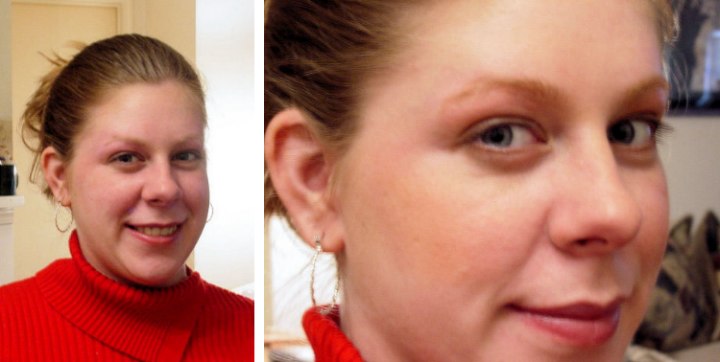 Becca came to me because she was eight months pregnant and feeling depressed about her look. At 22, and expecting dramatic changes in her life in the coming weeks, she wanted a change. Her long light brown hair hung to her shoulder blades in the back and showed the dual tone of grown out color from the previous spring/summer season (dark honey-blonde). She knew as a mommy-to-be that life was going to get really busy and she needed a hairstyle she was going to be able to manage easily and quickly.

We looked through a hairstyle magazine and found a style she liked. She wanted something layered and a little choppy but that wouldn't take too much effort to style. Becca has beautifully healthy hair: well-conditioned, thick, and of medium texture. Once we were decided on the cut she wanted, we took some time to talk about the other issue she had: make-up.



Becca explained that she'd been raised by her father and that she really didn't know about make-up at all. She usually wore foundation lipstick and eye shadow. She said her attempts to use other make-up products were spotty at best, and she was never really happy with the results. We decided that I would start out by doing her make-up for her and allow her to see the subtle changes possible, and how to create a natural look.

Make-Up:

I had Becca wash her face to remove the make-up she'd applied earlier in the day, then we decided that she needed to have her eyebrows reshaped. I used pre-made adhesive strips to arch and reshape her brows. These are convenient because they can be cut to the desired shape and separate into two adhesive strips creating mirror copies of the shape cut. This makes them ideal for use on the eyebrows since you want to "mirror" one side to the other.

After reshaping the eyebrows we took our first photo to show our clean and prepared facial canvas.

Becca's freshly washed face showed clean, even skin with slight blemishes (hormonal and caused by the pregnancy) and a little splotchiness common in fair-skinned individuals. To offer some coverage and to give a soft, natural look, we used a few dabs of concealing cream over the blemishes and in the darker areas with a tinted moisturizer for overall coverage. This was then set using a translucent powder in a light dusting for a matte finish.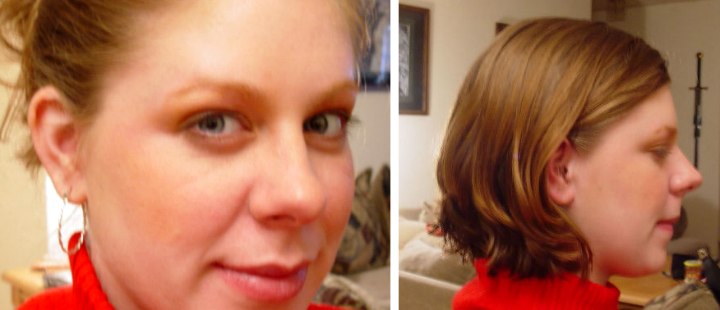 Because Becca's hair is naturally light brown/dark blonde, I wanted to add a little "substance" to the look of her brows. Using a brown eye pencil, I lightly filled in the brows and smudged the like to soften the look. I also used the eye pencil to darken the edges of the eyelids a bit – covering the entire edge of the upper lid and the outer two-thirds of the lower lid.

The eyes were shaded using warm neutral browns and orange tones to bring out the blue of Becca's eyes. A bronze color was used as a base, with a warm brown in the crease and on the outer edges, with a soft orange on the upper part of the eye below the brow. The eye color was then blended using a soft brush for best effect. Finally, a light application of thickening mascara was used to define her pale lashes. (The results can be seen in photo 4.) Becca was amazed at how much larger it made her eyes seem.

Photo 4 also shows how we used a soft bronzer to give a light glow to the cheeks and add some definition. As she already has very warm pink lips, a soft gloss was applied to give a dewy look with no color.

The finished look is very warm and natural looking, and gives a hint of color to accentuate and make the whole look softer and more radiant.

The Hair:

As mentioned above, Becca arrived with long hair (down between her shoulder-blades) which she had taken to wearing up in a twist because she just didn't know what to do with it any longer. The ends still had grown-out color from the previous summer and Becca wanted a change. I've always been hesitant to cut hair too short, especially when the client has such long hair. The client usually begins to regret the choice as soon as she sees the results.

Because of this I opted to err on the side of caution, and adapted the style Becca selected by making it a couple of inches longer than the photograph I was working from. Her hair has a soft natural wave, meaning that the loss of length would allow for more curvature in the hair, so the back-angled layering allowed the hair to follow its own natural curve. I was glad of having opted to keep the hair longer, because halfway through the cut Becca stated that she hoped to still be able to pull the hair back into a ponytail.

For the basics of this haircut, see the previously posted article on the "Back Angled Bob" here on Hairfinder. The difference here is the lower sections of the hair were cut to a longer length, while the upper sections were layered in the traditional "back angled bob" style. Although the photo called for it, after seeing the resulting cut, Becca asked not to have the razor-texturing done, saying that she didn't feel it was needed.

I styled the finished cut by applying a little strengthening lotion to protect the hair during the blow-drying process and then blew the hair dry using a round brush to keep a soft curve and turn the ends in the desired direction. Afterward, I used a light spray laminator to give the hair a touch more shine. At that point, of course, Becca proceeded to adjust the styling to suit her habit. {grin}

I explained that in addition to now simply needing to be blown out with a round brush after shampooing, that her new cut would work really well with curls if she wanted to dress it up for any occasion. Any of you out there thinking of a similar style might consider adding curls sometime to give the look a new twist. The layering allows for a lot of added volume with the curls and using large rollers at the top decreasing in size to mid-sized rollers at the base of the head makes for a full-bodied style that works for most every social function.

Stacy - Stylist ©Hairfinder.com