Inverted Triangle Faces and Suitable Styles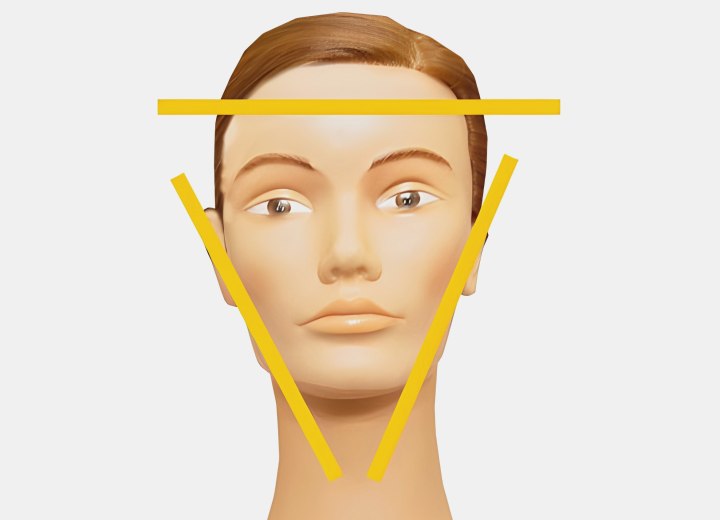 I get a lot of people asking me about style choices for their particular face shape. And while I can't make personal recommendations for everyone who writes in asking for them, I do want to try and help our readers understand the concepts behind selecting a style based on facial shape and features. For this first demonstration, we're going to use our manikin as a model.

This particular manikin is a good choice because she's not "perfect". The manikin doesn't have the ideal of the oval shaped face, and her eyes are wide and widely set. Her mouth is also wide and very full-lipped. The overall shape of the manikin's face is that of an inverted triangle – the forehead is wide and the lower portion of the face is narrow.



Because of these features, we need a style that is going to offer some volume and/or width at the lower area of the face, while offering style elements to either camouflage or balance the other features.

Style 01:

This style is an asymmetrical bob cut with an off-center parting. While the style has no bangs in a traditional sense, the hair is styled to offer lengths of hair that curl over the corners of the forehead to narrow the forehead considerably.

The hair is styled with curl which adds some lift at the top of the head but specifically adds some volume at the chin area which widens the lower portion of the face. The off-center parting and asymmetrical lengths on the sides help to draw focus away from the wide-set eyes and mouth.

Style 02:

This is another bob haircut, but this time it is styled smoother and features bangs. The blunt cut also features box layering to give some depth and texture to the hair's look. The bangs camouflage the wide forehead, and the smooth styling helps to create a curved look which imitates the ideal oval shape.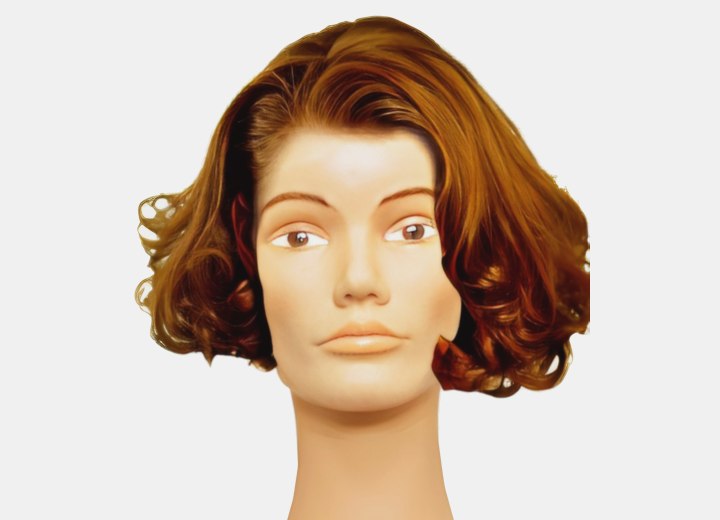 Style 03:

This is a longer style and is a smoothly styled razor cut. The bangs work their magic on the forehead to camouflage the width there, and the textured ends give a gentle curve to mimic width on the lower portion of the face. The off-center parting and angle to the styling of the bangs area helps to draw focus away from the less ideal features of the eyes and mouth. The overall look is soft, yet sleek and silky.

Style 04:

This is another bob haircut with box layering and razor texturing. The hair is styled for fullness and lift, without curl, but instead creating a shaken look that is both tousled and wind-blown while still looking well groomed. The extra width at the bottom of the style balances the triangle of the face and the off-center parting and slight asymmetry of the style give a distraction from the wide eyes and mouth.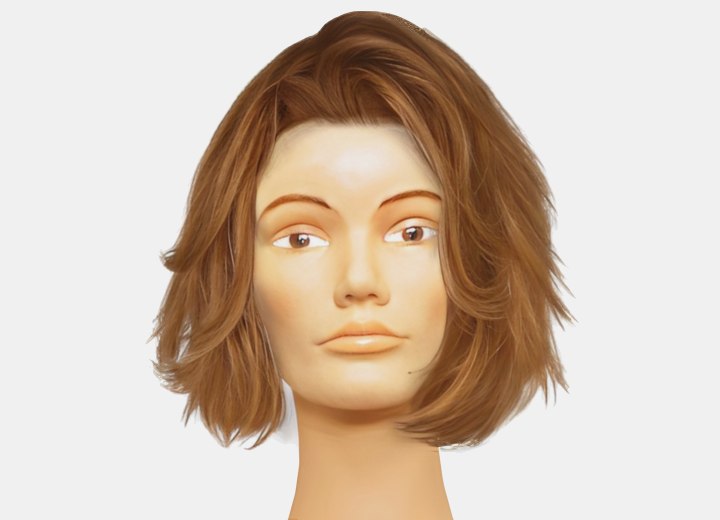 Style 05:

This is a long-haired style which features a long-layered cut and spiral curl styling. The off-centered parting provides a distraction, while the volume of the curls balances the issue of the narrower lower face. The spiral curl styling offers a great way to draw focus from imbalanced features working along with the parting to make for a flattering look.

These styles represent a wide variety of looks available to the inverted triangle face shape. Modifications can be made to adjust for other imbalanced features, and the lengths can be adjusted as you desire or as may be appropriate.

Stacy - Hair Stylist ©Hairfinder.com