Back-Angled Bob with Long Hair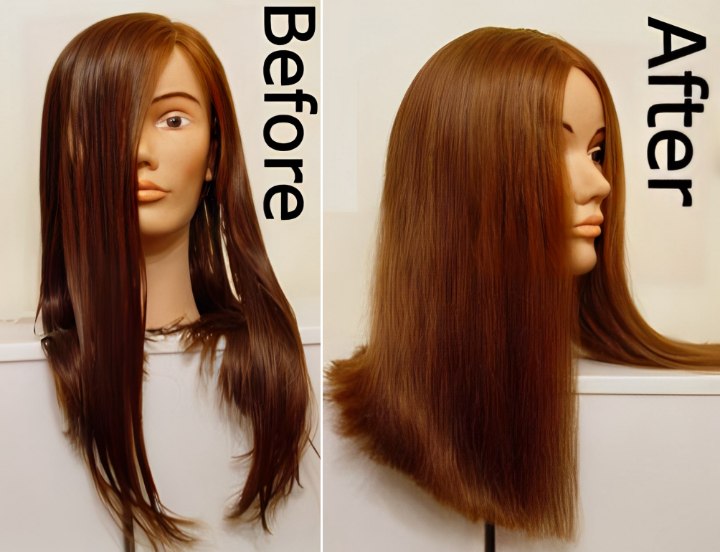 This is a long version of the back-angled bob and a haircut that is good for those with long hair who like versatility in their hairstyle. This cut enables the individual to style her hair with volume and curl, yet it can still be styled smooth and straight and look good. (The photos show both the before and after images of the cut.)

Having worked with this particular manikin for a little while now, I felt she was due for a makeover. As you can see in the before photo, the manikin's long hair was not uniform in length. The lower 4 inches of the hair became sparse and stringy and often tangled as a result of split ends. It was time to remove these problem areas so that the hair looked healthier.



However, the hair near the front of the manikin was in better condition than that at the back, and I wanted to minimize the amount of length cut, while maximizing the amount of damaged hair removed in back. This made her a perfect candidate for a cut I have named "The Back-Angled Bob".

The key to creating this cut is the use of a backward tilt of the head when cutting. By tilting the head back at an angle and using a horizontal cutting line, we create a nice angled cut that is longer in front and has a nice bevel in the back.

How To:

As always, you should begin with freshly washed and conditioned hair. Leave the hair towel-dried and have a spray bottle of water handy to keep the hair damp for cutting. Part the hair down the center of the head and divide the hair into two sections. Leave down a 1-inch section of hair in the back in the center.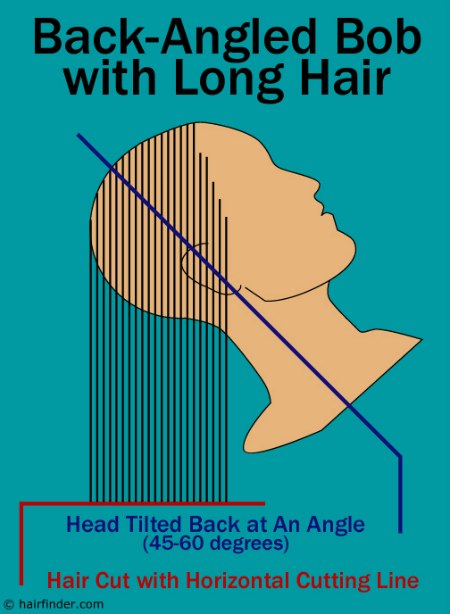 Tilt back the head to the desired angle, and remember: the farther back the head is tilted, the steeper the bevel will be in the back of the head when finished. Comb the small section you left down to smooth it and make sure it is centered then cut it to the desired length, using a straight, horizontal cutting line. It is best to work from the side when cutting, to make sure you keep the angles and lines in the proper position.

Continue the cut, by letting down the hair on one side in ½-inch segments. Comb the hair to the center back and cut it to match the initial guide length. You can alternate from side to side as you go or work on one side, then move to the opposite side when finished, as you prefer. Once you've completed both sides, it's time to finish the cut.

To finish the cut, raise the head to a full upright position and comb the hair straight down all around the head with a straight parting in the center at the top of the head. Beginning at the center back of the head, comb the hair down and make sure the bottom edge of the hair is even. If needed, cut the hairs to make them even. Work your way around one side from back to the front and then the other, creating an even angled line from the center back to the front.

Cross-check the beveling in the back horizontally, trimming away any uneven lines. Be sure to cross-check using very thin segments to avoid creating more unevenness.

Styling:

The hair can now be styled as desired. You can apply a smoothing serum to the damp hair and blow-dry the hair into a smooth finish using a round brush to turn the ends of the hair (and the beveled section) under. This will give you a sleek, professional look that is excellent for day wear at the office, or anywhere you want to have a smart, dressy look. (See After photo.)

You can also curl the hair using large rollers or a large-barreled curling iron to add volume and big soft curls to create a more casual and romantic look. Look for the article, "Long Back-Angled Bob with Volume and Curls" for a look at the results of high-lift, large curls on this cut.

Stacy - Hair Stylist ©Hairfinder.com