Practical Tips for your Hair Salon (3)
Previous Page

Everything should be washed and dried before you close down the shop every day. One suggestion is to have a towel service. This will be a tax deductable service and the company automatically knows their towels will be stained when they come and pick them up. You will never have to wash the first towel; however keep a washer and dryer available just in case.

Location of Towels

As if towels are not a major contribution to opening up a hair salon, so is the location of towels a major consideration because you will want to have a pile of them at your station. There will be times when you will be spritzing your client's hair while giving a haircut and will have to dab her face from the droplets. You will need towels!

If you have the type of salon where you will be doing the coloring at your station, this is all the more reason why you will want to have the type of station that will be able to store towels as well as the other needful items. When it comes to towels, it is always better to have more than less. It can be very aggravating to you and your client when you have to run in the back of the hair salon because you ran out of towels.

Another place to have an abundance of towels is at the dispensary where all of the shampoos and conditioners are located. More is never enough and accidents happen all of the time. If there is a water spill under the shampoo bowl, the first thing you will want to do is throw some towels on the floor to soak the puddle up before it spreads. If your client is sitting there because she is waiting for her perm to be rinsed and she starts dripping from the tint or perm, the access of fresh towels can save your life! Be sure to have plenty strings of cotton on hand too.

Mixing Room

This is the place you go to mix your clients customized color formula. You can keep her secret formula at your station or locked up in your cabinet. She cannot see what you are putting in where or with what, but she is trusting in you completely. Once again, accidents happen and you will want to mop it up very quickly, use the towels to soak up the excess and always wipe around the mixing bowls and bottles, so make sure you have a ready supply. Towels are used for everything except to mop the floors. The mops and brooms should be in a closet not to far away.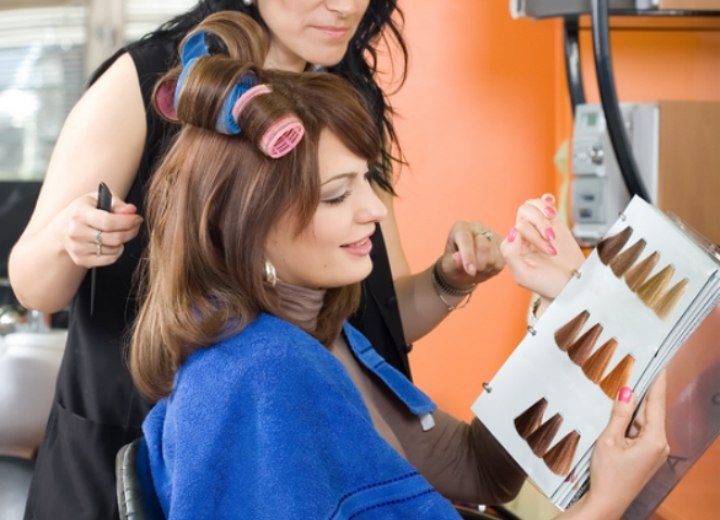 As you learn about ordering supplies and for your steady clients, you will know that you will have to have a regular inventory of the more popular colors then those that seem outrageous or trendy. It is best to have a few of them, but a larger supply of those you are using. Always order more things before it is needed, at least a week or two ahead of time.

The worst case scenario is when a lady comes in your salon wanting a particular color and you do not have it because you are waiting for your order to be delivered. This is when you become the mad chemist and are mixing colors in the back to achieve the color your client is used to having, or; you have a friend in the salon down the street that you can send someone to borrow the colors. These things happen and if you do have to borrow or buy the color from another hair salon, chances are; they will borrow from you in the future. One break deserves another.

Sometimes, you will have an ideal trustworthy worker who will be able to keep track of the tints and items used for you and your employees and either order for you or hand the list to you. In fact, she can give the order to you, to initial before it is ordered. If you do end up having such a person, it would be wise to check the inventory from time to time yourself and also think about supplementing your worker with a little extra pay.

Next Page Page 1 2 5 6 7