Hair for Bridal Occasions
The church is booked, the reception hall is reserved, florists, caterers, and a band are all on retainer, the invitations have been sent and the responses are coming in daily. With all the preparations and planning involved in having a wedding, the last thing you want is to have one more thing to worry about. However, the subject will come up sooner or later (usually later when there's more pressure on making the decision) so it's best to think about it in advance and be ready for it.


I'm talking about the hairstyles for the Bridal Party. In most cases, it's a subject that gets thought of a little during the planning stages for the wedding, most often when trying on and selecting a wedding dress and the bridesmaids' dresses. Usually, the bride will have a general idea of what she wants, and maybe she'll choose a salon or stylist to "do the bridal party's hair" on the day and leave it at that. After making that decision, she usually relegates the subject to the bottom of her "to do" list.

But there are things to consider in choosing the hairstyles for a bridal party. Your bridesmaids are going to be wearing the same dress (or at least very similar ones) and you don't want wildly varied looks in hairstyle to ruin the effect and detract attention from the bride. If you take a little extra time to discuss hairstyles with your bridal party and plan them out beforehand, you can avoid potential disappointment with the results on the big day.

Here are some tips:

Start Wedding Hair Consultation Early:

If you're planning to have a stylist create the looks for you and your bridal party, arrange for him or her to meet with you and your bridesmaids as soon as possible. Invite her to your bridal shower(s) so that he/she can sit and talk with you and the bridesmaids about the kind of styles you want. Morning and afternoon weddings usually have slightly more "casual" hairstyles (hair worn down or only half-up) while evening weddings are more formal (requiring elegant and more sophisticated up-styles).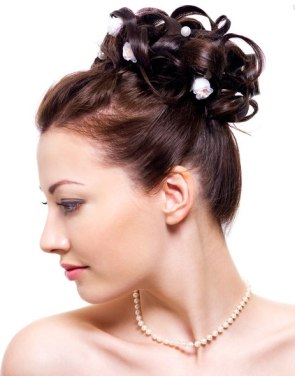 You should also discuss the current hairstyles and possible planned hair services that will occur before the wedding (perms, color, etc.) for both you and your bridesmaids. If your wedding is more than six months away, and you or a bridesmaid is planning to let your hair grow, you can be looking at a significant change in the way your hair looks. Six months can mean as much as 3 inches of hair growth, which can provide you with more styling options depending on your hair's current length.

Conversely, if you had a picture in your mind of all your bridesmaids in simple French twist up-styles, it could come as quite a shock if a week before the wedding one of them suddenly turns up having decided on a whim to get her hair cut in an ear-length bob, or a super-short, razor-cut, gamine style. Make sure everyone understands what you have in mind, or at least that you know what everyone plans to do with her hair.

At the very least, a great idea would be to plan a "Girls' Night" during the week before the wedding where you and your bridesmaids get together, invite your stylist and make a definite plan about the hairstyles for the wedding. You can have some food and drinks, bring your favorite movies, and your stylist can lead you through giving one another manicures, pedicures, and facials. Your stylist can also work with everyone in turn to create the style she will wear on your big day, and can take photos to remember what was done.

Next Page Last Page