VOG Coiffure - SS13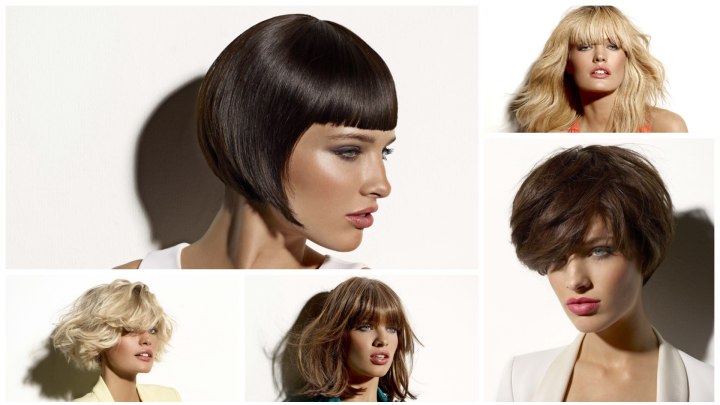 For their collection of spring and summer hairstyles, VOG Coiffure is holding nothing back. All that we love about hair is represented in abundance. Cool colors, great textures, much movement and of course sexy volume are key points in the design. Classics meet modern ideas and all is infused with plenty of sensual allure. Lengths vary, as do the colors which cover a natural palette from blonde to black with some in betweens.

The hairstyles themselves are classy, at times casual, then again sophisticated and just wild, vivacious and voluptuous. Made for women who are passionate about fashion and about their lives. The collection also shows several cuts and styles on the same model to illustrate what a difference a few inches or a different styling can make on the same person. Have you found your favorite look yet?


Long Bob with Bangs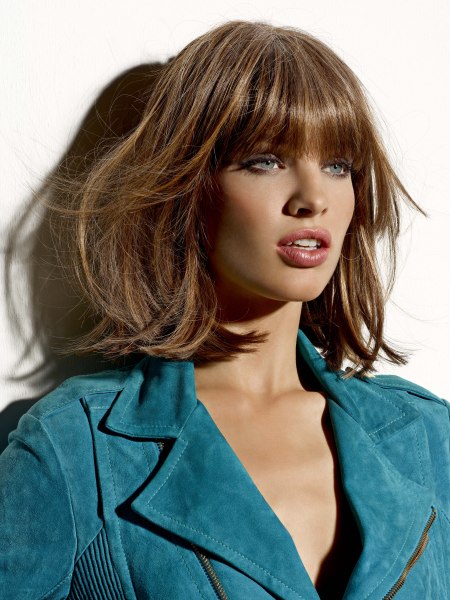 A fabulous hairstyle for every day, but that does not mean it is bland and practical. Far from that. This long bob makes us shiver with its high energy and sexy lines. Simplistic but highly refined in the cut, spectacular in color and styling. A blunt cutting line almost reaches the shoulders. Around the face some layers create movement and texture.

With the big and thick bangs all else moves to the background since it is such a strong fashion statement and extremely flattering, gathering all of the attention to her blue eyes. The sunny dark blonde color has some highlights, strewn throughout, which add even more luster. A little ruffling provides the sexy undone texture, that is so very trendy once again this year.


Short Bob with Volume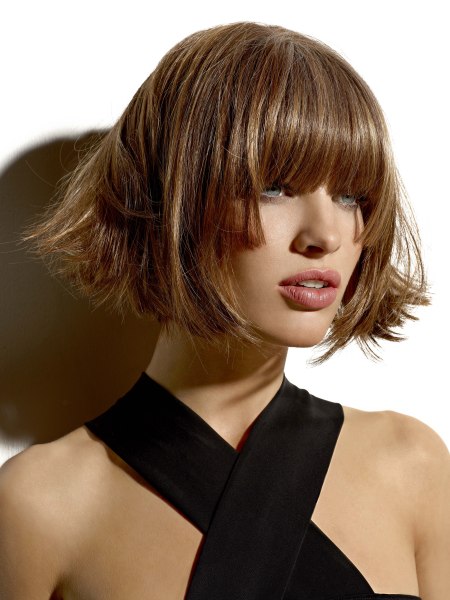 Flipped out ends around the perimeter give good volume and also this extravagant trapeze shape which is balanced by the heavy bangs that touch her eyelashes and make her baby blue eyes sparkle brightly. The hair was cut at chin length and has one more step in between there and the bangs.

Texture in the haircut is kept low and bluntness rules. However much structure was created with the styling. The back section flares out, the front curves in the direction of her gaze and some of the surface hair was set free to follow its own path, resulting in a gently disheveled hairstyle.


Large Waves in Short Hair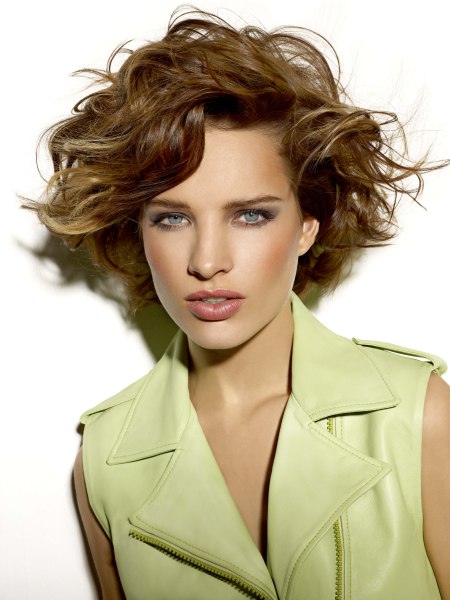 An outburst of waves takes this short haircut to a whole new level and gives her the right wings to soar right above her competition. Layered tresses were shaped to a triangle with the short neck and gradually lengthening sides.

A very low side part is good for a modern asymmetrical effect and of course it is the wavy, flowy texture with curls, curves and waves that gives this hairstyle its distinct attraction. Movement is enhanced by lighter and darker tones of the same color. Put on your seat belt!


Bowl Cut Made Chic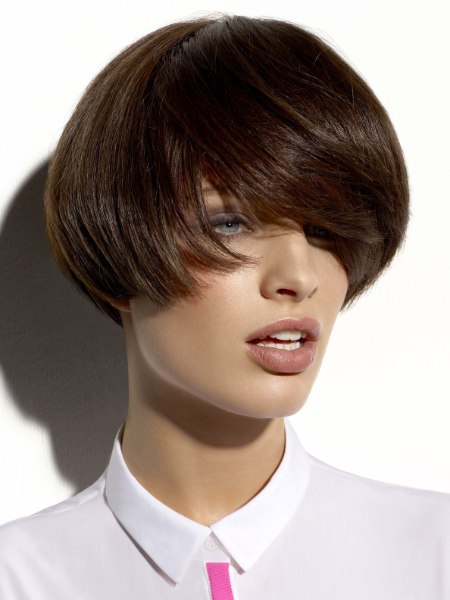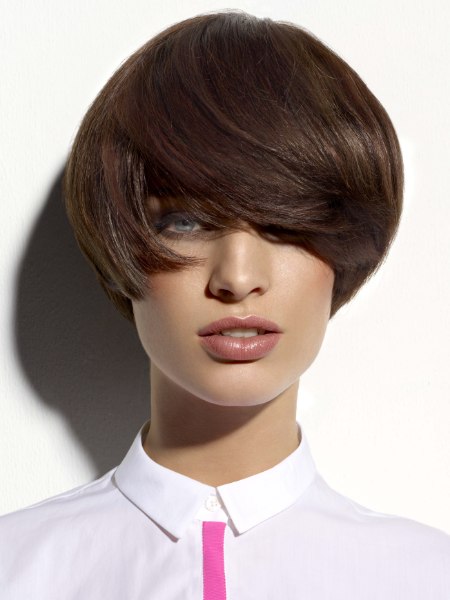 This is not your average round mushroom cut, also called bowl cut. A ton of innovative technique and ravishing finesse went into shaping this little wonder. A look full of vitality and with all of the directed movement also velocity.

The most fascinating part is perhaps the fringe, which opens up so casually and stylish that it appears almost coincidental, but is very well planned and executed with attention to even the smallest hair. Texture all around and truthfulness to the essence of its shape makes this short hairstyle a fashion highlight with just the right mix of wearability and extravagance.


Hair Flipped Sideways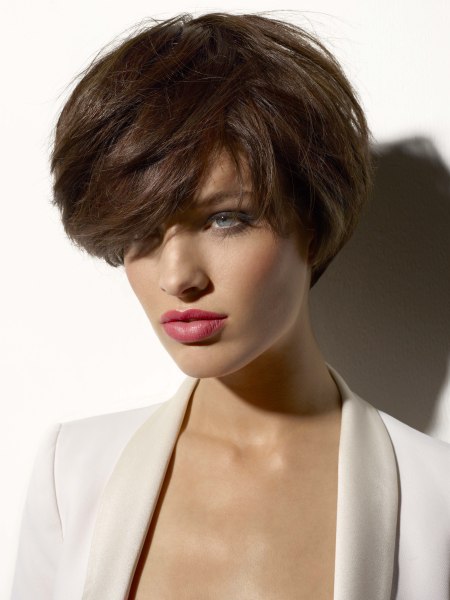 The same short haircut but now with a whole lot of action going on. The round silhouette has moving structure caused by a loose side part and a casual styling with much texture. The hair is flipped sideways in the bangs and ruffled all around for a wonderful undone appearance. Her soft brunette hair color lends a smoky elegance to the exciting cut.


Floral Evening Look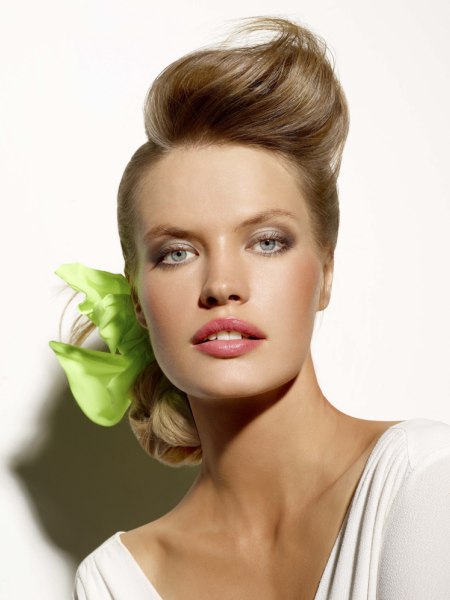 Special occasions require a special hairdo and sometimes a special hairstyle can cause an occasion. No matter what is first, this romantic and unique look is nothing to miss out on. Her long hair was gathered in the back, braided and then shaped to a low sitting, chignon, positioned on the side.

The long fringe was relieved of gravity and styled to an upward rising of petal shaped drama. And to push it even further a large flower was arranged in the hair on one side. Fabulous!


Big Hair with Curls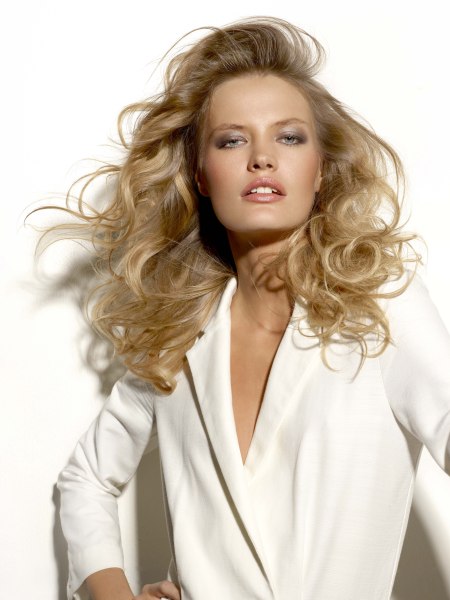 If you have it, flaunt it! Show your zest for life with a mane that celebrates passion, beauty and freedom. Her long hair is layered to create a good shape, bring out the curls even more and for good texture and volume.

The long bangs were flipped up and then to the side, opening up her face with is now framed with all of the curly, sweeping delight of her honey blonde hair. Of course all that is not enough and some bold highlights join the party to bring more radiance into all of it.


Long Layers with Brushed Out Waves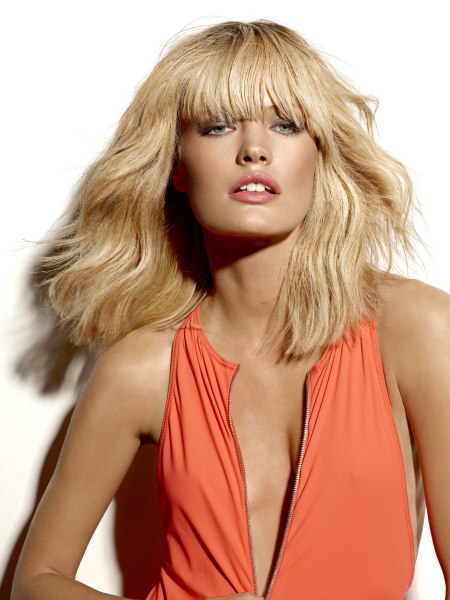 Brushing out waves and curls can have a very arresting effect. The long hair seems to fall in a very natural way with just some natural movement and almost blunt edges. The volume is dramatic and thick.

A long full fringe makes her eyes stand out and together with the long sides, the layers and the French Riviera blonde color, this look is a very modern version of the hairdos that made Brigitte Bardot so memorable and irresistible.


Above the Shoulders Hairstyle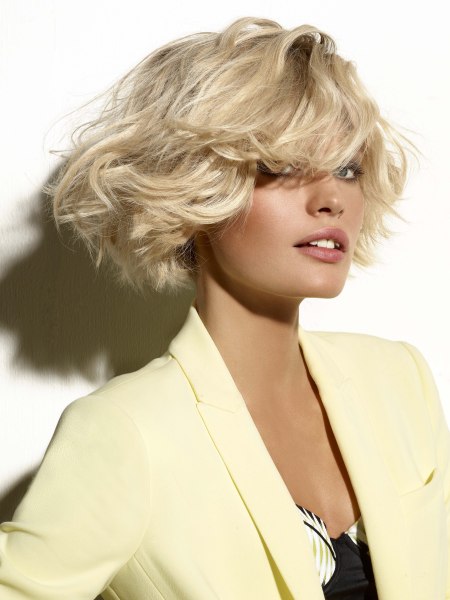 Never underestimate the power of a sassy, sexy short and ruffled hairstyle with lots of structure, movement and volume. It is perhaps equivalent with a pair of extremely fine pumps and a designer suit.

With this cut however it does not matter what you wear. No one will notice the clothes and instead just get lost in this whirling mass of blonde delight.

Layers, rough texture and a good product team up to create this amazing and very effective hairstyle. Bring your weapon's permit!


Short, Black and Sleek Bob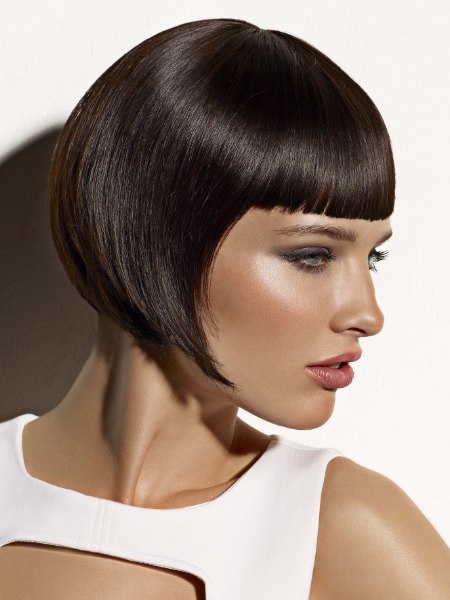 The classic of all classics is back once again to enchant us and to remind us that simplicity is the height of all elegance. With the intense curves and the super pointy tips it is a step up from the regular jaw length bob. This sleek wonder follows the shape of her head but has a nice amount of volume built into the back.

The short bangs have a lovely retro length, just a finger above the eyebrows. Add some faux lashes and a great dress and you are in no danger of being the wallflower of the night.

Hairstyles: VOG Coiffure