"Summer Breeze" by J.7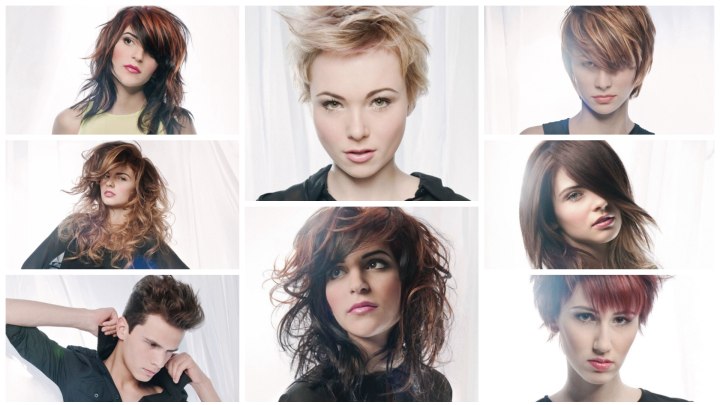 You don't have to expose yourself to the elements, but you can still look as if you just came in after dancing in the warm breeze of the summer. This breeze can turn into a storm at times and so do the hairstyles in the latest collection by J.7 artistic team with their boundless creativity.

Long styles show the heaviest textures in the fashion world and that is not all since color contrasts turn up the heat a few notches more. Short looks are feisty, rebellious and just delightful with their uprising tips and asymmetrical styling. In short, this collection is really a sight to see and so much fun to wear, touching all senses and rescuing us from mediocrity.


Long Layers with Hair Color Transition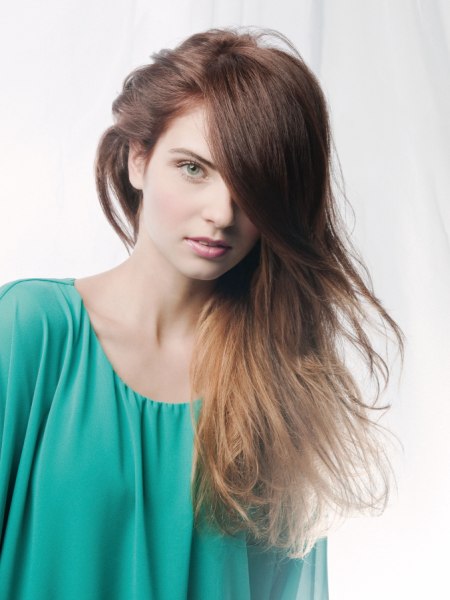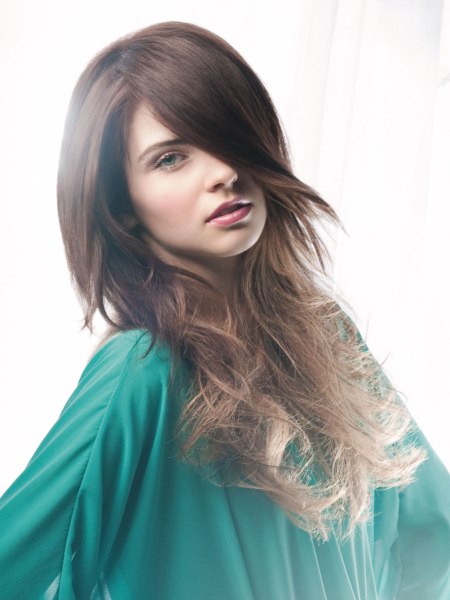 A very natural fall seems so effortless and refreshing. It is however all planned. Her hair is about mid back long and was cut into very long, generous layers. A casually jagged side part seems almost coincidental and placed there by a gust of wind. It allows the long, long fringe to flow over to one side.

The hair was styled leisurely to one side and there it just plunges over her shoulder to the front showing off the contrasting color that lightens up the bottom half of her brown hair in a golden blonde.


Very Long Hair with Curls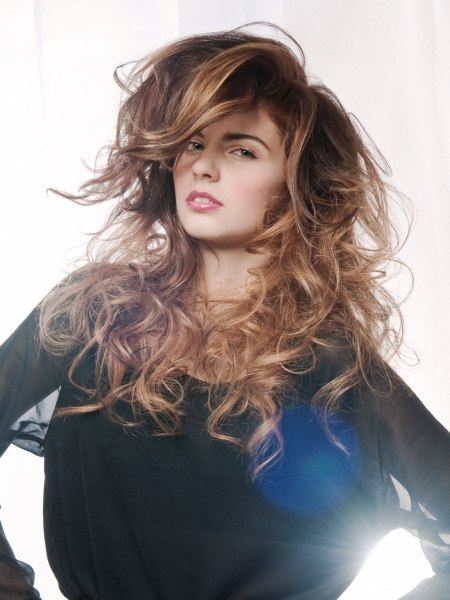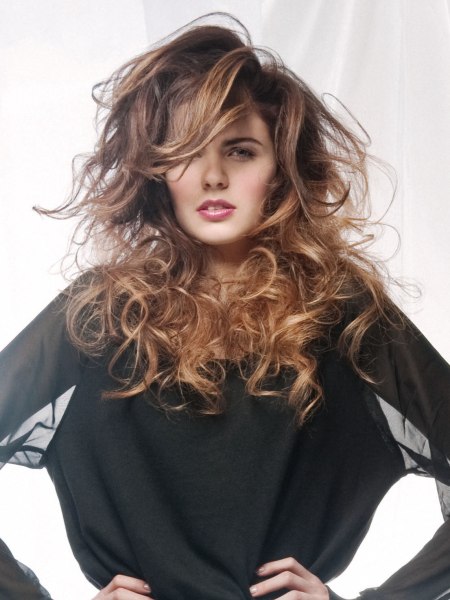 Forget gravity and join the wild roller coaster ride that turns an ordinary hairstyle into a creation that looks like this. Well, the roller coaster was a set of curlers or a large barreled hot iron and the force of nature your stylist, or if skilled it can be yourself too.

The long layers come to life over and over again while defeating all natural laws. They curl, bounce, float, swirl and twirl to her hearts delight. So much activity on one head is more than unique, but very attainable. Make sure to use good products in order to preserve the bounty.


Long Hair with Two Colors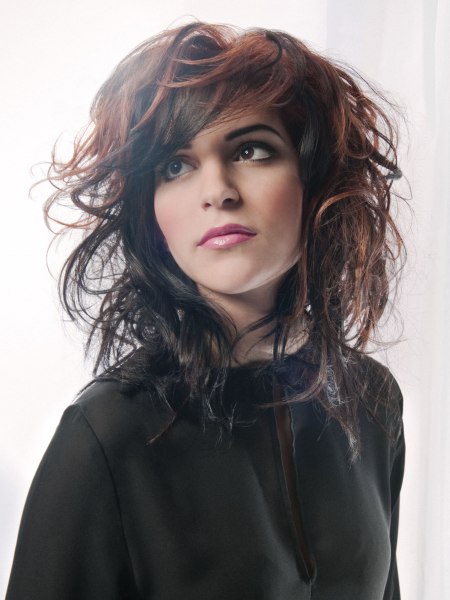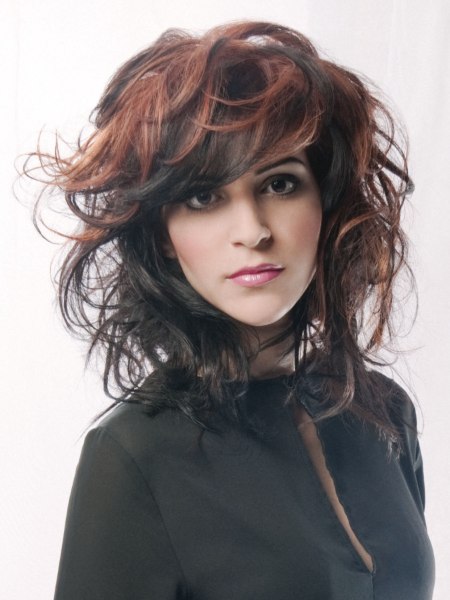 Two colors and one more beautiful than the other grace this airy perfection of a hairstyle. Layers are long and plentiful, styled with texture in mind and a lofty, light feel. Much air is incorporated with the large curls and wild disheveling.

The star of this amazing look is indeed the coloring. Black and caramel dip and copper brown on the crown are a pair made in heaven. The lighter color sits on the crown and long tendrils curl their way around atop the dark base. Glamorous!


Long Hair with Two Tones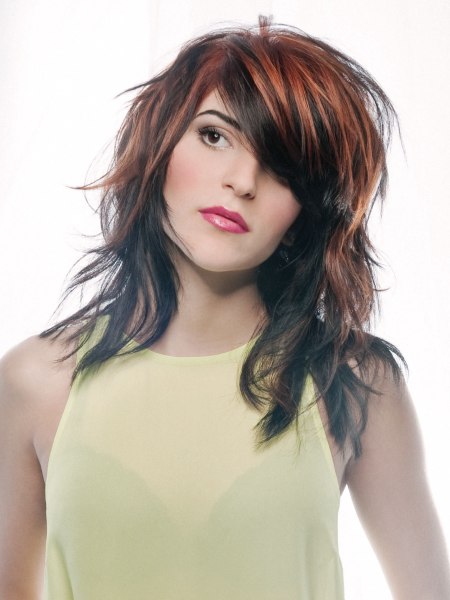 Less curls and more feisty, this alternate styling of the long layers appeals to the adventurous among us. With the sleeker texture the bright color effect on the crown stands out much more dramatic. Contrasts are refreshing and the long, spiky styling tickles our fancy.

Rocker chick, daring fan of fashion or whoever you are, if this look caught your attention, give it a try and you will be amazed at the versatility of the cut. Imagine an updo based on it! This is a look to enjoy and to play with, get creative and invent your hair over and over.


Highlights and Lowlights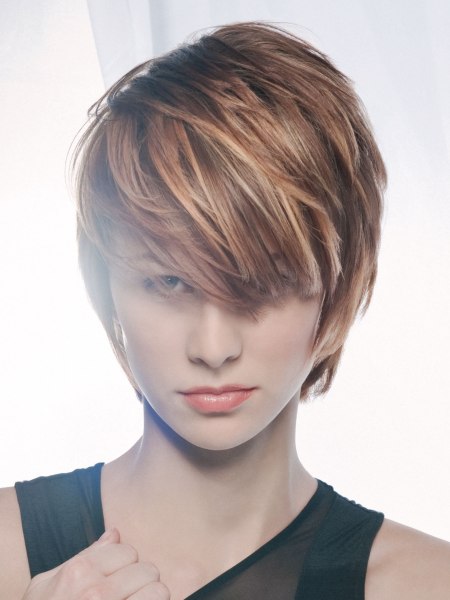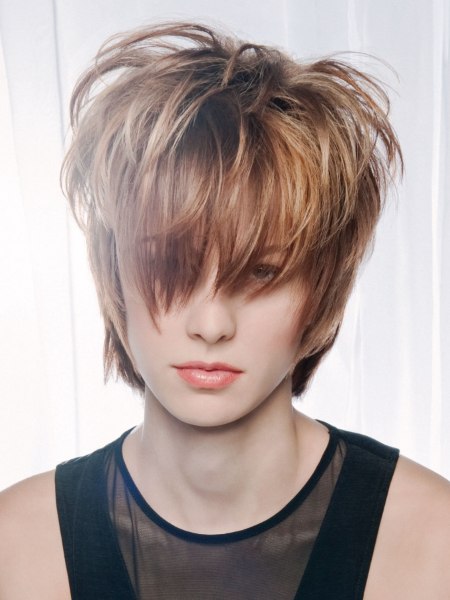 J.7 always takes an innovative and fresh approach to familiar styles and that is not any different with this short haircut. While the shape is not too unusual, even with the asymmetrical styling, it is the texture that brings in the big surprise.

Used to seeing much fine and pointy textured tips we are loving these blunt, slightly jagged textures that lend a new boldness to this short crop. Highlights and lowlights in sandy blonde as well as in strawberry blonde accentuate strands and texture.


Pretty in Soft Spikes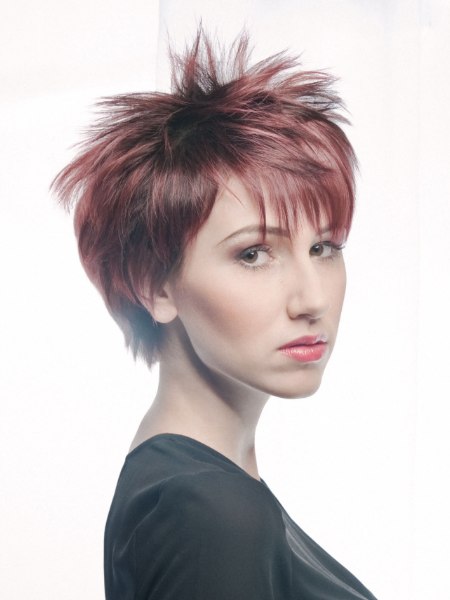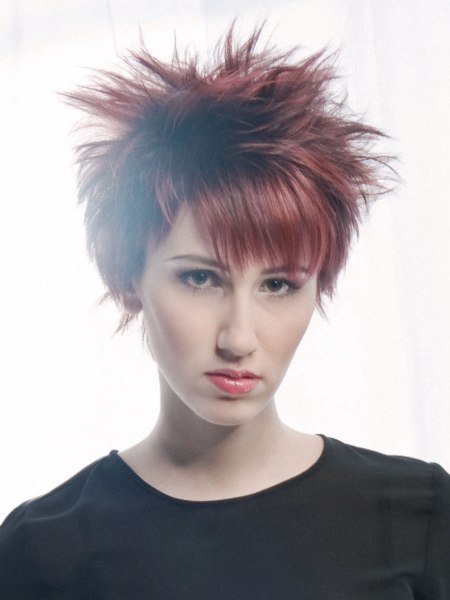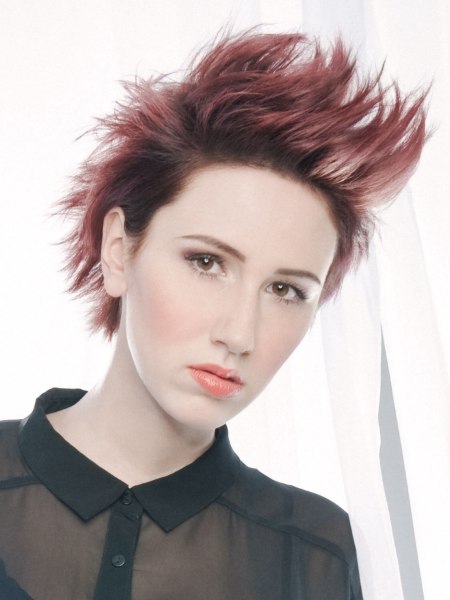 These needles won't hurt, in fact they are a bit fragile and need a good, strong but light product and the right cut to make them rise so joyfully. The short layered hairstyle is a must have for short hair lovers.

J.7 makes it all new with this feathery light texture and the unique red color, a blend of cherry and copper. Bangs are light and the back is round and full. Check out the fun alternative stylings below!


Long Floating Fringe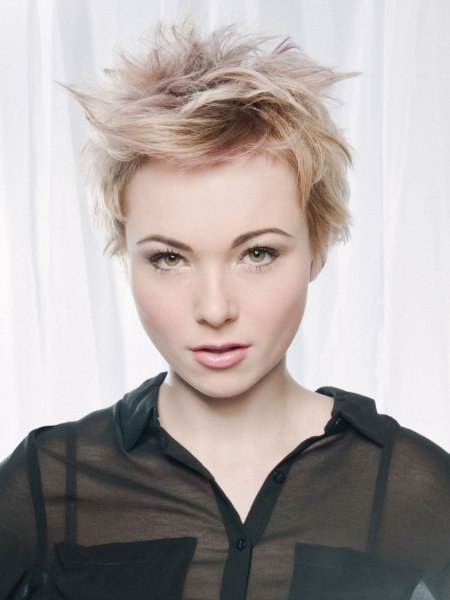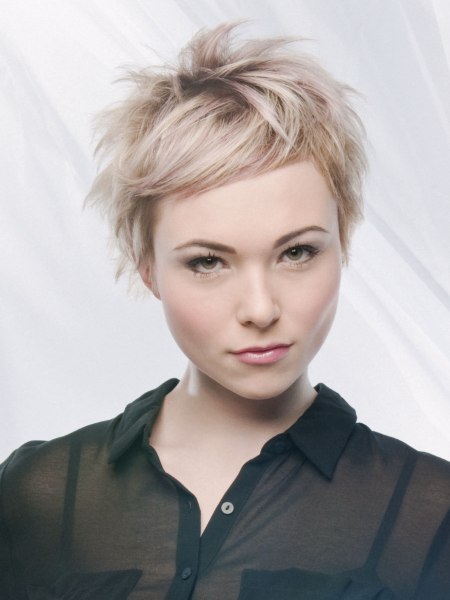 A cute blonde haircut with cropped layers turns fashion favorite with a great fringe. Here the bangs play a key role in the design as they are not only the longest section of hair, but also styled horizontally floating above the forehead, while the rest of the hair either sticks straight up on top or is styled down on the sides.

The champagne blonde hair color is a bubbly as her personality and softens the appearance strongly.


Retro Haircut with Short Sides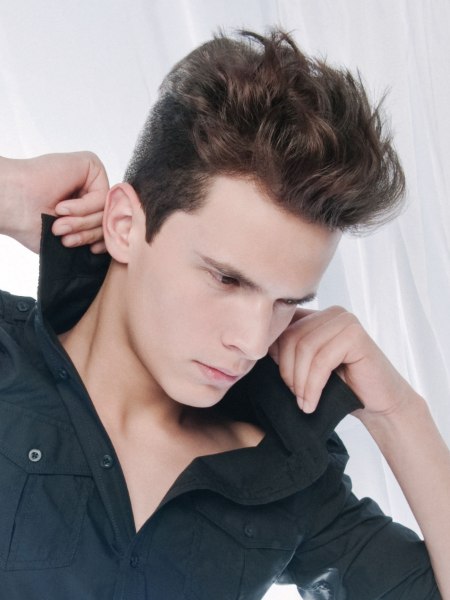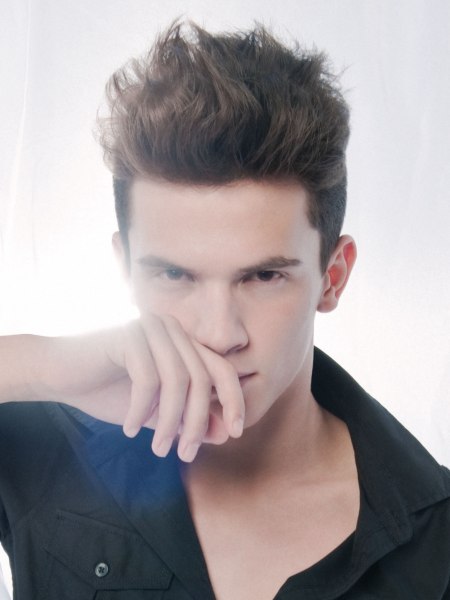 The only male in the collection cannot be overlooked with his very dapper hairdo. This style is typical for the hair trends in the masculine world. Short sides, long top hair and a retro vibe. These elements can be played with, lengths can vary and there are also colors to experiment with.

His sides are clipped very close to the scalp and are topped by a loose quiff of wavy hair on the crown. A neat look with impact.

Hair & Make-up: J.7 artistic team
Styling: Nicole Czapalla
Photography: Vlado Golub