Razor by Sanrizz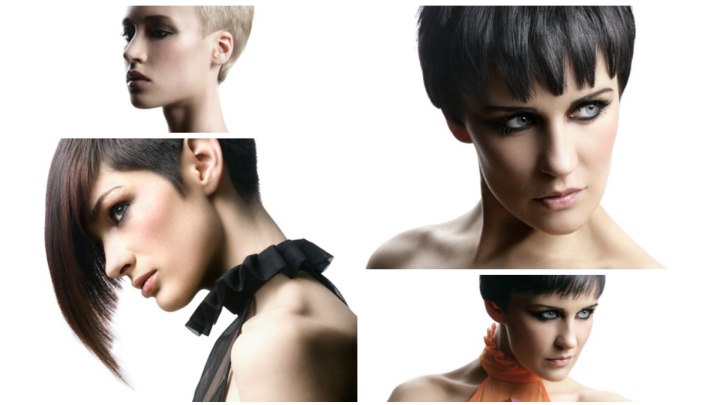 Cut with the sharpest of all instruments, these short hairstyles incorporate everything that we want to see in a modern look. Texture, shape and attitude. Lines with geometric impact are softened by fine layers and toothy yet smooth texture in the tips. All are cut with a razor. Short, sexy and sassy with a refined chic for the modern woman who wants it all. And can have it all.

Extreme graduation defines the necks and much attention went into creating eye catching fringes. Sleek styling and a clean outline will bring many new fans to the world of short hair. The colors are muted tones of blonde, brown and black in the neutral range, but elevated by a warm glow created with low lights and shine serum.


Half of the Ears Covered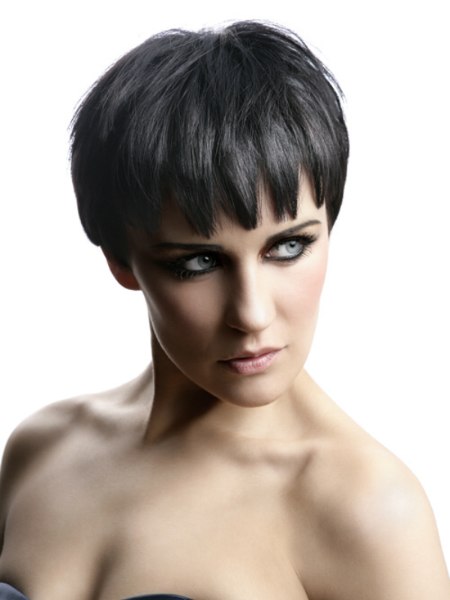 Jagged but with a soft edge, this inspiring short hairstyle captivates with its deep and yet warm black color and the interesting texture. The hair was cut into soft layers with a graduated neck and sides that cover about half of the ears.

It is a round cut with much fullness on the crown and an adorable shape that is broken up through the styling of several thick sections in the fringe. These can be created by pulling a comb through the hair vertically after adding some styling mousse or lotion. Her hair color exudes an intriguing soft and slightly muted shine with a silver glow.

Thick eyeliner and a pale lipstick perfect the image.


Boy Cut for Women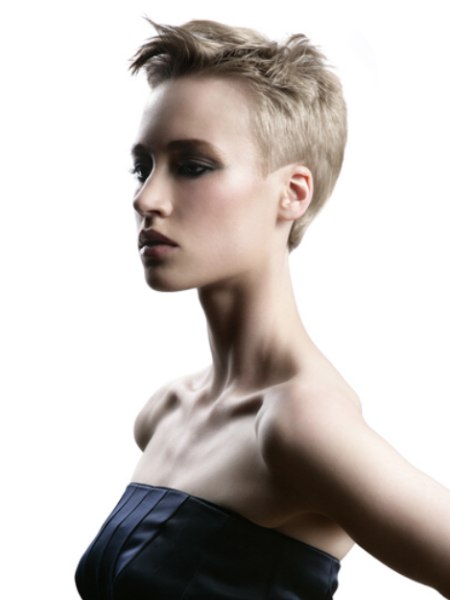 The soft and gently vibe of the ashen vanilla blonde hair color is contrasted by the very sharp outline and character of the shape. This short hairstyle is borrowed to the most part from the male section and just like when she wears his favorite shirt, there is nothing sexier.

The sides and the back are graduated meticulously and styled for smoothness. As a fun and exciting contrast, the very top layers are lifted and ruffled, which also includes the short fringe. A little amount of gel goes a long way here.


Long Before Short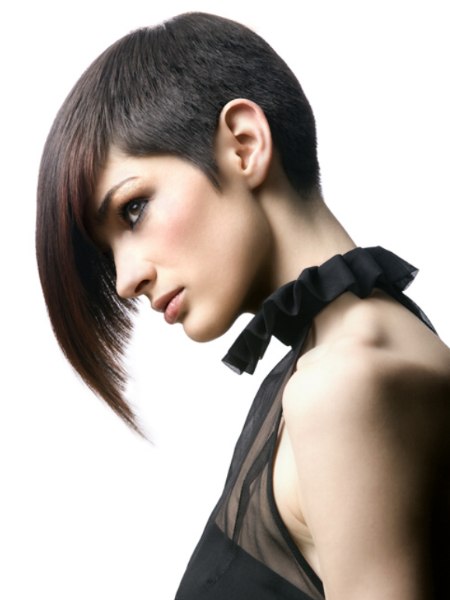 The iconic idea of combining a long front with a short back was driven to the extreme in this electrifying hairstyle. Not only is the cutting technique so flawless that the outline and the extremely fine graduation seem to have been executed with a laser, it also goes all the way with the lengths.

The shortest possible buzz sits in her nape and gradually lengthens in an uninterrupted flow towards the over chin length fringe. The fringe itself shows the most refined technique in layering and exquisite texture in its angled cutting line.

As if all of this was not enough of a treat, the hair color makes everyone uh and ah with the warm brown slices that invigorate the black base with a subtle but also intense and tingling sensation.


Little Black Hairstyle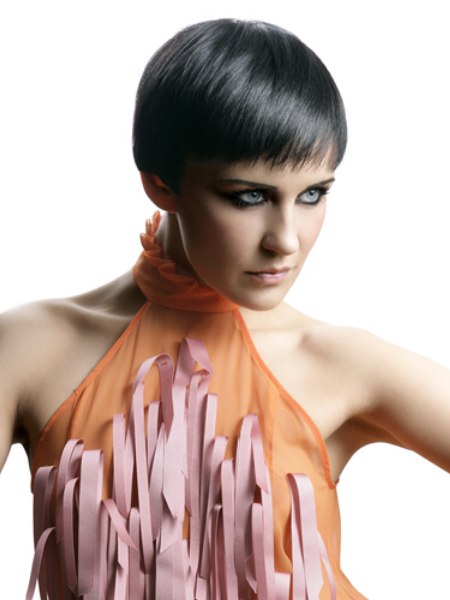 All you need to turn heads is a spectacular short haircut. This small but mighty hairdo is a work of precision and refined design, tailored to the shape and the features of the woman who dares to wear it. Fine tuned in every detail with soft, textured lines that flatter the face.

A fringe with finely sliced texture and softened layers throughout has been styled with a smoothing lotion to sit snug and shiny. With this on your head it does not matter what you wear, well, except for the smoky eyeliner, which compliments the haircut and makes the look so sultry.

Hair: Sharon Cox & Leonardo Rizzo for Sanrizz
Make-up: Lee Pearson
Styling: Elisa Heinesen
Photography: Andres Reynaga