La Féminin by Lassana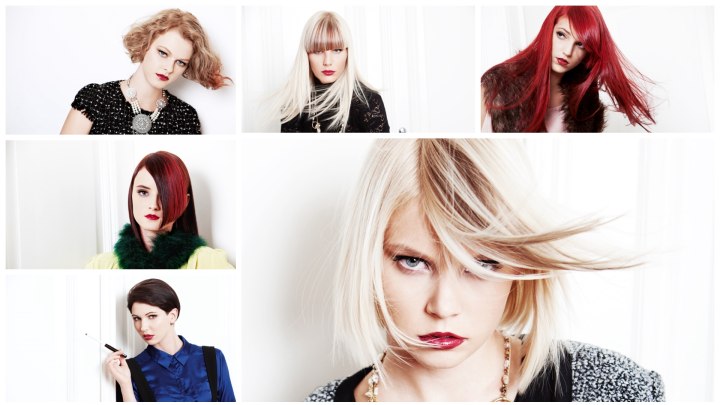 The fashion of the 20th century was influenced by three women whose impact is still tangible today. Coco Chanel revolutionized couture, Edith Piaf moved everyone with her voice and her style and then there was the incomparable Marlene Dietrich, a fashion role model for generations.

Lassana went on a mission to explore the essence of each of their distinct looks and the inspiration led to this tempting new collection of hairstyles for women who love sophisticated fashion. Short, medium and long styles have their roots in past elegance but were updated for the urban life of today.



Daring interpretations of cut and color lead to one of the most striking collections of the season. Who could resist the flamboyance of the incredibly bright red, the soothing depth of the black and the vivacious verve of the blondes?


Modern Short Hairstyle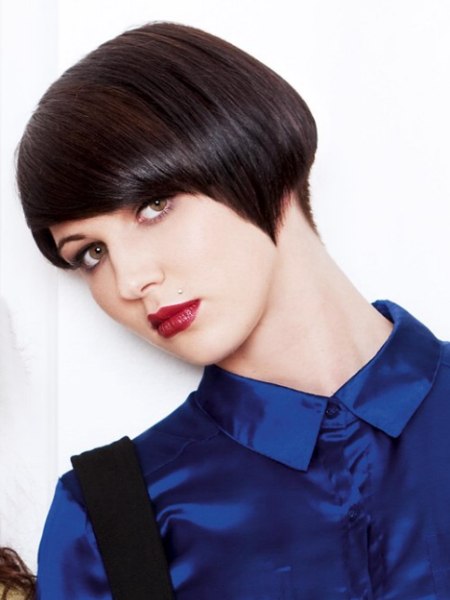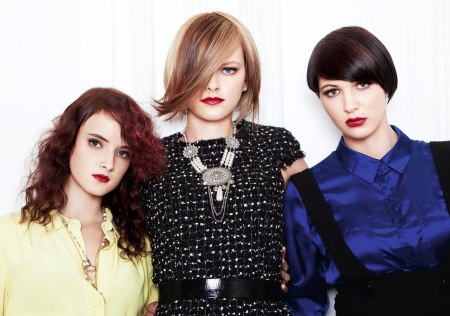 Fluid lines give the short black hair this much character. This adorable do reminds of haircuts of the 1920s and 30s but comes with its own and very modern flair. The shape of the very short neckline is mirrored in a low plunging tip in front, which evolves out of the diagonal fringe and ends at the corner of her jaw.

Sleek and silky in its surface and with sculpted chic from cut to finish, this short hairstyle is a class of its own. Volume is created on the side by using a round brush with the blow dryer. Only the tips are turned inward to give the hair this beautiful roundness.


New Styling, New Look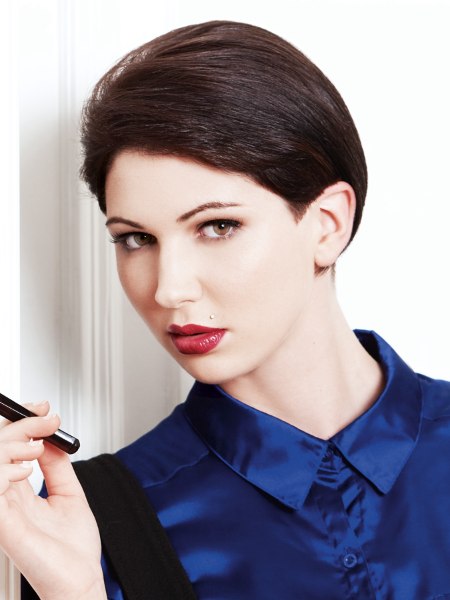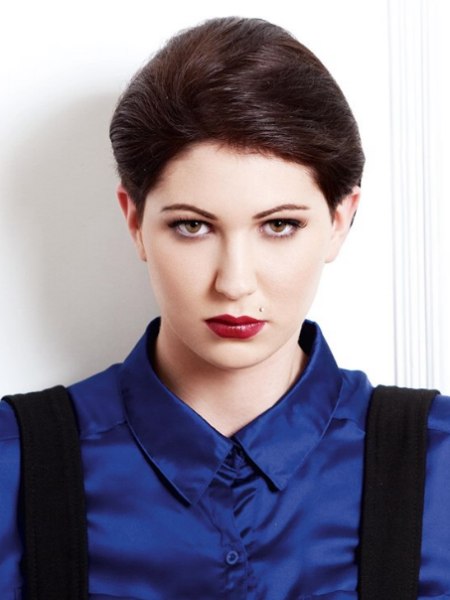 Changing directions is all it takes to get a new perspective. This applies to life and also to short hair. The very same cut that delighted us with its vintage charm in the first photo, is now all aerodynamic and modern. The layered do was combed back and held in place with some smoothing serum and hairspray.

All of the hair is out of the face and subtle airy volume was build up on the crown. A very charming touch are the tiny triangular points right in front of her ears. This length is ideal to wear with the very trendy collared and buttoned up blouses or with turtleneck sweaters.


Blonde Bob with Texture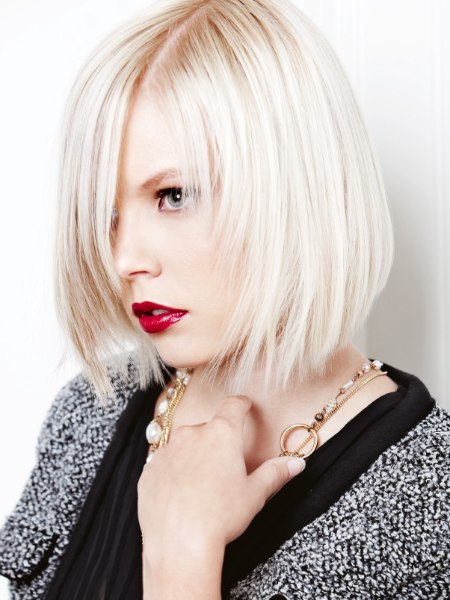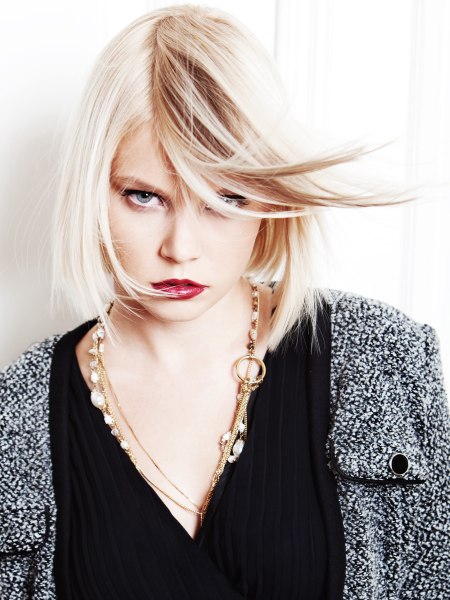 As soft as a whisper. This extremely appealing bob was cut with some angled lines and tapered feathers that frame her face. A long fringe touches the tip of her nose before it flows in a diagonal curve to the lower tips that sit just underneath her chin. A straight and very neat side part separates the hair to a super stylish look.

Her hair color is a baby blond with a blinding light exuding from its very core. This hairstyle does not need any further tricks or embellishments. Just a little roundness in the lower line created with a styling brush while drying gives it all of the swing and chic it needs.


Wavy Marlene Dietrich Look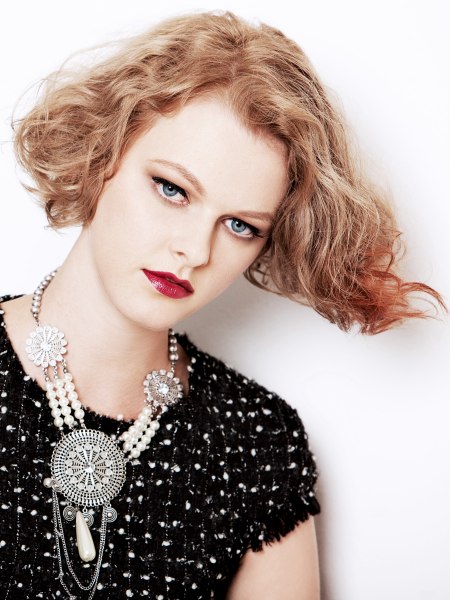 Marlene Dietrich was famous for her legs, often in then rather revolutionary pants, but she also made her short, wavy hairstyle so popular that we are still wearing it with pleasure today. A feminine look with much personality is based on a short bob with equal length of hair.



Waves run from root to tip; the hair is styled with a side part and in its modern version with a gently ruffled surface and flared out sections. A splash of golden red color catches attention and adds a new spice into the already exciting mix of elegance and vivacious energy.


Bob Two in One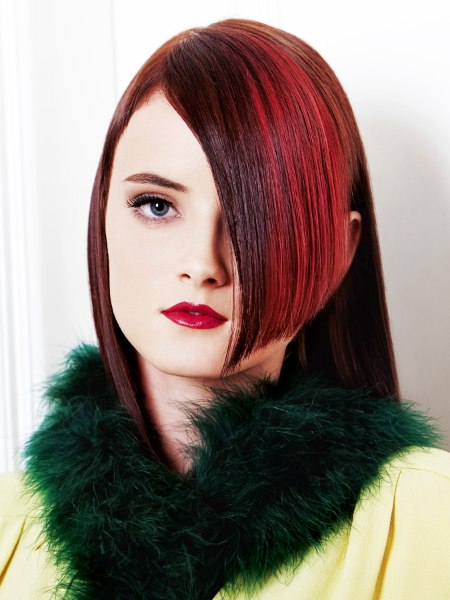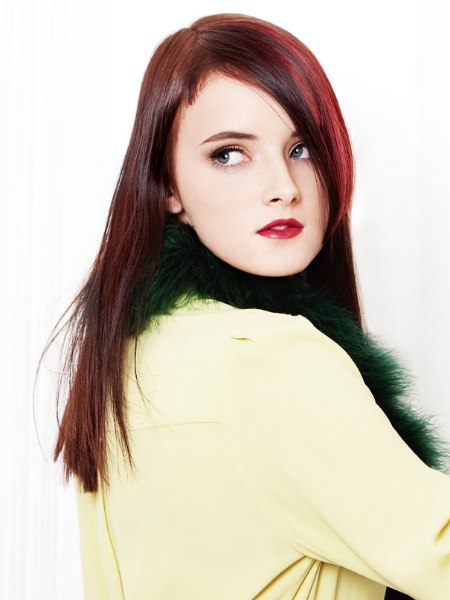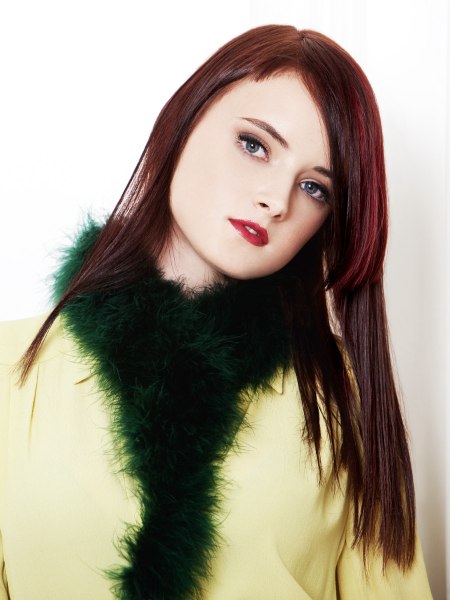 If you cannot decide if you want to wear your hair long or show your classy side with a straight bob, this haircut might just be the answer. A daring mix of hair lengths and geometrical design uses the influences of the past and puts it right into a time machine set for today.

Barely chin length the front layer of hair, which could also be considered to be a long, straight cut side fringe, sizzles with streaks of stoplight red on the dark brown base. The rest of the hair is just as silky, but reaches an almost mid back length. Another adorable element is the very short section right were the part meets the forehead. Classy chic with a wink.


Straight Bangs in Two Colors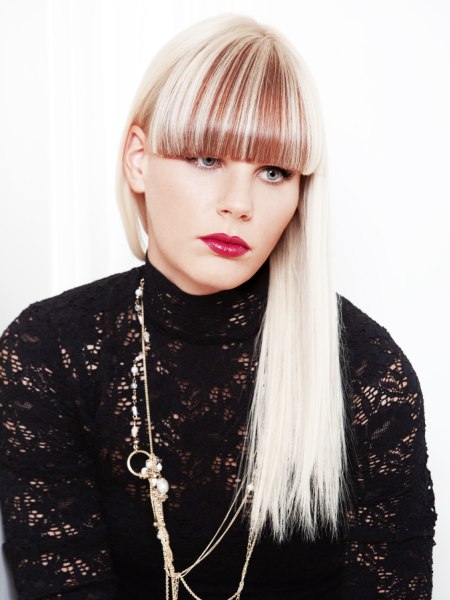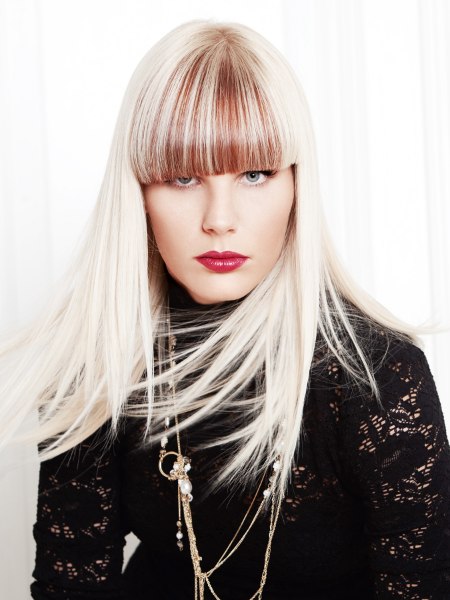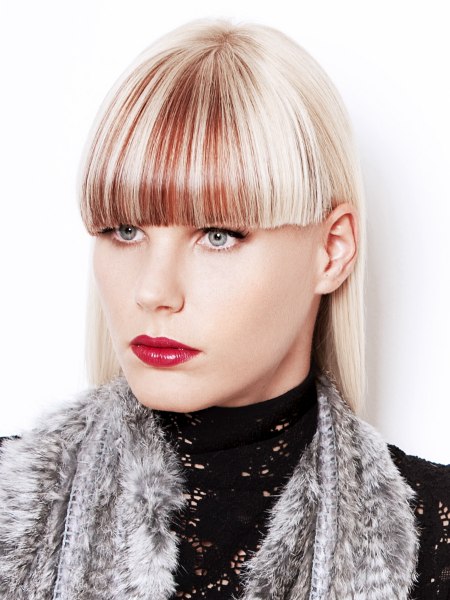 Platinum hair shines brightly on her black and the fine texture competes with the intricacy of the lace. However the real eye catcher in this adventurous look is the full fringe. An innovative, layered coloring technique was used to bring interest into the two tone bangs.

The reddish brown hair color with its warm glow could not be more opposite to the cool blonde, but it is exactly this juxtaposition that makes the combination so thrilling. One or both sides can be tugged behind the ear and this style also looks great in a ponytail or as an updo. The fringe is the true star.


Celebration of Red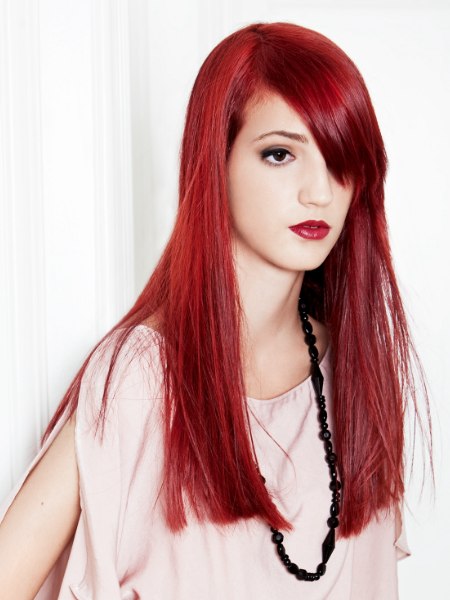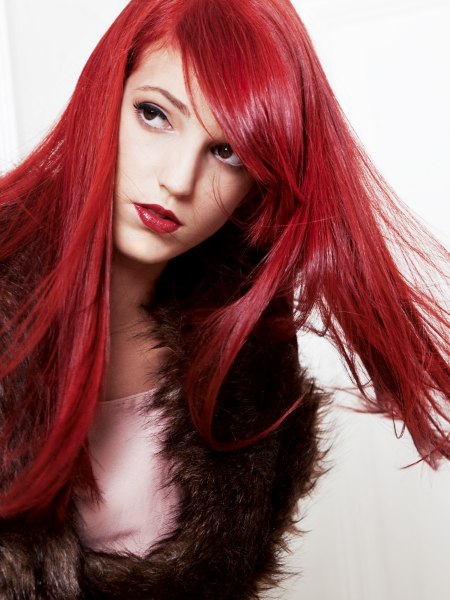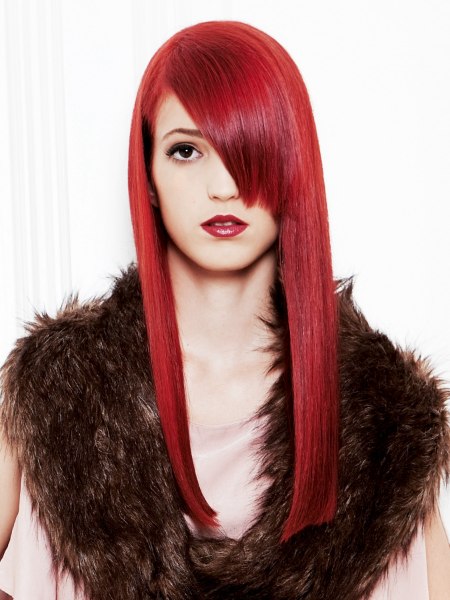 Bewitching in its deep and bold glow, this long red hairstyle has a very refined finish and cut. A blunt cutting line gives it a neat feel and the side fringe brings a stylish asymmetry into the equation.

The hair was styled extremely straight. A hot iron helps with this. Lift it up with the hands and let it fall to create the interesting uneven surface. Smoothing serum is a must to have the hair this supple and shiny.

Salon: Frizerstvo Lassana
Haircuts: Metod Tasič & Ana Oblak
Coloring: Nada Lučič, Mateja Križmančič, Jasna Mustedanagic, Sara Mikluž
Make-up: Maja Šušnjara
Styling: Danaja Vegelj
Photography: Mimi Antolovic