Intercoiffure Austria
Revival der Feminität und Strenge


Intercoiffure Austria's creative hair artists bring strength and strictness back to female heads. The new line of extraordinary hairstyles features strong colors, bold shapes and geometric elements in straight and curly styles.

The highest amount of intensity is achieved with minimal elements. It is amazing what an accurate line and a right angle can do for a hairstyle.



Intercoiffure Austria's collection is not about playfulness. It is not sweet, but breathtaking. It is not romantic, but seductive. A collection of fabulous hair that radiates with female sensuousness and power. All put together with an utmost amount of control and creative discipline. What a delightfully dangerous mix.


Lava Red Hair Color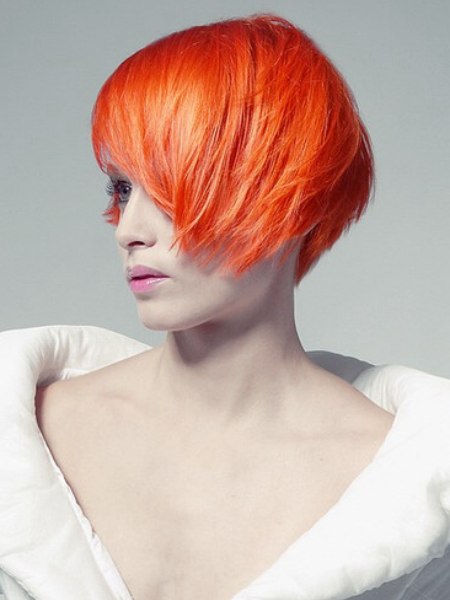 This color is meant to be seen. Who needs to be subtle? Make a statement in lava red and with a style that is a few cuts above the mainstream. A short bob is still visible as a basis to this extravagant creation.

Asymmetry brings even more energy with one side cut slightly above the earlobe in a straight line, jutting forward in a sharp angle to accentuate cheekbone and eye. A long lava flow of hair comes down from the crown to flatter the face in a diagonal line and a momentous forward styling on the opposite side.


Ultrachic Short Hairstyle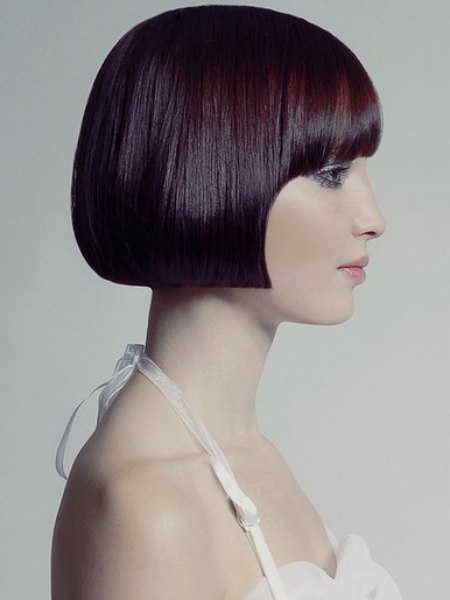 This would almost be a perfectly cut, classic bob. The Intercoiffure Austria team did their magic on an icon and added geometric shapes to the lines that are as immaculate as if cut with a laser.

The frame around the face is rounded on one side and shaped into a sharp angle on the other, creating asymmetry while keeping the same length around the head. The warmth of the dark cherry color softens the hard lines of this ultrachic style.


Curls and Control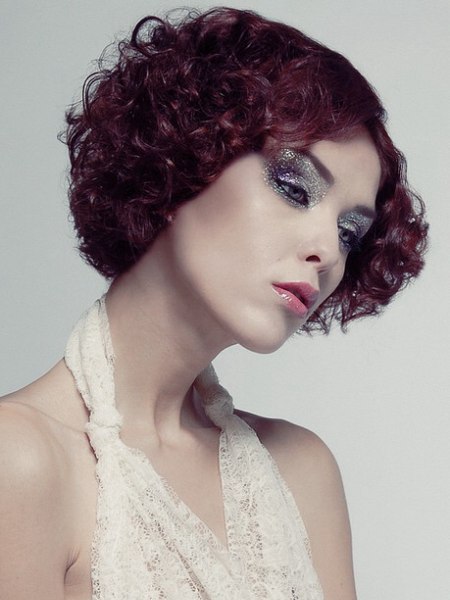 Curls and control are not a contradiction. Skilled layers that are the longest at eye level contribute to the perfectly curved oval shape of this curly hairstyle. Medium sized locks are well defined and positioned as dense as possible without loosing definition.

The partition is only slightly on the side to keep the weight of both sides balanced. With its amethyst, glossy shine, this look will leave a lasting impression.


Charleston Era Wavy Bob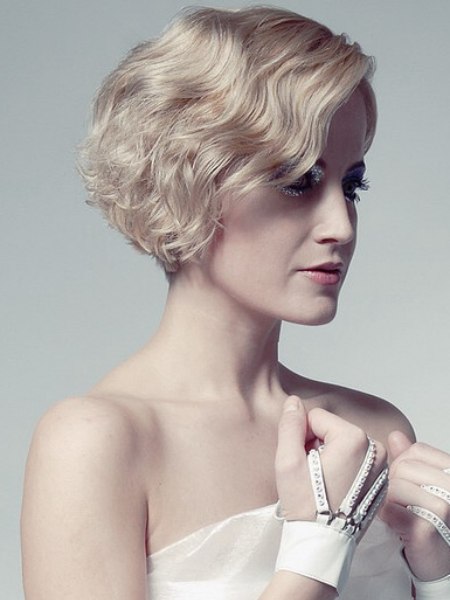 The perfect mélange of a Charleston era wavy bob and a modern casual short cut is classy, sexy and relaxed enough to fit for all occasions, be it at work, in private or for the grand social appearance.

Cut to a short, slightly layered A-line bob with a side partition, the dominant side charms with its large finger waves, while the smaller side is casually styled towards the back. The warm vanilla blonde gives it an irresistible shine.


Two Lengths Haircut


Fine features are pronounced with the strict corners of this geometric haircut. Executed with laser precision the lines of this eye catcher seduce with their accuracy. Deep bangs end in a 90 degree angle to pronounce the cheekbones.

The horizontal line at ear level meets the shoulder length back section that is also styled with mathematical deliberation taking the straight line into a calculated curve ending in a razor sharp point. When it comes to the color, there is no better match for this look than the model's deep blue-black.


Feathery Short Hair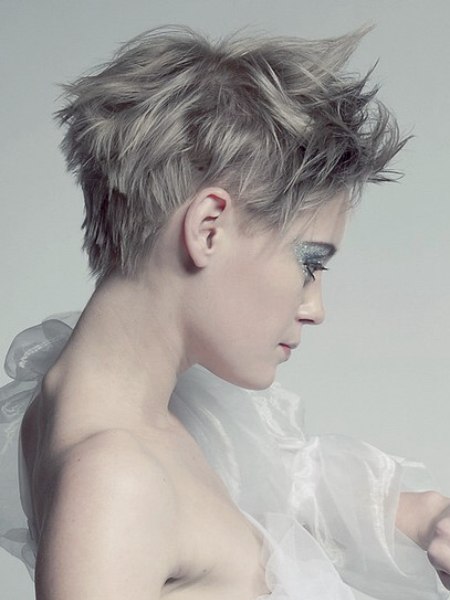 Even with its ruffled nature this short hair style stays true to the vision of the collection. Instead of straight geometry we are looking at an exploration of controlled chaos theory.

The result are exact lines defining the perimeters, chopped and feathery sections interacting with icicles breaking free in all directions. What better color than a granite-silver gray to define this look as one of fashion's hottest.


Face Hugging Bob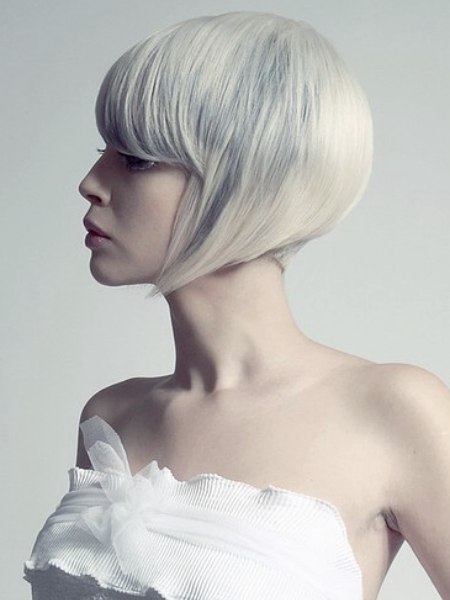 Coolness is redefined with the extravagant lines of this take on an A-frame bob haircut. Every detail is meticulously planned and balanced to heart stopping perfection. What is round in front - curved bangs, a consequently oval contour, shows its strict aspects from the side with a dangerously pointy shape hugging the face and connecting to the bangs in a sharp angle.

The iridescent mother of pearl hair color shows seemingly random blotches of a stone blue hue, that breathe the spirit of a fashion rebel into this coif extraordinaire.


Short Hair Cut with Perfection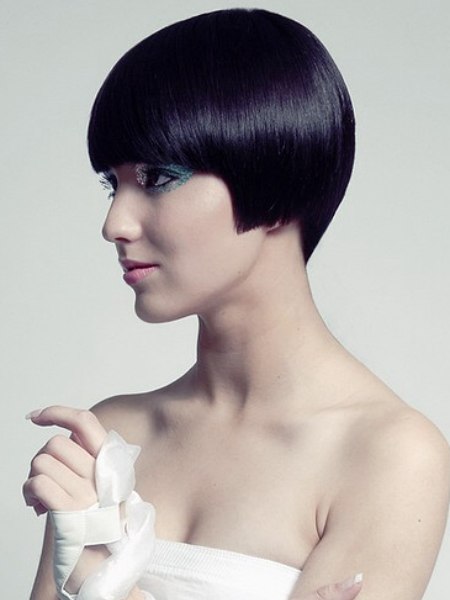 Angles and curves spread their captivating allure in a deep amethyst black. The round silhouette of the hair makes part of the lines of the body, flowing smoothly along the neck and around the head.

The sudden sharp angles remind us however that this hair still has a life of its own and that it wants to be the center of attention sending out an artistic message of perfection in lines and in minimalism. Juxtaposing roundness and 90 degree angles creates the unmistakable energy of high fashion.

Hairstyles: Intercoiffure Austria