Eye Candy by Anne Veck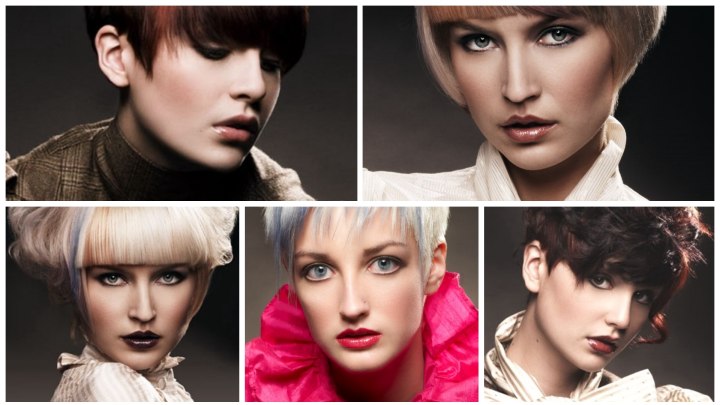 Anne Veck has been doing her magic out of her two Salons in Oxford and Bicester and the number of her fans keeps growing in and outside of England. The new Eye Candy collection makes it clear why Anne and her team have won numerous awards and why her star just rises and rises.

The hairstyles of the Eye Candy collection are short, cut with passion and precision. They are versatile hairstyles, stunning and bold, glowing in unusual but harmonious and rich tones. Some are natural, others remind of the sky in spring, red earth or precious metals.



Just like candy these looks are seductive, irresistible, colorful, glossy and sweet and carry a certain intensity that makes them part of the must-have hairstyles for the season and beyond.


Gamine 60s Haircut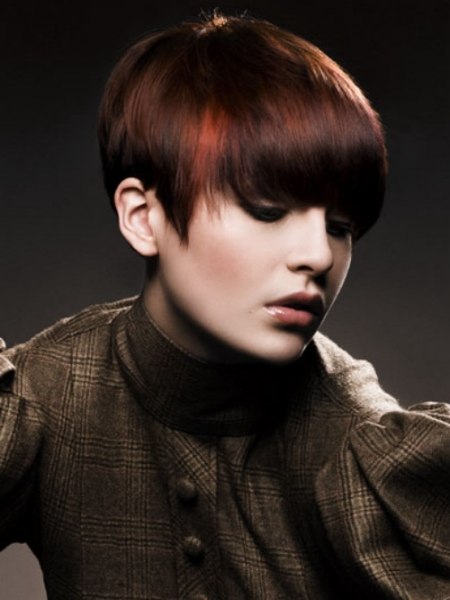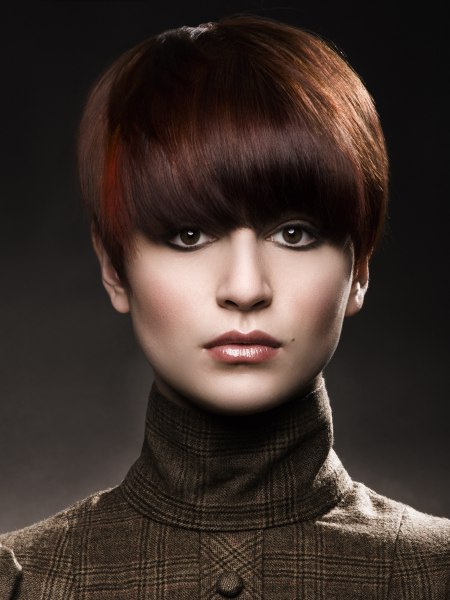 This gamine power haircut captures a memory of the 60s in its rounded shape. The smooth silhouette of the short hair carries its weight high in the crown and gently enhances the features with contouring lines.

Especially catching is the side section that exactly follows the line of the cheekbones. The deep brown color has a couple of narrow slices of a bright adobe color that peek through depending on how the top hair is flowing.


Neopunk Haircut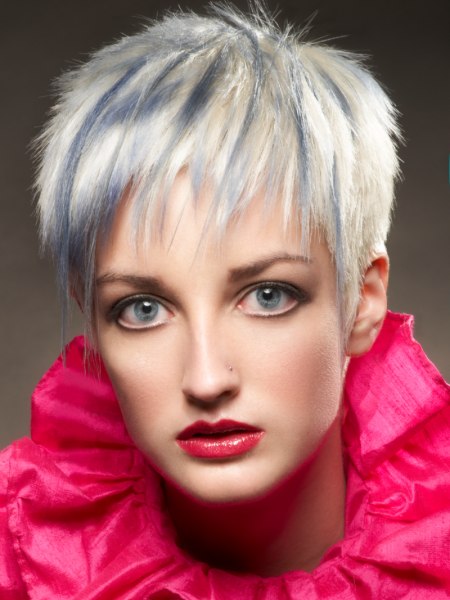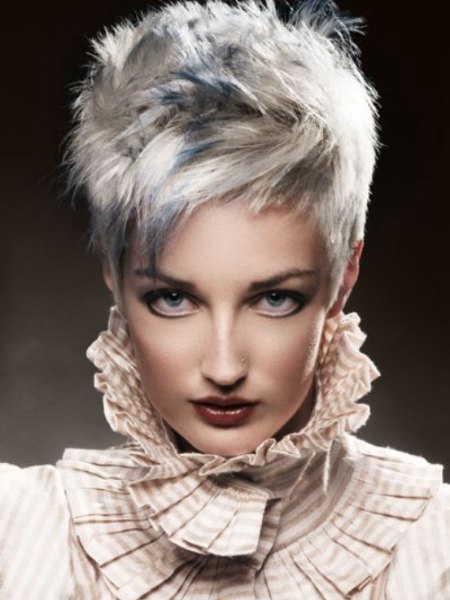 Neopunk has never been more romantic. Short cropped, most likely razor cut back and side sections are joined by longer, choppy and textured bangs. The sides are contoured around the ears and into the face with short sideburns.

A bright and gleaming silver color turns even more "scifi" with ice blue streaks that appear in different patterns with each different styling. Different layers of hair and color allow for a variety of surprising and adorable looks.


Short Bob and Double Bangs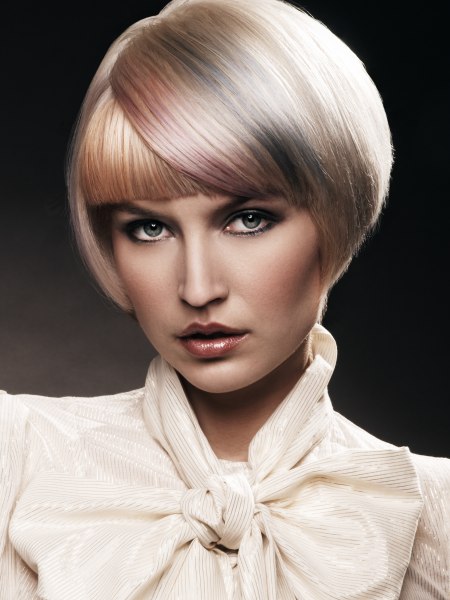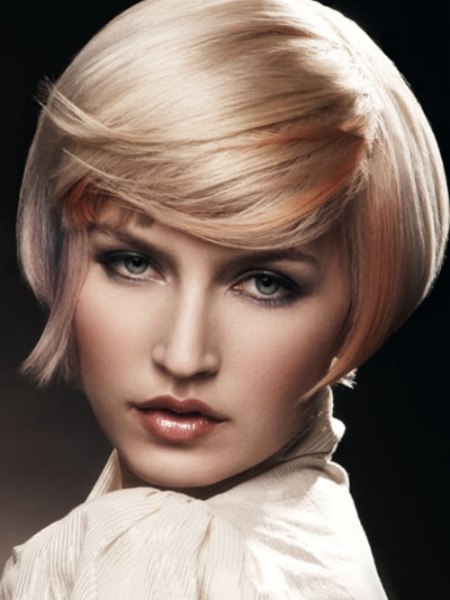 It takes a true artist to come up with this palette and a master of hair to layer the colors into a sleek haircut to make them appear and disappear with the hair flowing in different directions. On the first photo the short bob shows its geometric lines and its double bangs with a shorter, straight cut layer underneath a longer side swept portion that is anchored higher on the side of the crown.

Here the pinks and blue hues are on top, with a touch of gold peeking through. In the second photo the partition of the hair is on the other side and we get to enjoy the visions of copper and gold on the beige and platinum blonde base color.


Curled and Teased Crown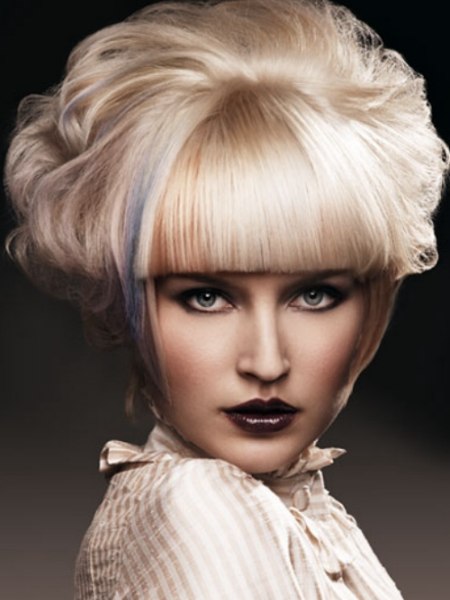 No, it's not a photomontage. This bold look seems to combine highlights of hair fashion of the past decades. This creation is all about layers in cut, color and also in texture. It brings together opposites but in the end all get along phenomenally.

Super straight bangs flow into a fluffy, curled and teased crown, while geometry is the word for the sides. A striking blue line interacts creatively with a platinum streak and a golden, sandy beige, highlighted rest of the hair.


Short and Curly Hairstyle


If hair had a taste, this one would be cherry cola. The deep brown comes to live with red highlights and reflects the light in a warm sunset colored glow. This short and curly hairstyle has the signature contoured sides of this collection and a bundle of dense curls high on the head.

A very charming and eye catching element is the long curl falling into the face. This look is funky, elegant, professional und fun at the same time and can make it from the office to nightlife without any changes.

Hair: Anne Veck
Styling: Charlotte Woodly
Make-up: Cheryl Corea
Photography: Charlotte Kibble
Products: Wella Professionals