Atmosphere by Keller haircompany


The aptly named "atmosphere" collection by the Keller haircompany brings us a breathtaking array of stunning hairstyles for men and women. The mood is earthy, strong and very sensual. Colors are of nature's palette and the shapes immediately get under our skin with their bold and determined lines, textures and untamed elegance.

As always the Keller cuts are performed with the highest standards of artistic instinct and professional skills. Embracing and enhancing the individual features of each model the looks become versatile tools of self expression while being in perfect harmony with fashion trends that are here and that are yet to come.


Red Curls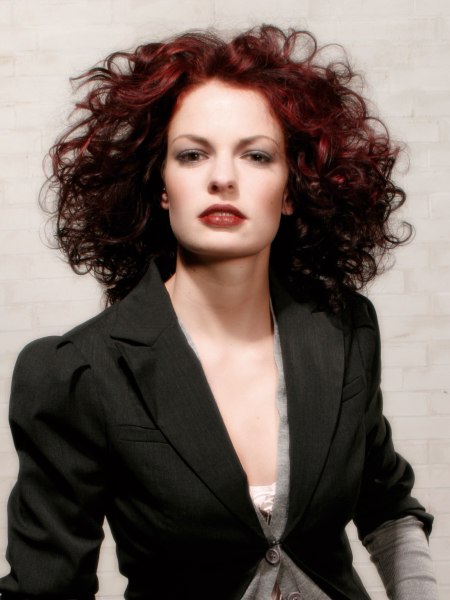 Like a force of nature finally set free this opulent mane is an explosion of color and curls. Large, well defined curls frolic with vigor and are energized with the berry reds fused with a strong, dark mocha in the lower half of the coiling mass. The hair was cut in generous layers to shape the generous and impressive roundness of its silhouette.


Voluminous Long Hairstyle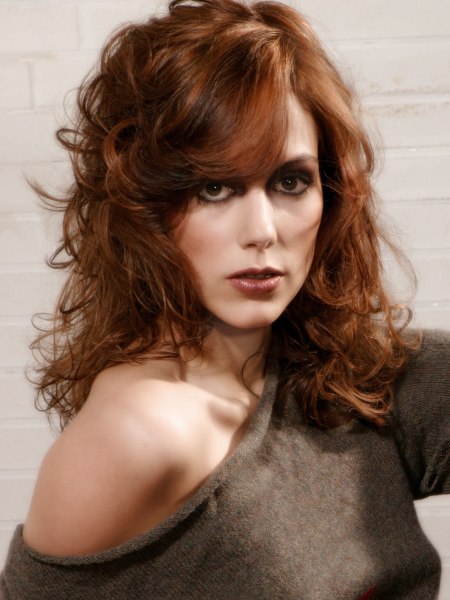 Long layers, curls and the charged golden browns of a chestnut's skin are the seductive traits of this voluminous hairstyle. Heavy bangs swing their way to the side starting at a high side part.

Curls are large and well defined on top. Due to the layered cut the volume is evenly distributed along the whole length of this look that is a perfect choice for that special evening on which you want to show the real woman in you.


Long 80s Inspired Hairstyle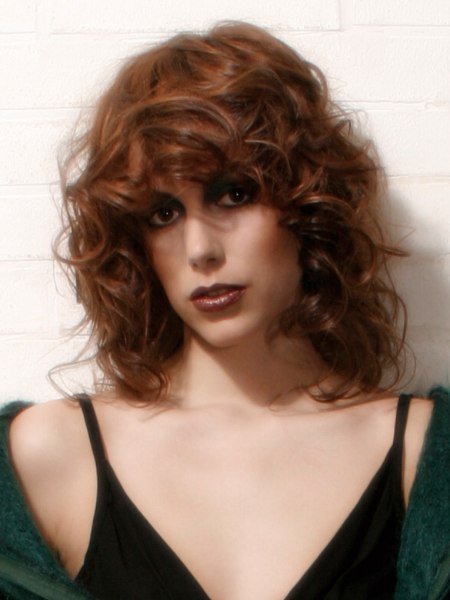 All the stops are pulled on this voluminous 80s inspired curled hairstyle. Volume is the motto and it comes in large, voluptuous mahogany curls. The full and thick bangs shadow the eyes and flow together with the shoulder long sides to a perfectly curved arc. Now get on those legwarmers and choreograph your own "Flashdance".


Modern Shag Cut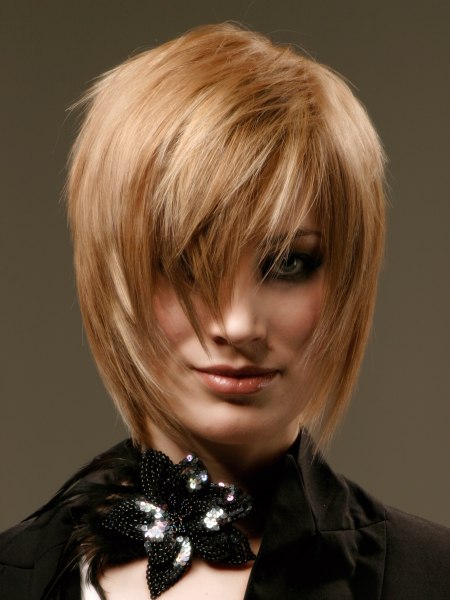 How can something retro look so modern? It can only be the exquisite texturizing and styling of the shag cut. Sharpened layers of golden and coppery blonde envelope the head in an oval outer shape and with much structure.

Long bangs can be styled in our out of the face, revealing or covering as much as you choose. Are you ready for this classic wild look that was given a good dose of sophistication and fashionable flair?


Hair with Varying Lengths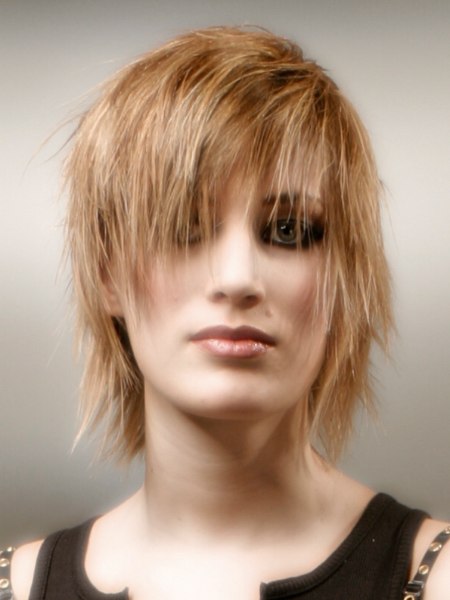 Like finely spun gauze this neck-length shag inspired hairstyle features feathery thin and light texture throughout. The layered hair was shaven to varying lengths with a razor tool, a technique that reliefs the hair of its weight, adds softness and an appealing wispiness. This evolved punk look is easy to maintain and to style for changing environments, moods and fashion.


Radiating Short Hair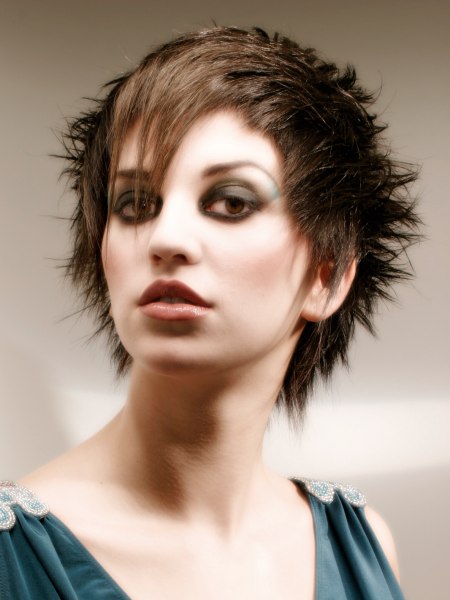 A halo of spiky, radiating and vibrating short hair. Circled around the head behind the ears from nape to crown and back the hair seems to reach out and expand the aura of the doe eyed model.



As a pleasant contrast the side hair was combed forward and fixed in place with the same product that lets the back hair stand up. The bangs are shaped into three long textured tendrils that fall across one eye.


Snug and Tapered Haircut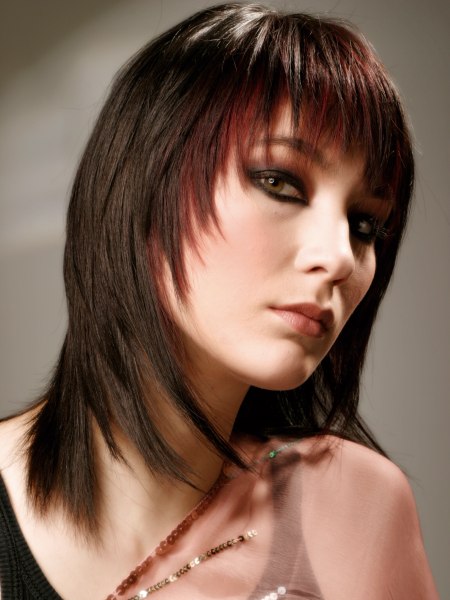 Long tendrils jut along the sides of the face and frame the features with their highly texturized, pointy ends. This elegant rebel look gets even more boost with a sub-layer in a deep and warm red tone, that peeks through the fringes and along the sides of the mocha brown top layers. The outer surface is smooth and styled for ultimate shine and straightness.


Medium Length Tapered Hairstyle


Skinny jeans are back and they go well with a sporty, sexy, sleek hairdo. This tapered and strongly textured cut frames the face with trendy fashion and the radiant red color makes sure you will leave a lasting expression.

This medium length hairstyle is not only chic and of that wonderful casual elegance that we all love, it is also to easy maintain and offers a range of styling options.


Tapered Cutting Line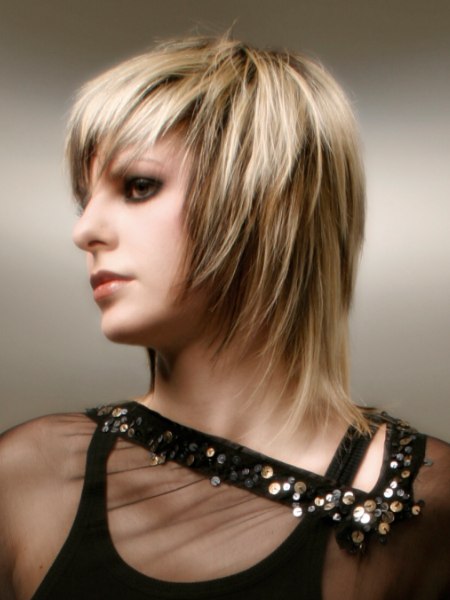 For this intriguing medium length hairstyle the Keller haircompany supersized the texture, the layers, highlights and lowlights. Wide textured strands flow straight but with styled-in volume and form a flattering tapered line around the face.

The high side part is barely visible but adds a precious asymmetry to the bangs. The hair color lightens up from the bottom layers to the top and transitions from a cocoa and nutmeg tone to light beige blonde.


Cool Comb-Over


You can't decide if you want your hair short or long? Well, just do it both. This trendy new hairstyle for men combines sides and a back that was clipped to just a couple of millimeters and a long flowing tongue of hair that moves from the high point on the crown diagonally across the face, all the way below one cheekbone.

A modern look for the fashion conscious man who likes a neat cut with lots of options.


Neat Men's Haircut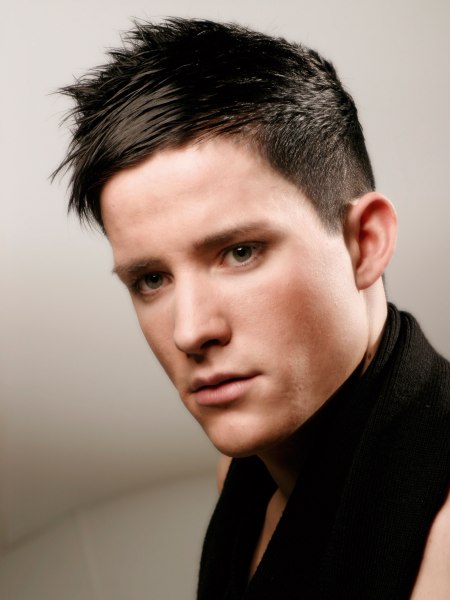 Short cuts for men don't have to be boring. With the right styling and some creativity amazing things can happen. This cut boasts extremely short sides and back but the hair gradually lengthens towards the top where it reaches a bit less than an inch in length, just enough to be able to stand it up.

A dab of product and a comb will give the front hair the right direction and help to lift up and ruffle the mid section. What a great way to combine neat lines with fun textures.


Long Hairstyle for Men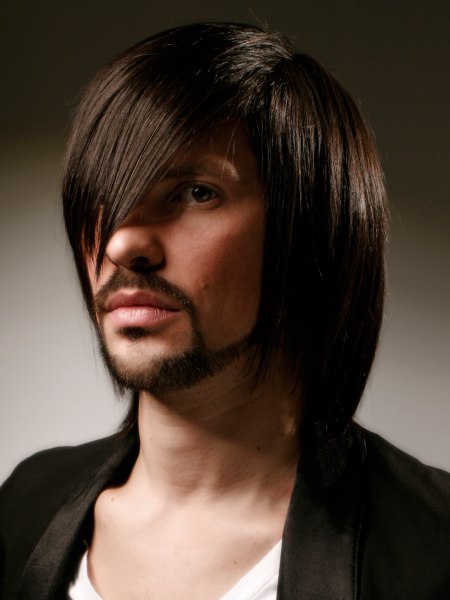 Bohemian chic is not for women alone. Creative men like to show their artistic side with their style as well. Long hair for men got a make-over with styles like this shoulder length tapered and textured cut. It features a high anchored side part and long strands of bangs that form a diagonal line across the face.

The facial hair was also cut with much precision and design, following the lines of the face and bringing attention to his lips.

Hairstyles: Keller haircompany