Back for Good
Zentralverband des Deutschen Friseurhandwerks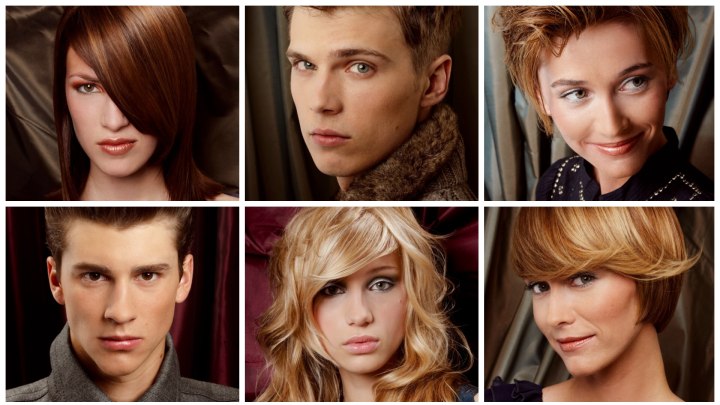 The new trends in hair fashion cultivate modern elegance and modern casual looks - fascinating retro looks and celebrity lifestyle are at the center of attention.

Seen it all before? No, of course not. Nothing remains as it was. Especially not when it comes to fashion. But a look back at epochs gone by is one of the most influential sources of inspiration for the collection of hairstyles. Trend meets tradition is the motto: the new and unique develops by picking up historical connections that have evolved through modern techniques and current know-how.



The Zentralverbandes des Deutschen Friseurhandwerks fashion team was inspired especially by the 80's: heavy bangs and voluptuous textures are celebrating a grand comeback. The looks of today are more natural than their predecessors, which gives the styles are more relaxed and less molded feel.


The Art of Cutting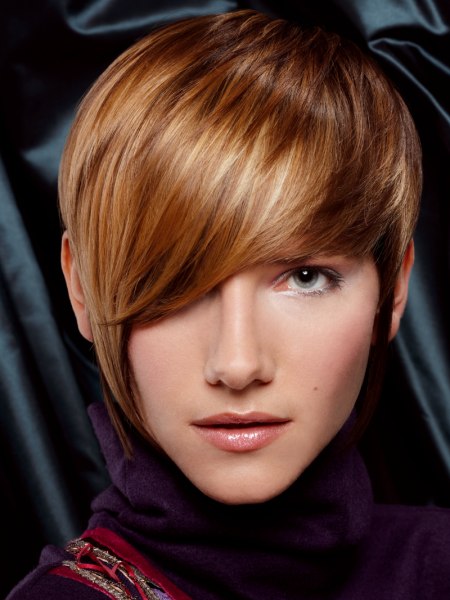 Hair needs a good cut to look its best. Short hairstyles need a great cut more than any to fall with this much perfection. A nod to the 80s brings a trendy air of nostalgia and the vibe of crazy, happy fashions that went delightfully overboard here and there with exaggerations in shapes and color.

The cool haircut seen here has its own edge but is wearable and very flexible. A shorter rear and sides correspond well with the long fringe, diagonal and textured in all its glory. A well composed mixture of warm and earthy tones with a lot of light gold add to the movement and illuminate the look for much dimension.


Feminine Short Hairstyle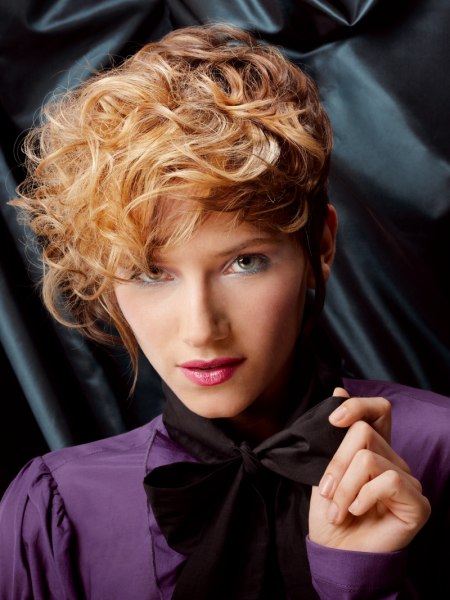 Yes, it is the same haircut that you saw before. It is hard to recognize, but the short, flawlessly cut with the long bangs is the base for this romantic, classy and vintage looking model of flirtatious fashion. Feminine as can be and supported by a large bow on her blouse, the curly fringe plays along one side of her face that it is just a pleasure to behold.

A bit of asymmetry and varying lengths with a shorter back and a longer front, is all that a girl needs to be right in the center of the fashion wave this season. A look for festive occasions and for other special events.


Feminine and Practical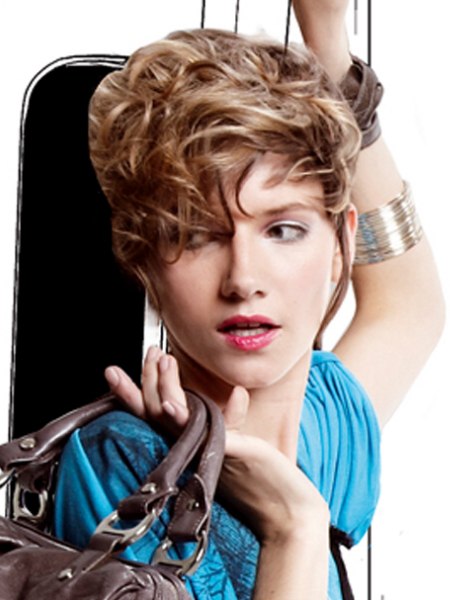 Pack your bags and discover something new. Your best travel companion is a short, chic and even practical hairstyle that is a changeling by nature and will go with her through thick and thin.

A highly flexible cut with a lot of texture and varying lengths was exposed to the shaping heat of a curling iron and turned into classic feminine chic with a jet-setty flair and super sexy attitude. High and lowlightadd to the drama and visually enhance the shape.


Short Look with Modern Styling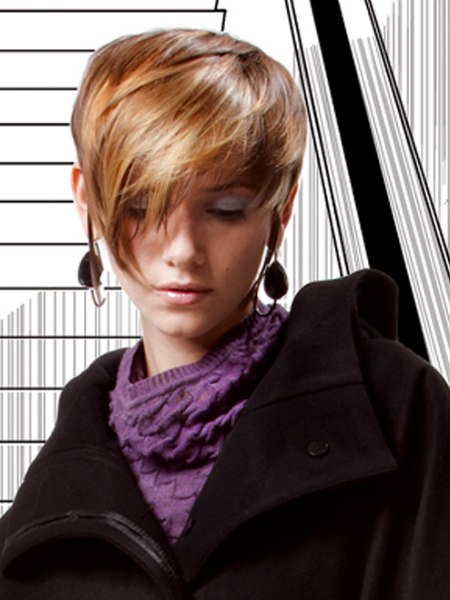 She can go from vintage to modern just by changing the texture of her hair and, in this case, losing the curls. Straight and shiny, the finely tuned nuances of her golden and brown hair colors stand out and transform the surface of her short hair in a landscape of light and shadow.

Styled with overlapping layers, individually accentuated strands and emphasis on the long bangs, this versatile haircut is ultra modern. Especially with those amazing earrings!


Bob goes Sassy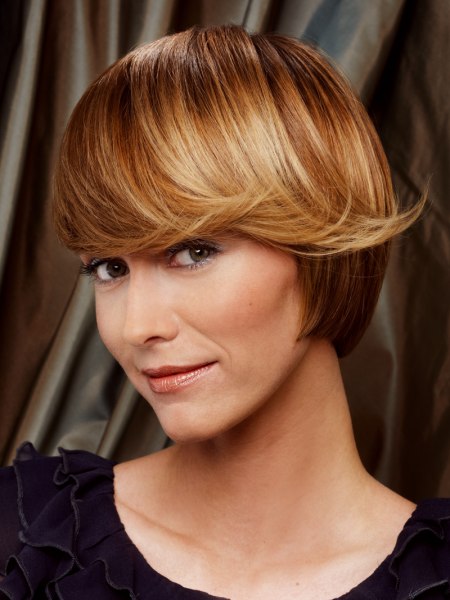 How fun is that! The prayers of many women have been heard and answered with a haircut that has as many facets as they have and that can go from professionally presentable, to flirty and sassy, to elegant and sophisticated with just a few modifications of the styling technique.

The refined cut follows the line of her neck in the short back and features long bangs that are the element that can be most played with. Here they are curved and flipped sideward for a fun, feisty and adorable motion of golden shine, contagious in all of its positive energy. Come on and join the party! But before make sure to check out the other options for this genius cut ...


Casual Elegance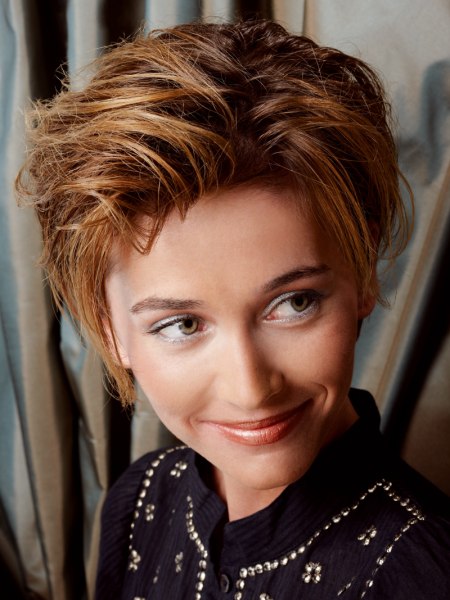 Annette Bening knows about the sexy secret of short haircuts like this super charming bob and got Warren Beatty to his knees.

This short bob looks great in all of its incarnations, but one especially effective styling option is the casual elegance with a high lift on the roots for volume and a good scrunching with the fingers for the messy texture. The face is open and radiant with the long bangs styled to the side and back.


Form Fitting Bob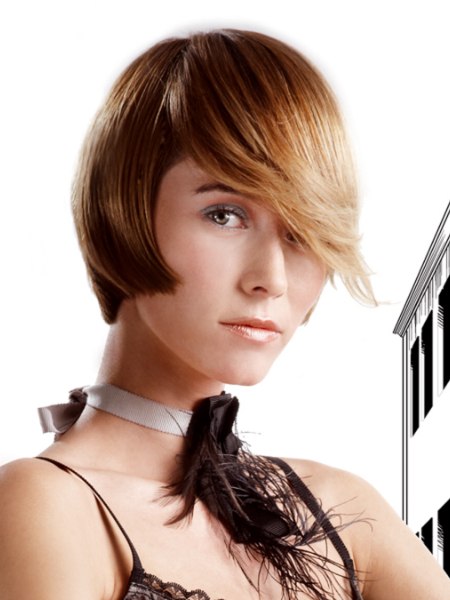 We cannot get enough of vintage flavors and when the nostalgia is mixed with refined boudoir style it is truly irresistible.

The form fitting bob is now equipped with an asymmetrical side swept fringe that shows not only seductive curves but teasing texture along its edges as a gorgeous contrast to the sleek back and sides. Combined with a sultry look and a feathery neckband, the 1930s come alive and most likely her love life as well.


Ladylike Short Hairstyle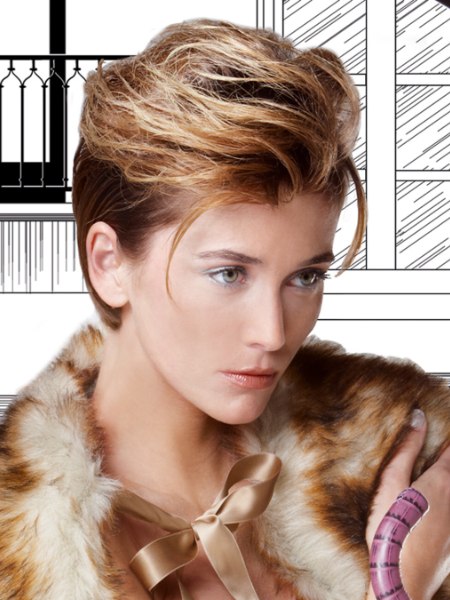 Her hair may be a wee bit too short to shape it into a ladylike and drop dead beautiful French twist, but even with a short bob the general feel and expression of this famous classic can be created. Her sides are slicked back and held close to the head with the help of some gel.

The top hair is puffed up and directed from front to back in a generous, slightly messy sweep and connects to the slicker part way in the back of the crown. A couple of loose strands along the sides of her face loosen things up, but the integrity and elegance of the style remains.


Medium Length Bob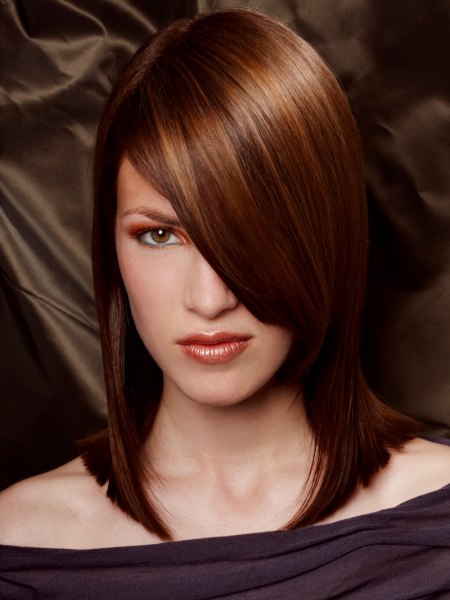 Elegance comes on sleek paws and in warm colors. Bobs just cannot be praised enough for their exquisite styling options and unpretentious sophistication. As straight forward as they may look, a refined cut is always a must and it is the small details that make a style work or not. The texture of the cutting line and gentle undercuts together with interior layers are the building posts for this beautiful flow of hair.

A strong fringe slings its way diagonally across her face and the blunt line touching her shoulders is a thrilling contrast to all of the curvy softness. More dimension was created with a fine play of light and dark tones of warm browns and golden tones.


Curled Medium Long Bob


Once the curling iron does its trick, her medium length bob is transformed to an alluring shape of hot romance and classic beauty. Especially in candle light or other soft illumination the radiance of the hair color with its intense but still subtle highlights transports her into a different dimension.



Very notable on this side view is the exciting transition from darker hues on the inside and the bottom to the lighter tones on top. The bangs remain sleek but strongly curved.


Face Framing Curls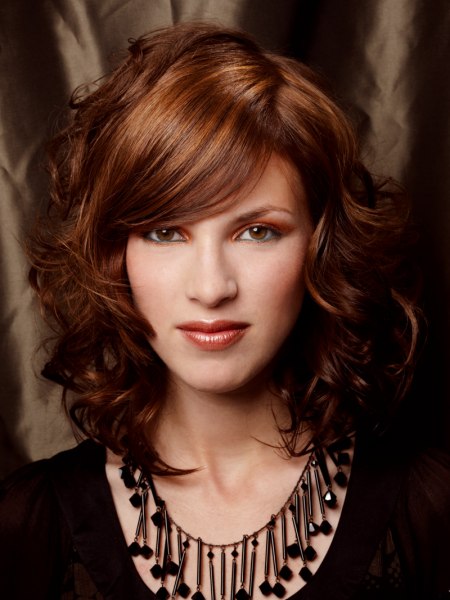 Layers come in very handy with a curled styling. Not only do the curls spring up more bouncy, their distribution is also more even and can be controlled with the length and amount of the layering. The medium length bob now frames her face with large, more or less defined curls and is a vivacious expression of her great taste in fashion.

About halfway into the crown and then separated in a triangular shape is a sleeker section which includes the long bangs. Curved elegantly to the side the fringe is a calm point amidst all of that passionate movement.


Updated Casual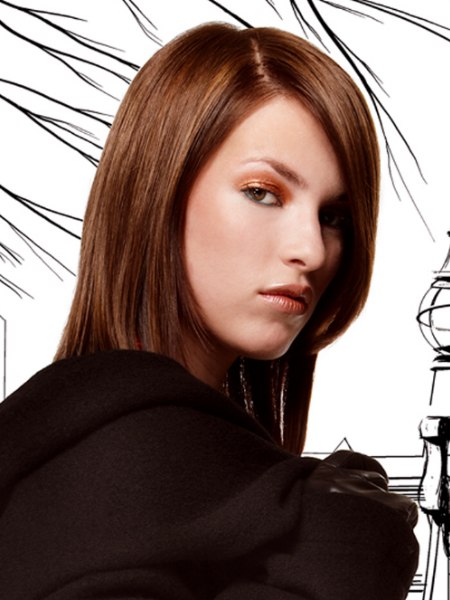 If you don't want to dress up a lot, but at the same time not get too casual, there are a few little tricks that can help. Let your hair hang down, follow its own direction, but make sure to have a clean partition and outline without frizz and fuzz.

Here the hair was parted very stylishly in a sharp diagonal line and from there it just plunges down in a heavy satiny way with a fine, but not exaggerated shine. Soft, face framing lines and a simple make-up with the new metallic trend colors is all you need to be the star of the day.


Mid-Back Long Hair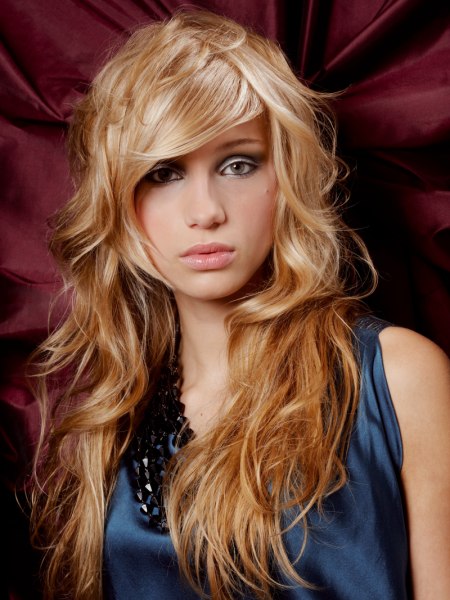 You are looking at some serious layers. They start short but get longer and longer on their journey to create a drop-dead gorgeous mane. Endless motion, swirling textures and a sizzling blonde color are the ingredients of a breathtaking modern mane.

The lengths range from eye-level to mid-back and the numerous layers are also textured. A honey blonde is enhanced to full brilliance with platinum highlights. There is no real partition only a left and right direction of the hair, overlapping and then plunging down to fabulous curved side bangs.


Mid-Back Long Curls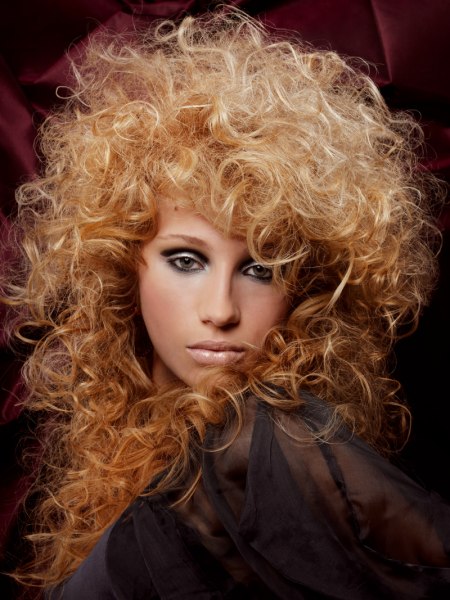 The ultimate mane of all manes has a million of curls distributed over mid-back long and layered hair. It might take a while to create all of this breathtaking beauty with a curling iron or rollers, so a natural curl to start out with would be perfect.

The key for the shape and the clear definition of the curls and the volume so even all around from root to tip, is the layering which keeps the hair light enough to not pull out the curl with its own weight. The fine highlights in a sparkling diamond color adds to the movement.


Messy Curled Hair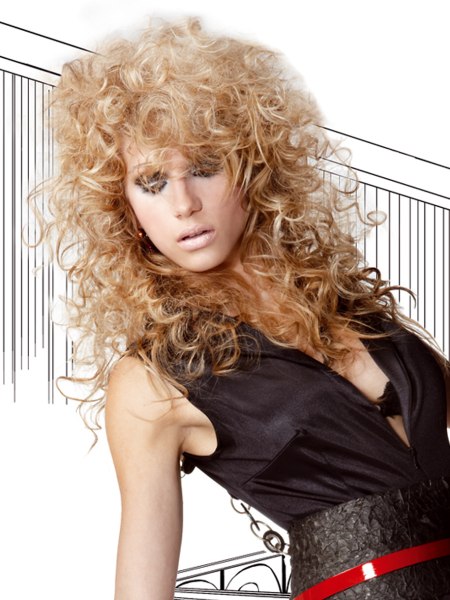 A bit messy and definitely untamed, the long curly hair with its baroque flavor boasts sensual energy and a rebellious flair like no other. The formerly well behaved curls have been gently mussed and deconstructed to different shapes from kinky curls to relaxed strands and edgy curves.

With so much volume all around and the great length of her hair, she does not ever have to worry about being in danger to becoming a wall flower.


Slinky Dance Hall Look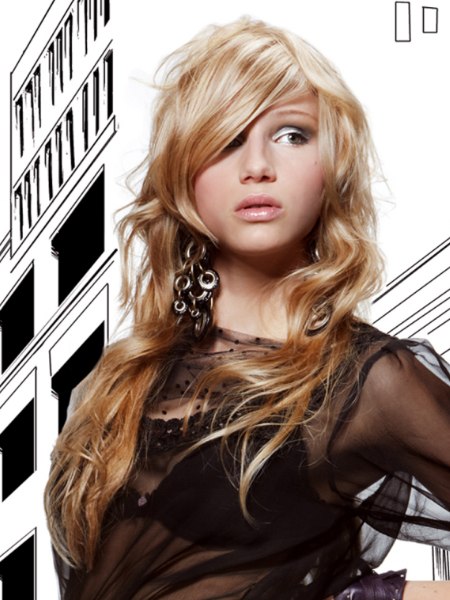 She is ready for a long night of clubbing. Her artfully messy long hair makes her look good on any dance floor and will move along to any tune in perfect rhythm. Long layers provide ravishing movement in every inch of her blonde mane with its platinum highlights. A great touch is the overlapping styling on the crown, which eliminates the need for a partition.

Wide sections of hair are directed to the left and to the right in a zigzagged fashion and allow the enormous bangs to gently hug her face in a half-round shape from the side. Texture comes in by massaging styling products into the hair and sculpting it with the fingers.


Professional Hairstyle for Men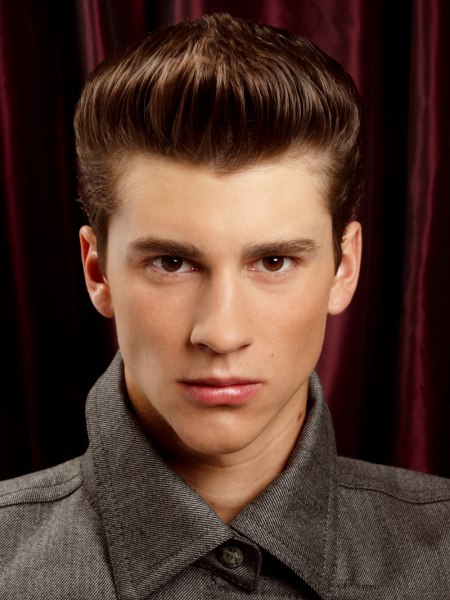 Tradition may be a good thing, but can be a bit boring, especially when it comes to haircuts for men and those that are professionally acceptable. The new cuts for men have a lot of built in options for a variety of styling that allows modern men to look impeccable at the office but also cool when they are out to play or socialize.

Clean cut outlines with short backs and sides transition into longer top hair, which is here styled upward in a fun retro fashion. A bit of gel or pomade and a fine comb are used to achieve this cool and kempt look.


Easy Maintenance Haircut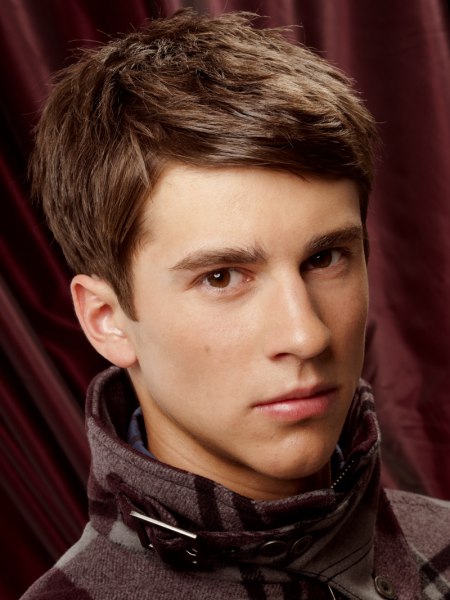 Out in the wind or in the soft light of a warm pub, this short and almost classic men's haircut leaves no wishes open. It gives him the practical aspect of short hair, like easy maintenance and a clean cut feeling but it is also trendy and easy to transform. With the hair styled forward the look takes on a more sporty and at the same time preppy air.

The latter is confirmed with the accents in front. A touch of product in the bangs and just a little in the very front of the sides adds another texture and is a very subtle but with that even more intense effect.


Versatile Men's Haircut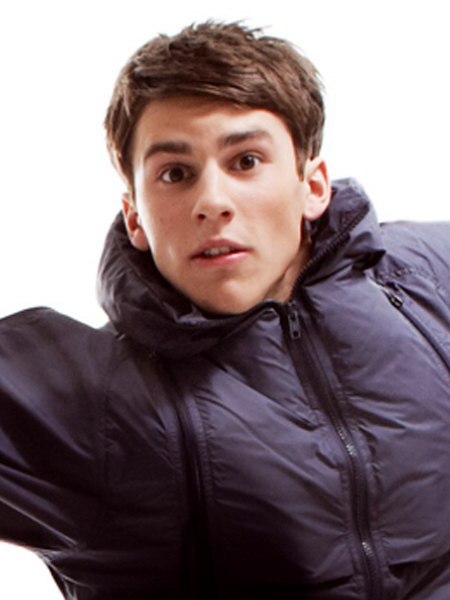 Will it be skydiving, taking a cooking class or taking sweetheart to the movies, he will feel great about his looks and be confident with a haircut that is as versatile and full of character as this short wonder.

The cropped hair is just long enough to be styled in different ways and it has good texture to always display character and masculinity while not falling short on the fun and playful side. He can spike it up, smooth it down and move it around to his hearts content. There is a style for every occasion.


Modern Classic for Men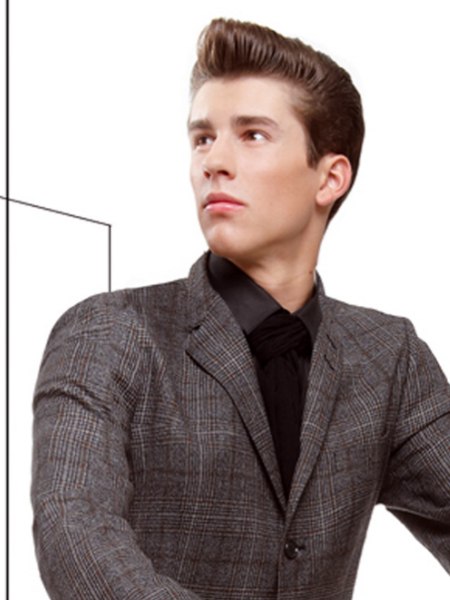 To make an impression all he has to do is comb up his hair in a style that was famous more than half a century ago. The 1950s quiff is back on the scene and has become the new eye candy for women who like snappy dressers and stylish men.

This hairstyle is so fabulous with its unpretentious, yet sophisticated and also edgy expression that it makes us pray for the pomade to never run out.


Putting on the Glitz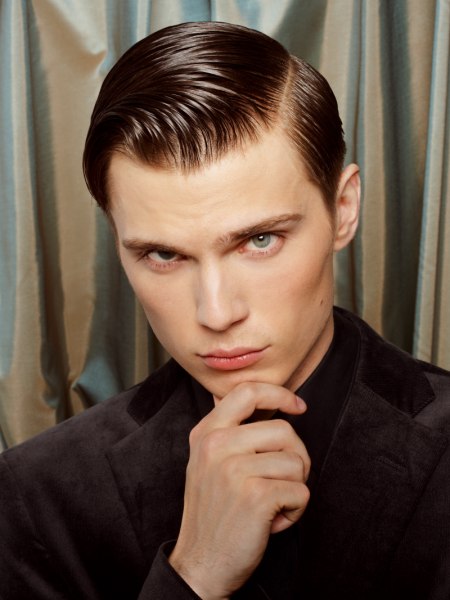 It does not get any more retro than this. Cary Grant, Clark Gable and their contemporaries are all the godfathers of this dapper and daring look, that some men are just born to wear. All it takes is the right cut with short sides and longer top hair, a handful of gel (for hold and shine) and a fine toothed comb. The hair is parted low on one side with a sharp and every exact line.



The wider section of hair is combed over to and the sides and back are just combed down and close to the head. A little swerve with the comb in front, creates the curve in the fringe, which is so very charming and makes the look even more authentic.


Retro Rebel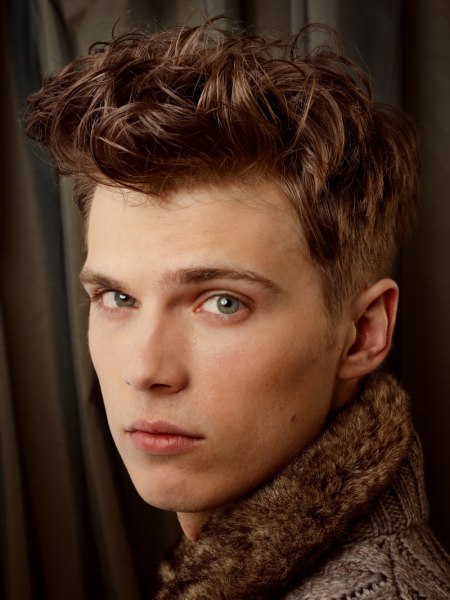 Without being glued down with gel the extreme short length of the sides becomes visible and therefor the contrast to the much longer top hair. His natural curl makes the haircut easy to style the hair in this unique mix of vintage and modern with a lot of expressive texture. A quiff graces his crown and just waits for some fingers to run through it.

The sides have an almost velvety texture which continues in the back. A warm brown with a mist of gold is grounding and warm.


Sparkling and Masculine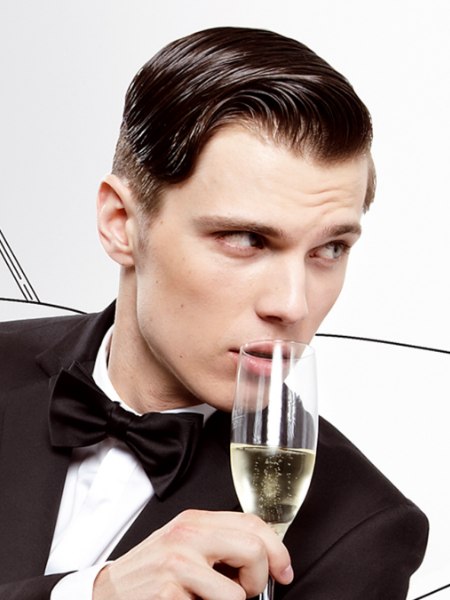 Let us all rejoice! Men have found fashion again. Sleek, neat and trendy classic looks have inspired modern hair fashion for men. The new cuts are changelings at their very essence and can be worn in many ways either reflecting famous looks from decades ago or more contemporary hairstyles.

A lot of gel was used to hide all of the texture that secretly slumbers in this look and to turn it into a "heartbreaker" look with a cool 1940s styling.


Doing it Preppy Style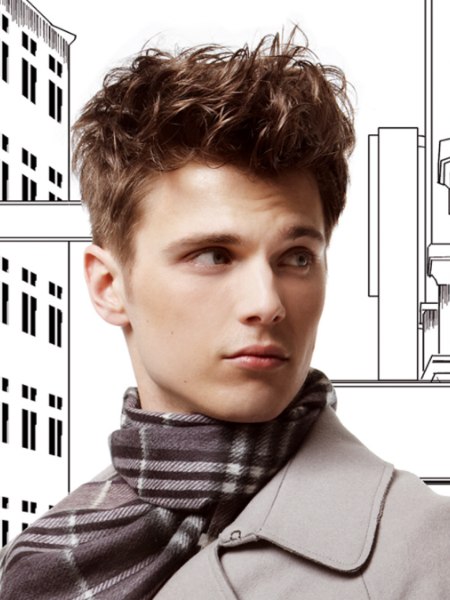 Trench coats and Burberry scarves are just as important as the right haircut to pull off the ever trendy preppy look. His short look with the longer top hair is the ideal haircut even for this choice of fashion.

A but of a natural curls helps with the volume on top, but the right texture is achieved by massaging the hair with a little product to give it this done / undone feel. A casual elegance of effortless chic.


Natural Curl with Artsy Flair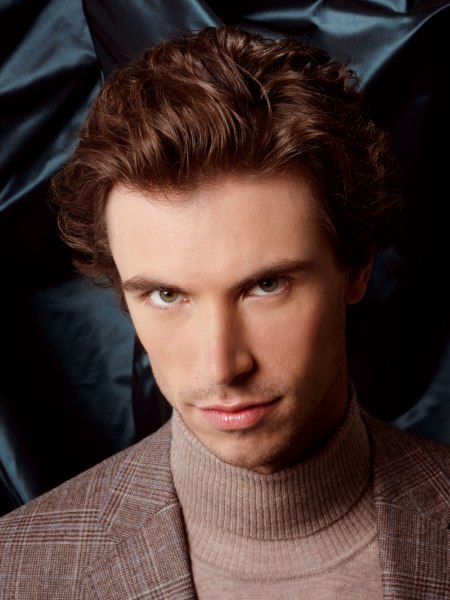 A bit more of length together with a great haircut gives him a bohemian and also very cultivated look. All styled out of his face the hair flows in wavy rivulets across his head with a fine mix of control and laissez faire. The natural curl helps a lot with the texture and it does not take much to style this great head of hair, well, as long as the cut is giving it all the right shape.

The warm, medium brown hair color has a nice earthiness and goes well with all of the new hairstyles and colors of current men's fashion.


Longer Male Hairstyle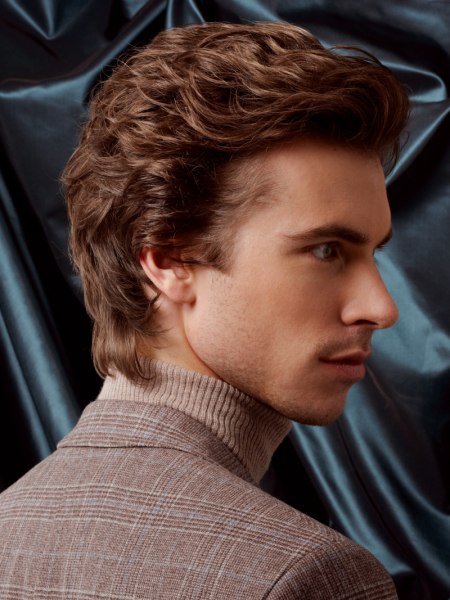 Sophisticated men do not follow every fashion that comes along, but tune in to a hairstyle that suits them best and that is as timeless as their spirits. Slightly longer hair without extreme angles, points or pitches is best suited for this challenge and with a fine inner texture as this, every wavy strand radiates irresistible charm.

The artsy and cultivated expression of this haircut is captivating and combined with such a classy outfit of a fine woolen jacket and cashmere turtleneck we cannot wait for him to uncork the wine and tell us about his favorite new book.


Wild Men's Hairstyle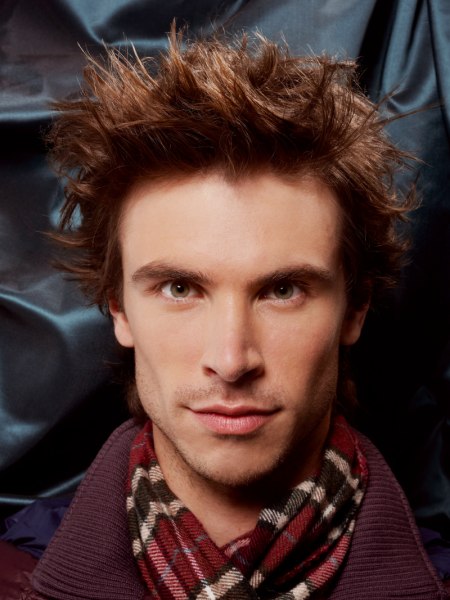 Even gentlemen have to go wild every now and then. And how better to show this spurt of energy and creativity than with a modified styling of his haircut. The natural wave makes place for a lot of wild motion and commotion, sharpened and is held up with matte gel that was ruffled around with the fingers. Individual strands can be twirled and accentuated for even more texture. A little bit of punk explosion suits every man!


Hipster Look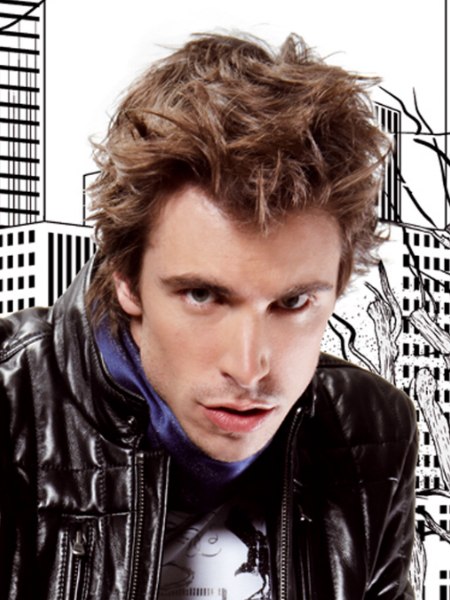 The new understatement is a cool trend that has started in the bigger cities and is spreading like wildfire. A quality haircut and casual styling is just a part of it. His ruffled tresses are full of boyish charm and at the first look it is not evident how much thought and skill were used to create this look with its effortless appearance.

For all of this movement the hair was pulled forward from the back and lifted up in front, wispy on the sides and spunky all over with a fun disheveled easy going flavor.

Photographer: Michael Petersohn, Berlin
Copyright: Zentralverband des Deutschen Friseurhandwerks