"Estero" by Diadema Hair Fashion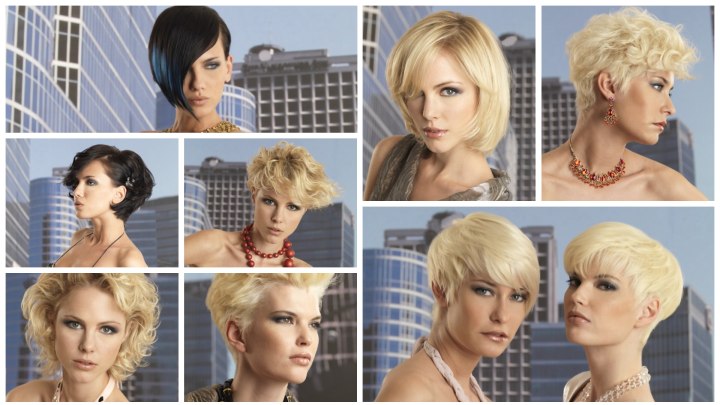 Celebrities flock to Diadema salons to get their own unique looks and superior treatment. But Diadema Salons is not only the choice of the stars. Their new hairstyles collections have something in store for every woman who wants to express her own special personality with an amazing hairstyle.

The Estero Collection tempts us with a cornucopia of short haircuts that are all equally chic and elegant while at the same time they incorporate the modern elements of our times translated by skilled hands into stunning and strong looks.


Professional Medium Hairstyle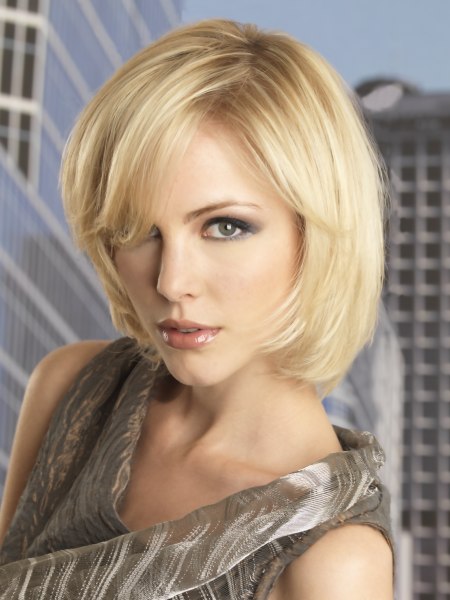 Feminine lines at medium length charm the face with deep bangs and a high anchored side part. Finesse and sophistication come with tapered sides and a smooth, oval silhouette.

This chic hairstyle is the perfect choice for professional women who need easy maintenance but lots of class and versatility in one haircut. Fine highlights give the hair glow and dimension.


Curly Hairstyle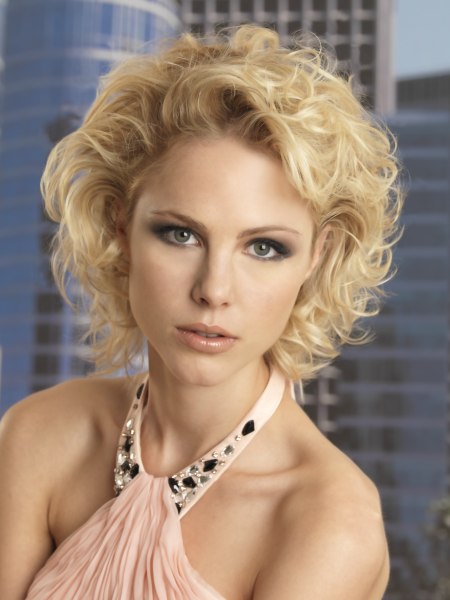 This radiant curly hairstyle shows what kind of magic can be created just with the help of some curlers and styling lotions. The professional medium hairstyle was transformed to a young and playful hairstyle that opens up the face and brings the sexy back to the city life.


Casual Sweeping Bangs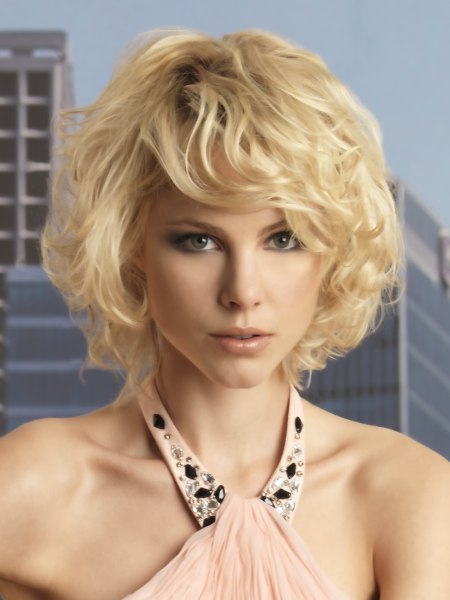 In this incarnation the tapered, rounded haircut from before captivates with casual bangs that are diagonally sweeping across the forehead. Curls are tamed into a round silhouette and less springy than the previous curly hairstyle. They are also less defined creating a delightful level of seductive disheveling.


Pinned Up Hair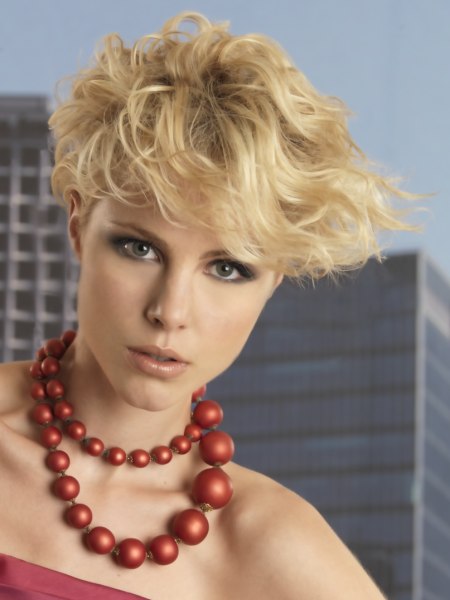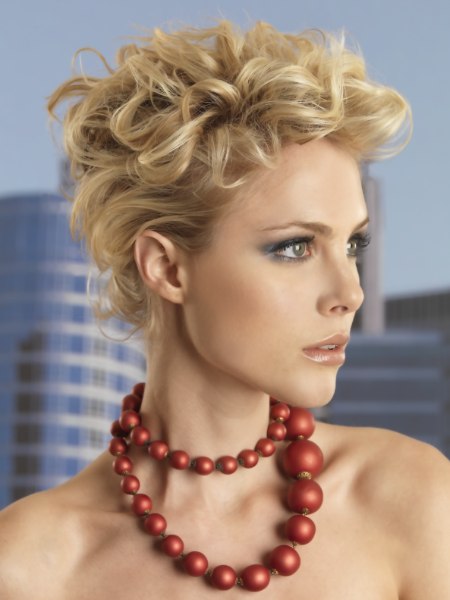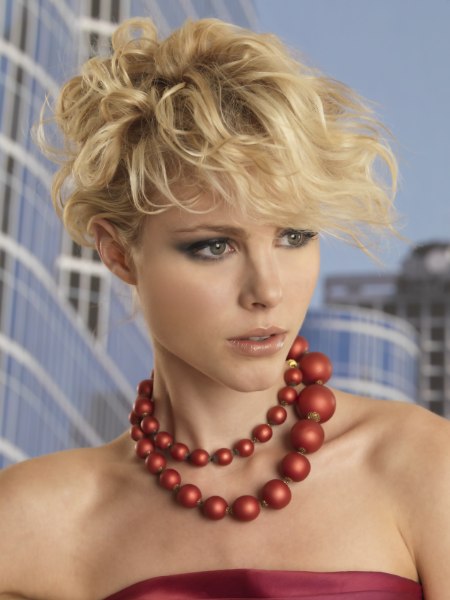 With the back gathered and pinned up or under Ella seems to have a brand new short haircut. The dynamic swing of the bangs towards one side brings back a memory of the 80's glam looks, but all without loosing an inch of the classy medium haircut. Mousse and fingers are the tools of choice to create the mussed and curly volume.


Updo for Medium Length Hair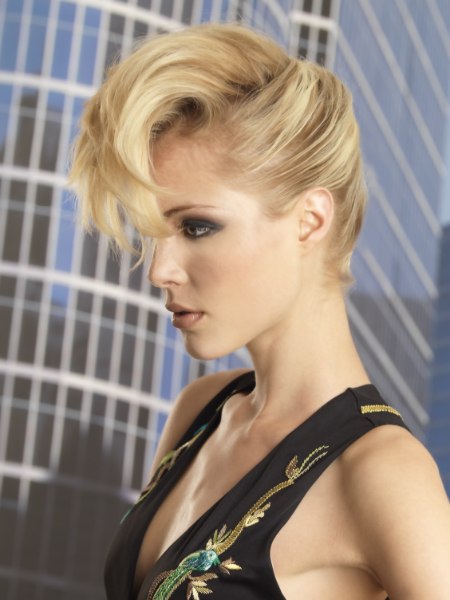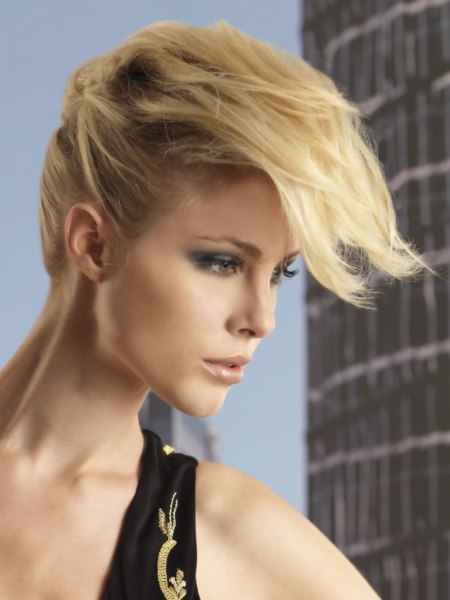 In her last appearance the fashion maven enjoys the motions and sweeping lines of her retro avant-garde updo for medium length hair. Sides and back were pinned to what resembles a banana roll, out of which emerges the great surge that shapes the wave down the forehead, ending just at the base of the nose.

Boosted volume and dynamic lines with focus on the essential make this hairstyle an instant classic.


Supershort Neck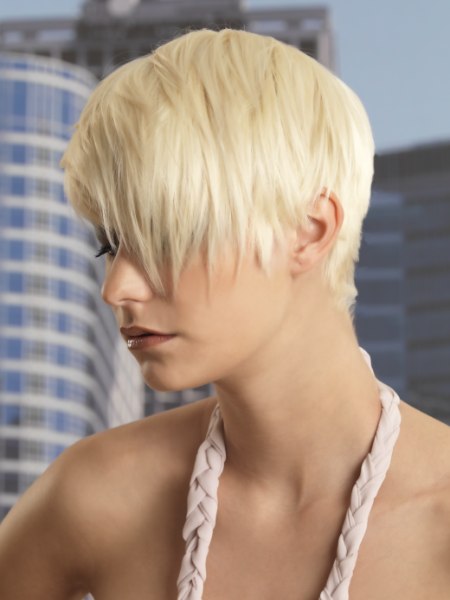 Textured ends, smooth layering and a supershort neck are the key elements of this haircut. With its feathery feel and soft blend of light and platinum blonde Julia's chic short look has an ethereal, almost fragile quality.

But the thick bangs and sharply pointed strands caressing the cheekbones give the haircut a bold flavor and punch.


Festive Short Hairstyle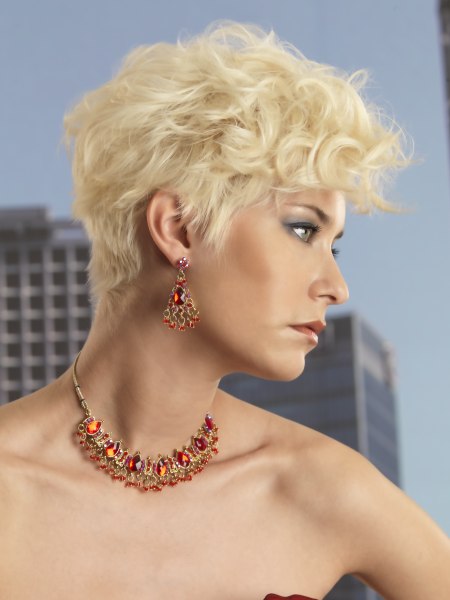 Ready for a festive night out Julia shows off her inner sparkle with the right bling and also a jazzed up version of her short neck haircut. Here it is thick curls that bring the volume and sizzle. The short neck and small indication of sideburns throw in a good dose of seductive gamine power.


Short Hair with Spikes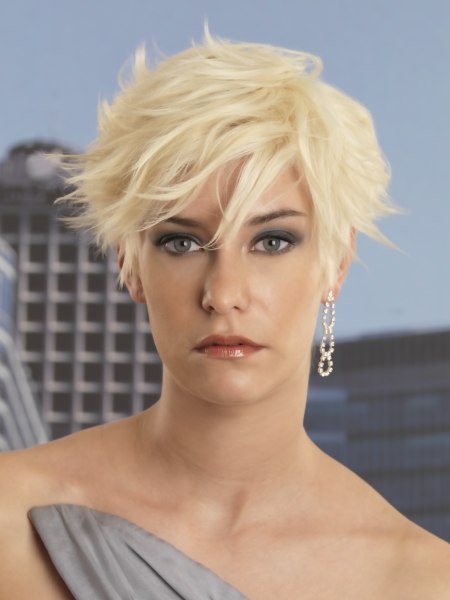 Long spikes in this super delicious blonde are rebellious and sexy. This short hair has attitude and empowers the women who wear it. A hairstyle similar to that of singer Pink is not just light and free, but also makes a statement of not fitting into any fashion box. Glamorous punk looks like this are a fun and charismatic way to bring more energy into your life.


Cropped Neck Hairstyle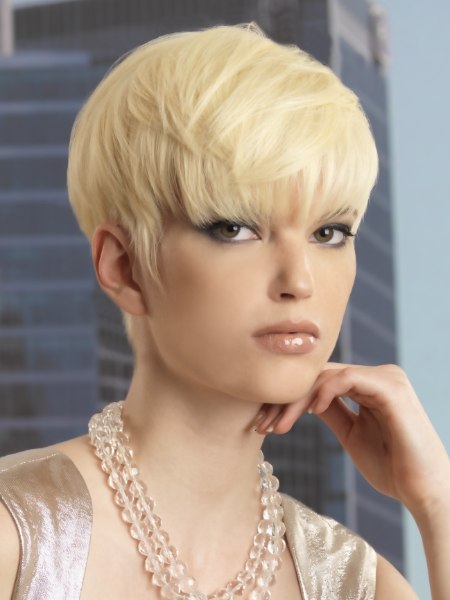 The soft texture of this short round helmet style haircut is created through precisely calculated layers that let the cutting line continue at eyebrow level to the sides with a dip for sideburns and the cropped neck.

The volume sits at midlevel between ears and crown where the uniformity of the vanilla blond is divinely interrupted by the pattern of a cross styled top layer.


Short Hair Styled Up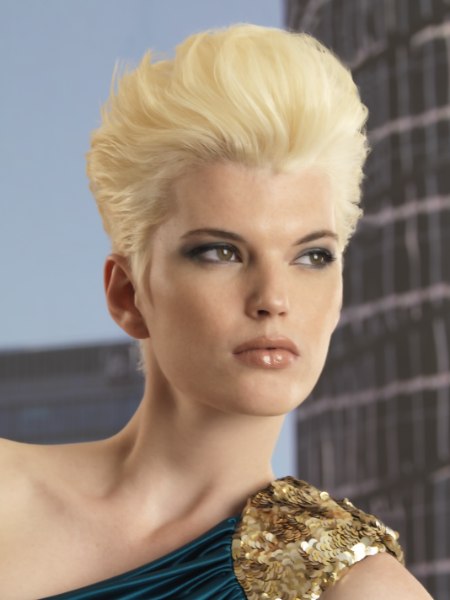 The true character of the helmet haircut unfolds when the short hair is styled upwards to its full volume. It results in a plume of blonde ambition shaped to rounded perfection. This hairstyle does not allow any tousling but gets its power from the controlled direction of the hair. The hair rises straight, but is formed to a gentle curve towards the back.


Sporty Curls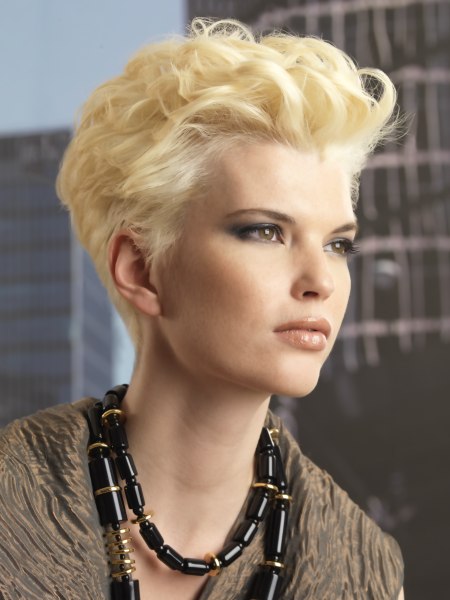 The most casual of Victoria's haircuts is also her most dynamic, professional and sporty. The large curls on the top speak a sexy language but the short sides and back say that this blonde is a force to be reckoned with. Voluminous styling and one direction of flow are the secret to this strong appeal.


Modern Haircuts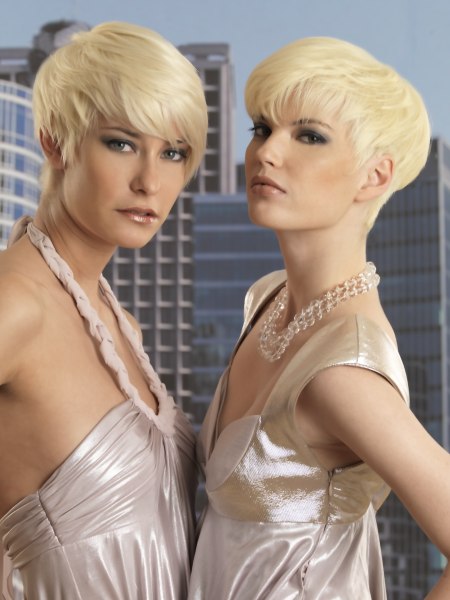 Next to each other the similarities and differences of both short haircuts are more evident. They are subtle enough but have a big impact. With Julia's longer sides and stronger texture her expression is bold and provocative.

Victoria's look is not less powerful but has a more subtle texture; a more defined cutting line and comes across as classy and stylish.


Short Hair Fashion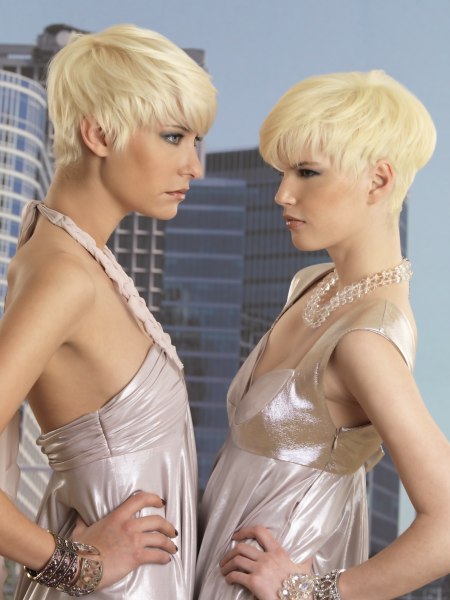 As those two beauties prove short hair for women can be glamorous and seductive with a high fashion appeal. Textures, varying lengths and volumes create shapes that allow many expressions and moods, tailored to a perfect fit for each individual woman.


Drop Shape Hair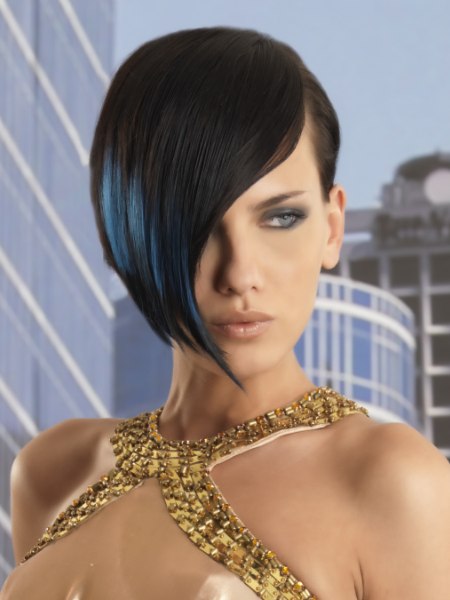 Asymmetrical haircuts like this drop shape brunette delight already gave celebrities like Rihanna an unmistakable edge. To create this statuesque and boldly shaped fashion hairstyle the hair was slicked back along one side and pulled to the front from the top and the other side.

An utmost amount of finesse was used to let the textured ends in front follow the line of the chin and jaw.


Wispy Short Hair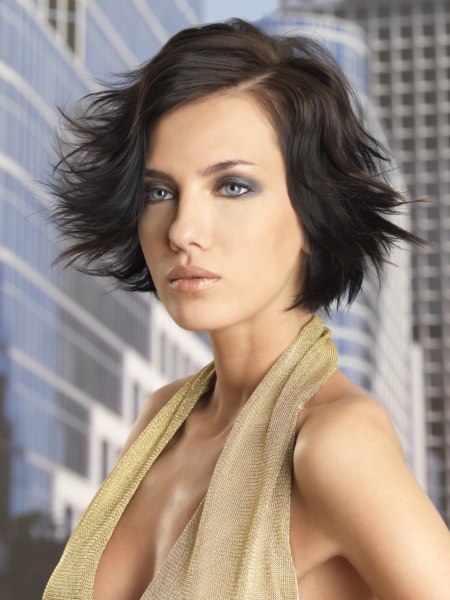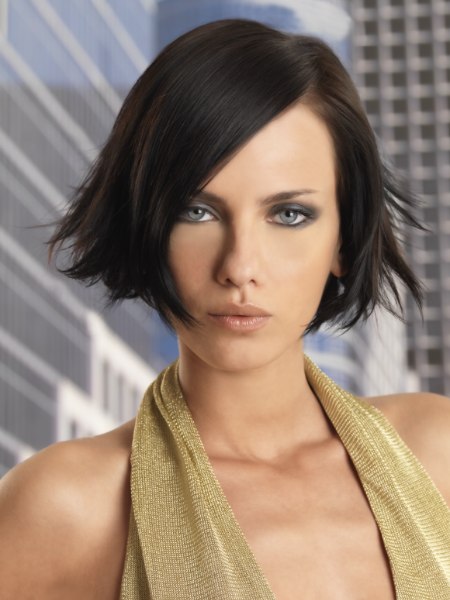 Without the slick styling product Roxana's short hair shows its layers and was styled to a fluffy, windswept lightness.

The side part is steep and a statement in itself while the rest of the hair is less straight but turned into wispy fun with the help of a hot iron that was also used to create a subtle but edgy enough crease right above the forehead.


Dressy Short Hairstyle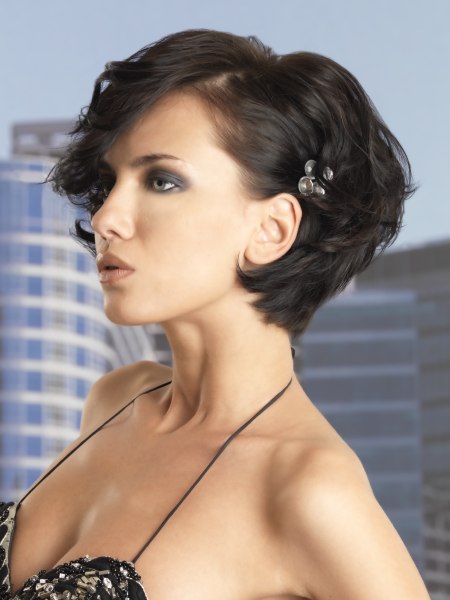 Going from casual to a classy glam look is easy with the right hair accessory and a little styling. The wispy strands were tamed with the help of a round brush and a dab of smoothing hair products.

Pulled into shape close to the neck and across the forehead this side parted short hairstyle is dressy and chic for the great gala or an exciting dinner on the piazza.

Hair: Diadema Hair Fashion
Art Director: Fabio messina
Photography: Stefano Bidini
Make-up: Cristina Marzo per 20100Milano
Stylist: Elena Barosi
Extension: Zeropiù
Dress: Avaro Figlio and Federico Sangalli