Fashion Groupie by J.7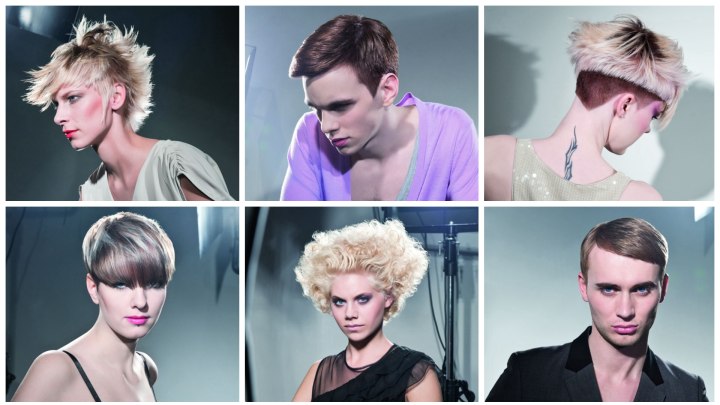 Scroll down for more photos ↓

Summer will be short... when it comes to hair. The J.7 artistic team presents an abundant collection of fun short summer hairstyles for men and women of which not one exceeds chin length.

Texture is key to the appeal of these flexible cuts and together with more or less excessive styling, shapes and structures display a not so subtle vintage flavor of 1980s pop candy. It was the time of domesticated punk that obviously planted the seed to this memory lane of looks that instantly start the music of Cindy Lauper and Madonna in our heads.



But that is only one side of it! All cuts can be styled up or down, tame or wild and that makes them so fitting for our decade. Cutting edge techniques and high tech coloring guarantee a top of the trend fashion experience.


Day and Night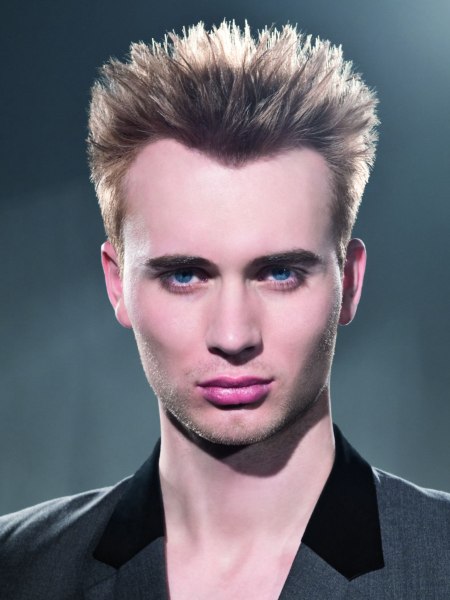 He is smooth and classic at the office but don't let the spick 'n span side parted neatness of this man's haircut fool you. Around happy hour he turns into a spiky cool tomcat and sports a raised look with subtle but impressive texture.

A graduated cut with buzz short sides and at least one inch on the crown makes it possible and provides a handsome silhouette as well as hold.


Geometric Contrasts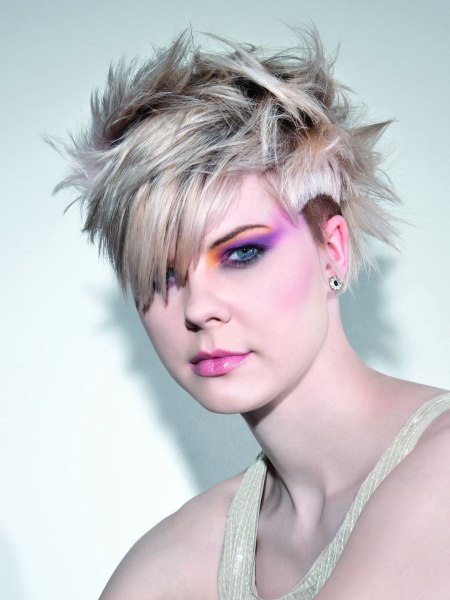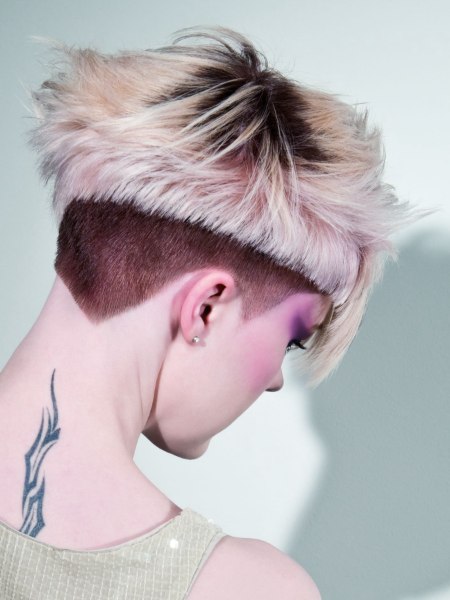 Color, cut and texture all are paired with their counterparts to put the high fashion vibe in this short, post-punk cut.

Light blonde is contrasted with medium and dark browns around the sides and down the neck in a super short buzz cut length, which is separated from the highly dynamic and structured top part by a straight cutting line with minimal mouse-tooth texture.

Bangs are long and can be worn in many ways just following the mood of the day.


From Demure to Diva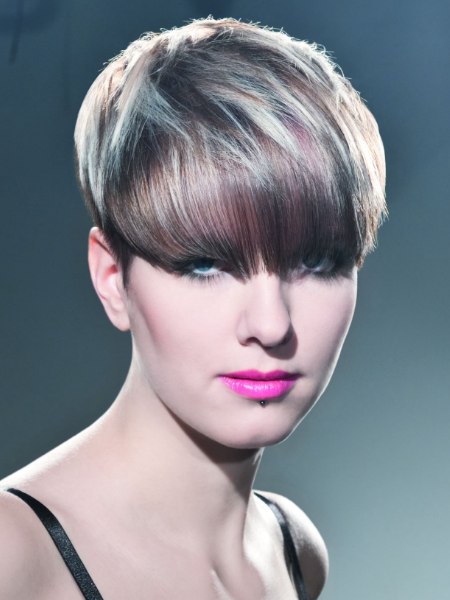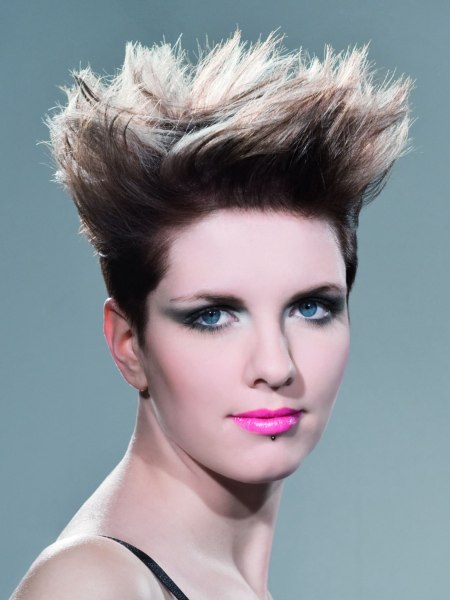 A steep graduation from the millimeter short sides to around two inches on top gives the hair its distinct silhouette and also adds hold to the high-flying style in a pop diva style. The same style is utterly smooth and of elegant understatement in the "still water" look of the first picture. There is not even a secret to it, it is all in the perfect cut and a visionary coloring executed with much skill.



The hair color has its darkest hues in the lower segments of the hair and becomes visible mostly with the spiky styling. But even with the sleek, full fringe look the darker sub-level contributes to create more dimension and a little effect with every move of the head.


Smooth Operator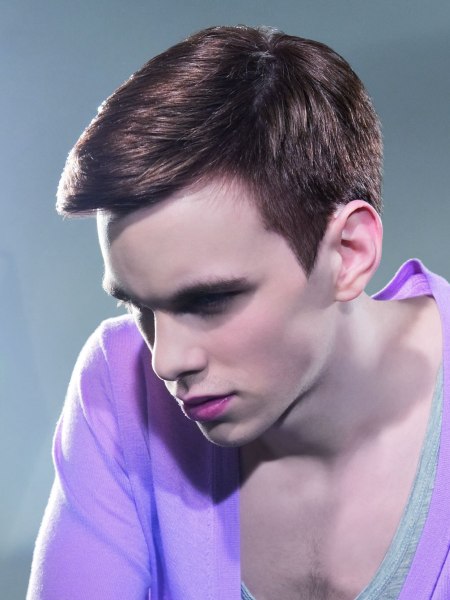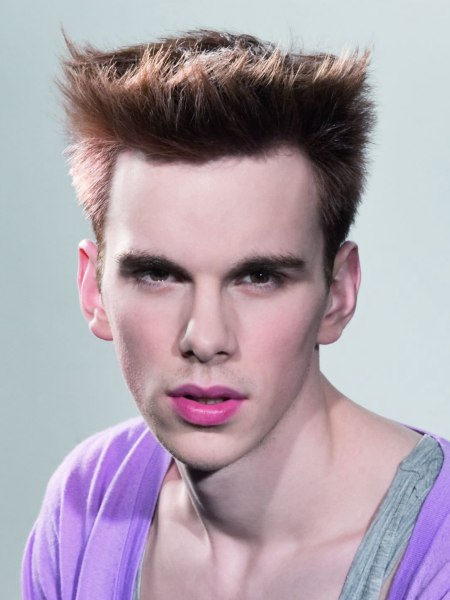 Clean cut and perfectly graduated layers make for a suave everyday hairstyle for men that embodies a timeless classiness. But once the lights are dimmed the dapper chap quickly turns into a spiky haired wolf on the prowl.

After a quick metamorphosis with the help of some hair wax or flexible gel his hair stands straight up and off to the sides and especially the bangs are styled to be an eye catcher par excellence.


Slice of Heaven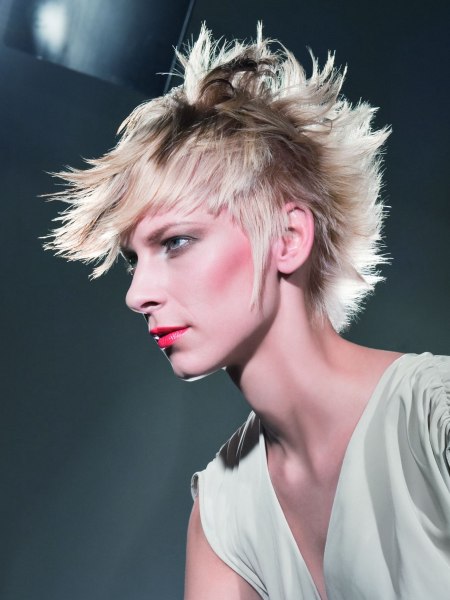 Long and short strands alternate in a magical rhythm that creates a smooth or a feathery wild silhouette - all depending on the styling and the taste of the moment. The highly versatile tresses get additional mojo with their multi-tone hair coloring, ranging from light blonde to a warm nutmeg tone.

Bangs are longest in the middle for a mischievous touch, and the exaggerated sideburns add a hint of androgynous flair.


Curly Cues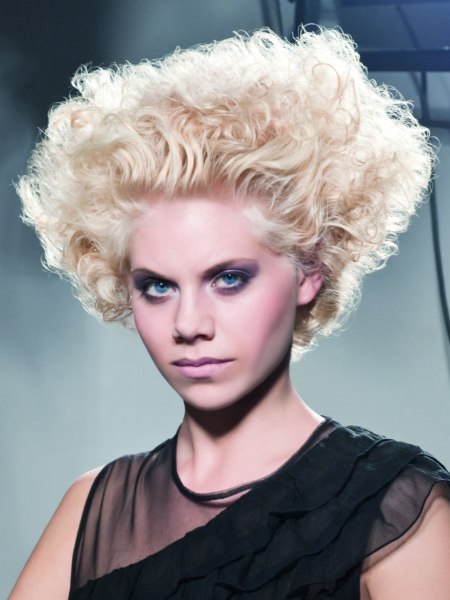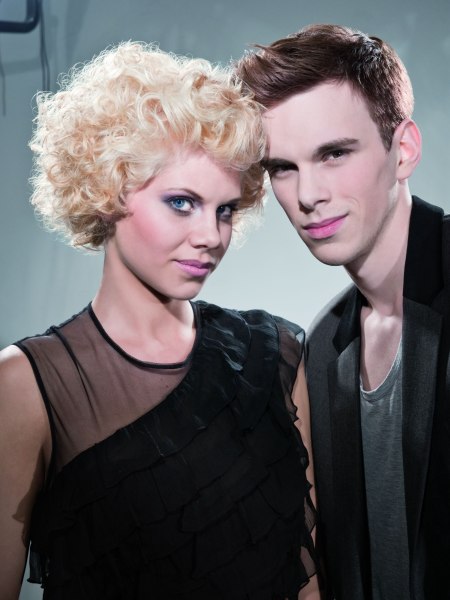 Straight up or round all around - it's your pick. The amazing versatile cut builds its success on a trapeze shaped cut with the shortest curls in the nape and an even lengthening effect towards the crown.

With this underside it is easy to achieve expressive shapes as seen on the first picture but also keeping the light blonde curly delight all sassy, classy and round with an elegant emphasis of the front through larger, well defined waves and curls.

Hair: J.7 artistic team
Make-up: Elena Herlet
Photography: Vlado Golub

See also: Short hairstyles | Men's hairstyles