Enchanted by Donna Mitchell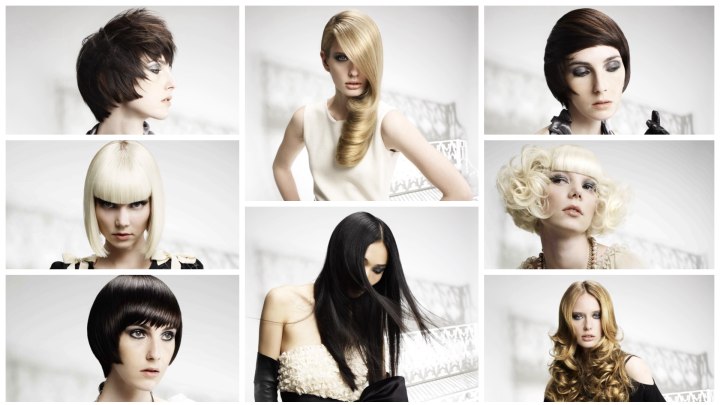 Hairstyles with creativity, playfulness and freshness. Fluid movement keeps the collection up-to-date.


Super-straight Sleek Bob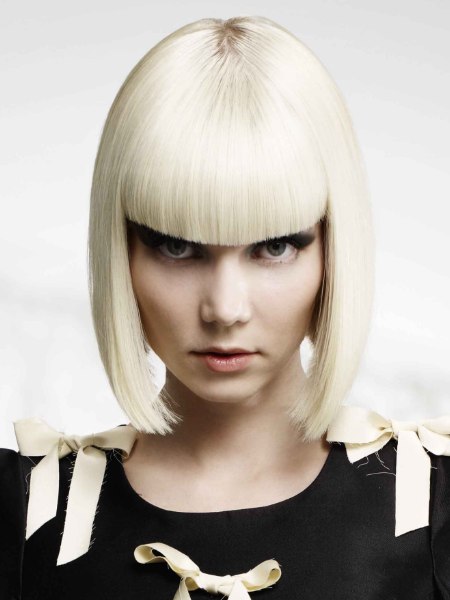 Go for an icy blonde color, blow dry straight and polish the hair with hair straighteners to complete the super-straight sleek look.

Applying serum or shine spray will make the color tone more vibrant. Ask your salon for a violet toner to enhance the bob.


Loose Curls and Sleek Fringe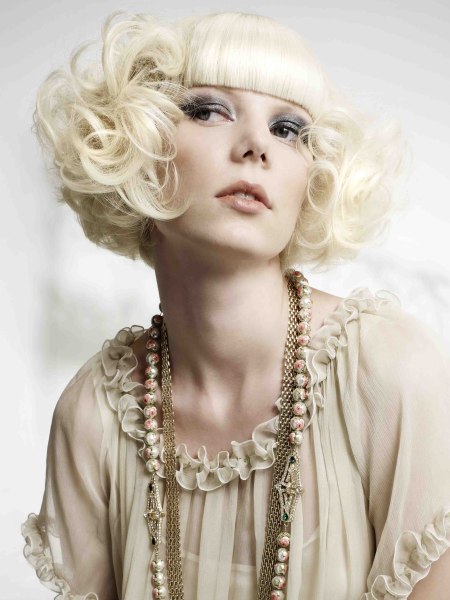 Use ghd straighteners to create loose curls in the short hair and use your fingers to separate them. To get the perfect supersleek fringe, again run straighteners through.

To get the best results use L'Oréal Professionnel Lumino Contrast Radiance Shampoo and conditioner plus a shine spray.


Hair Set Using Heated Rollers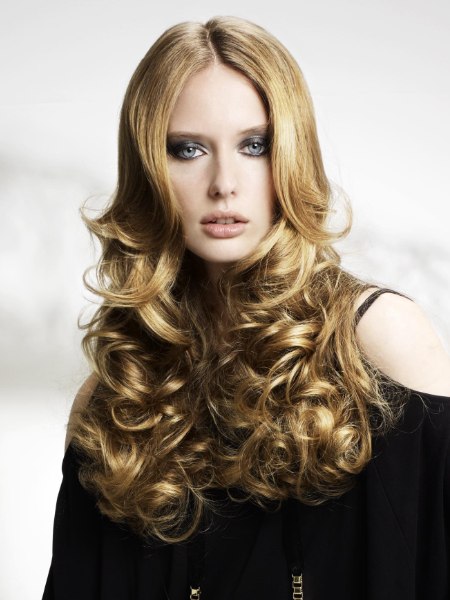 Go for a toffee or caramel base with golden highlights to achieve a luxurious finish. Set the long hair using heated rollers, Babyliss Pro heated rollers are great.

Take out the rollers once they have cooled and brush through with a soft bristle brush. Once you have smoothed out the root area, scrunch the curls and spritz with a finishing spray or serum to finish and keep the hair in place.


Large Curl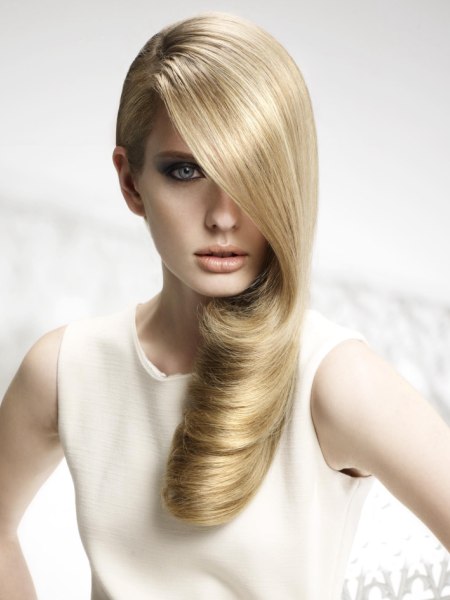 For a second look, set hair in heated rollers, once cooled take out and use a paddle brush, brushing the curls and the hair round the back of the head to the left-hand side to create the large curl.

To keep the round smooth curl looking ever so perfect finish the hairstyle with a lot of firm hold hair spray.


Point Cut Fringe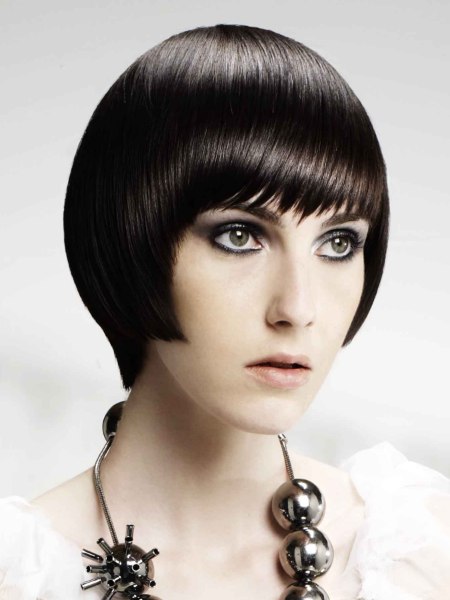 Ask for an intense dark mahogany tone, the short haircut is very bold, hard edged around the sides with a point cut fringe. Use a smoothing shampoo and conditioner to create a sleek look. Dry the hair with a paddle brush and smooth over with hair straighteners.

For finishing the look use a shine spray such as L'Oréal Professionnel's Gloss Control.


Just Out of Bed Look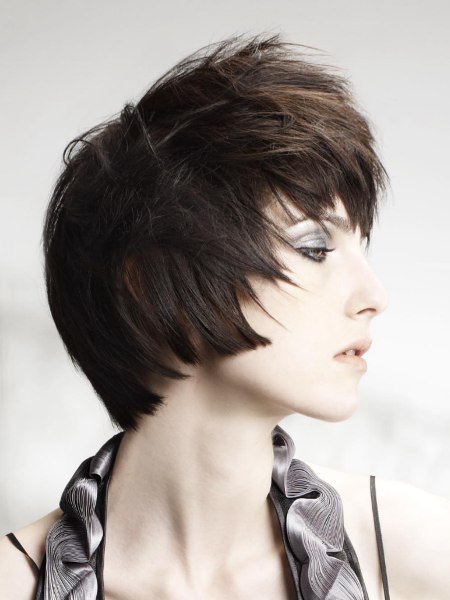 For the messy just got "out of bed" look for short hair use a volume boosting mousse - L'Oréal Professionnel's Full Volume Extra - and dry the hair upside down.

Finish with a texturising shaping gum. Try L'Oréal Professionnel's Play Ball Fiber Mess for that added texture and flexibility. Then blast hair with hairspray.


Fringe Across the Face


When blow drying the hair, dry it over to one side with a small radial brush. Use some light shaping crème, bringing the fringe slightly across the face. Finish the short hairstyle with glossy shine spray or shine serum.


Super-sleek Glossy Look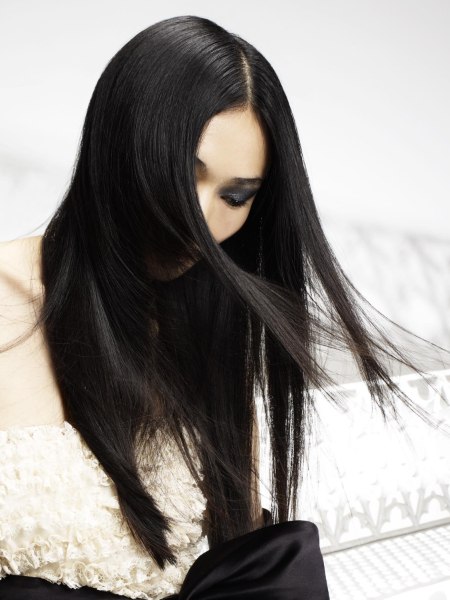 For this super-sleek glossy look for long hair, start with an intense dark brown shade. Apply L'Oréal Professionnel's Tecni Art Liss Control smoothing gel and then blow dry the hair straight.

Use straighteners to polish the hair and finish with shine serum.


Long Hair with Soft Curls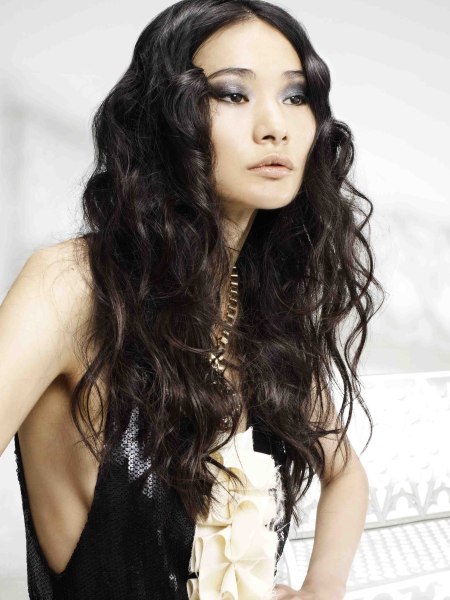 Use a curl enhancing product - L'Oréal Professionnel Tecni Art Pli - before styling. Use a curl wand to create the soft curls, taking large sections and wrapping the hair around the wand. Scrunch the hair and hold with firm holding gel spray.


Hair Up with Rolled Hair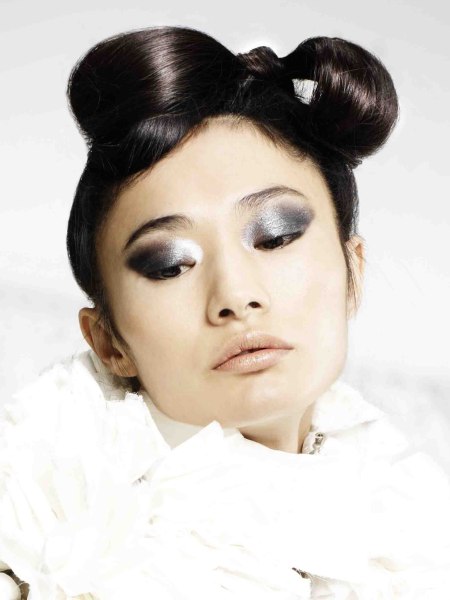 Use a bristle brush to smooth and to create shine throughout the hair. Section the hair into three, take each sectioned piece, brush through and spray with a shine spray. Take one section and create a loop. Roll the hair down onto the head.

Once the loop is in the correct position hold it with Kirby grips and use a strong hair spray. Repeat with the other two sections to achieve this stylish distinguished hair up look.

Hair: Donna Mitchell at Bonce Hair Salons
Make-up: James O'Riley
Clothes Styling: Bernard Connelly
Photography: John Rawson

See also: Short hairstyles | Long hairstyles