I Love History by Framesi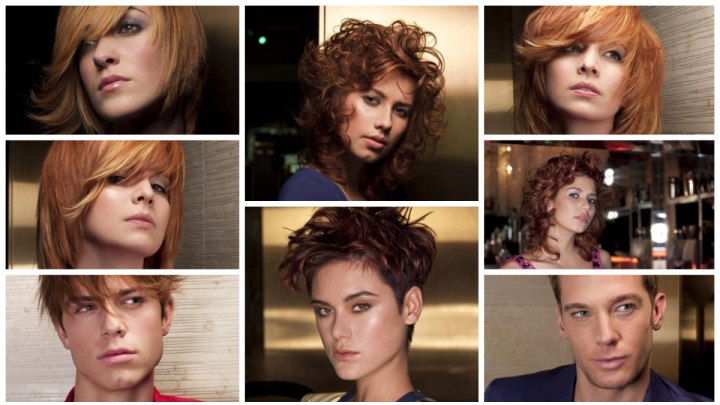 Scroll down for more photos ↓

In the light of challenges that everyone is facing today, a trend to look back into the past emerges. Reflection of self and of our history is a way of stabilizing oneself in an unstable world. Framesi's "I love History" collection of hairstyles mirrors this search for pivot points, for genuine emotions, clarity and an image that brings back the feeling of a more balanced time.

Anchor points of style are redefined; their main features, their essence and inner strength are adapted with a look into the future. Therefore, we see shapes and styles that proudly present memories of past decades. A bit of 1980s big hair, sassy shortcuts and long slender lines of decades gone by underwent a magnificent makeover under the hands and vision of the Framesi team.

Click here to watch the video of this collection.


Fringe with Swing to the Side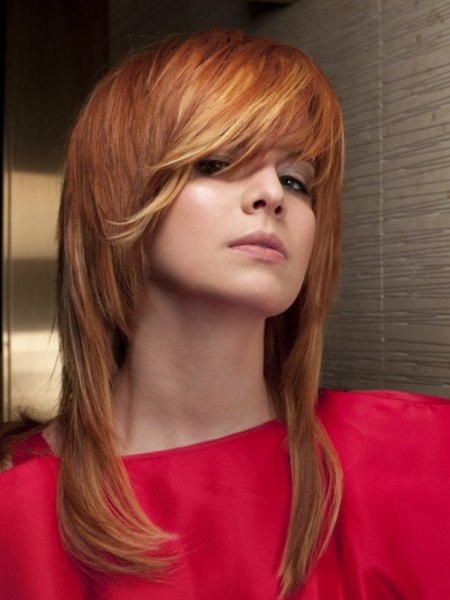 Long, slender lines are tapered in front and layered throughout for a sleek hairstyle that reaches below the collar bone. The fringe is textured and long, so that is looks best with a little swing to the side.

A few wispy strands around the face bring lightness which is emphasized even more by the sparks of gold that radiate from the highlights in the fringe.


Long Hair with Volume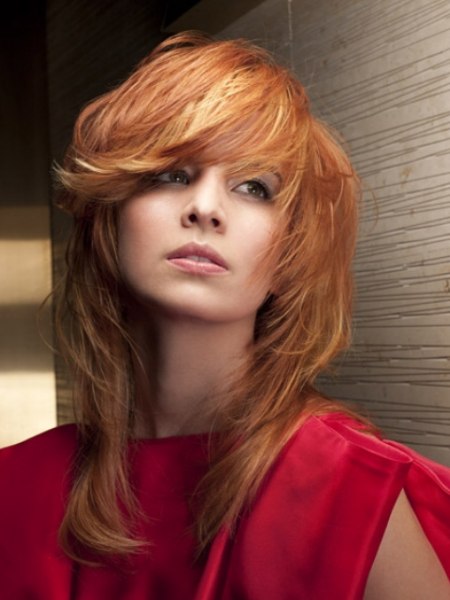 A new look is easy to achieve with a change in styling. The previous layered and tapered haircut is here boasting a lot of fluffy volume, all done with the help of a blow dryer, diffuser attachment and a round brush. A little product keeps the shape.

Special focus is again on the thick bangs, swept to the side with a peek-a-boo inner layer of a lighter gold tone.


Different Lengths and Motion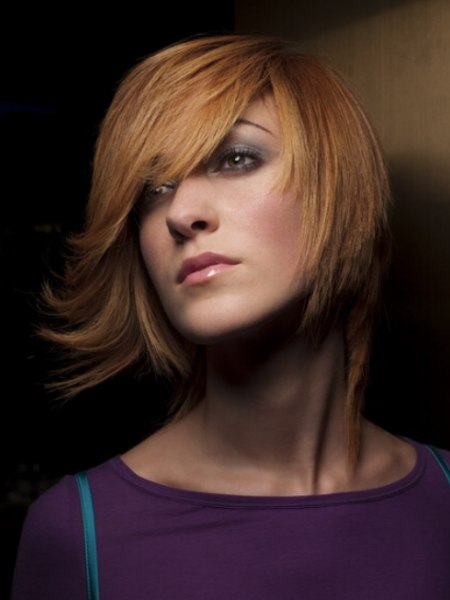 A play with different lengths results in this refined and edgy-elegant medium length hairstyle. The irregularity of the cut and the choppy to rough texturing indicates a spirit of questioning and rebellion against rules, yet the smooth color and gentle sway of the styling bring balance back and unite all of the contrasting elements.


Modern Big Hair with Curls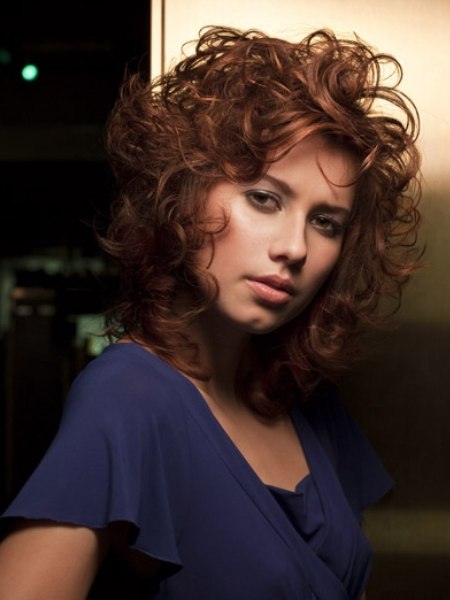 Curls this defined and generous will not be overlooked. A head full of sensual swirls with ultra-opulent volume screams femininity and reminds of the great classic looks of icons like Gina Lollobrigida and screen Goddess Sophia Loren. Today however the big hair is softer and with the help of modern products the hold is not stiff but flexible.


Very Short Haircut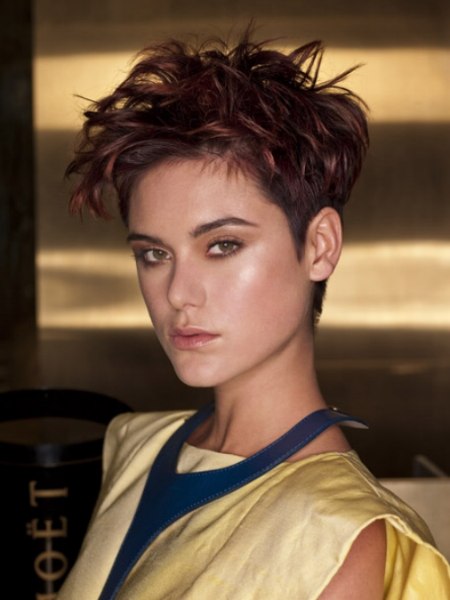 Extremes work well together as it is proven again with this new classic. Elements of the 1980s are exaggerated and new hair coloring and styling techniques are added to give a rebirth to one of the most memorable style sensations of the last 40 years.

Extremely short hair on the sides and in the back is topped by long strands that are styled freely and full of volume while glowing in a translucent dark red over brown.


Haircut with Curls and Layers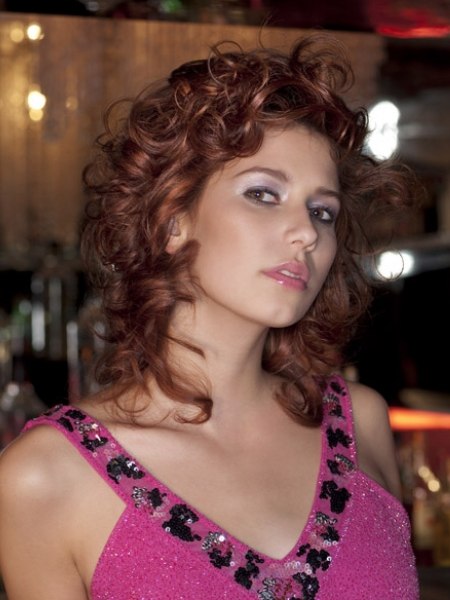 The best of both worlds come together when curls and layers meet. The tantalizing definition of the beautiful swirls is distributed evenly from the crown to just a touch below the shoulders, and the face is gently framed with lots of wispy gorgeousness. The hair color is a mahogany on copper tone, subtle yet refined.


Long Fringe for Men


Remember when the long fringes on men where first seen? It was the days of shiny disco balls and dance-happy British Pop. A classic today, this short in the back and long in front hairstyle, has not lost its appeal especially with the fun and light wispy styling and lots of texture. Easy on the eyes and easy to keep in shape, this look is a perpetual winner.


Spiked Hair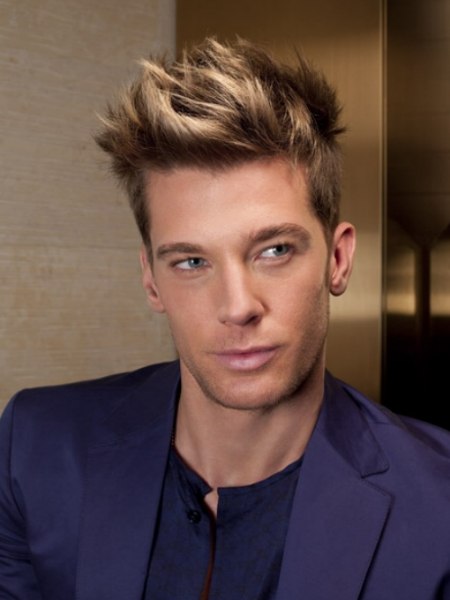 Clean cut for men has a new image. And it lets your hair stand up! Supershort sides provide coolness and a clear edge, but the charisma comes in the fiery tongues lifting off the crown, enhanced by the gentle contrast of broad beige blonde highlights on the dark blonde base color.

Hair: Framesi

See also: Short hairstyles | Medium hairstyles | Long hairstyles | Men's hairstyles