STRAIGHT by JeanLuc Paris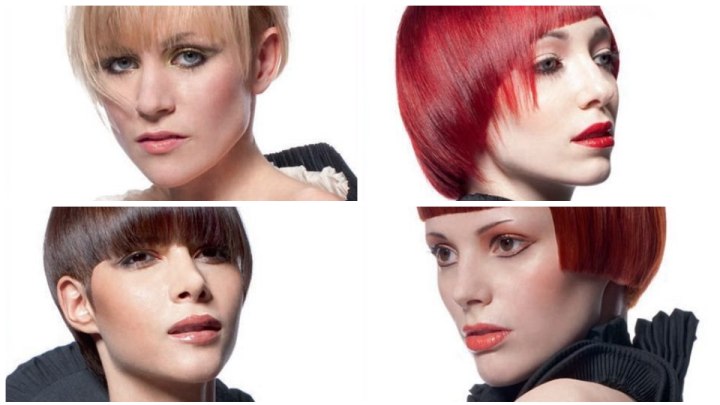 Scroll down for more photos ↓

We all know the power of the right outfit that can make us feel attractive, strong and invincible. The right haircut can do the same and these power cuts, interpreted by JeanLuc Paris, are just what the hair doctor ordered. Sleek like heavy satin, geometric in shape and boldly colored, these impressive looks capture the essence of the modern woman.

Confidence, passion and determination are the basic expressions which still leave room for the spontaneous and surprising. Asymmetry, angles and extended lengths join the party too. Hair colors range from rusty copper to deep brown, red to a fabulous blonde and all have an iridescent, almost metallic shine full of glamorous intensity. Each hairstyle comes with alternate styling suggestions to make sure that boredom will never be a word in your dictionary.


Noble Rust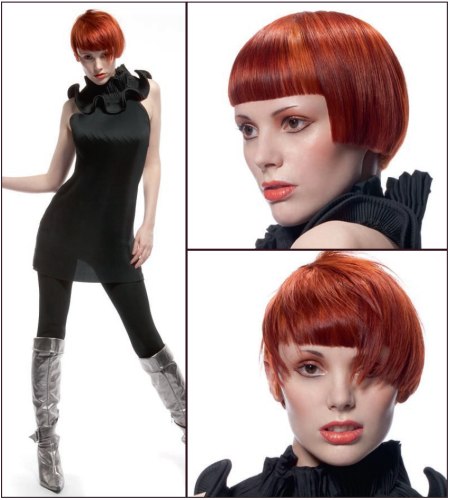 Copper and a deep rusty color come together for a sizzling medley of metallic beauty. The sharp angles accentuate the softness of her face and are as stylish as can be. A straight fringe, cut as with a laser connects in a 90-degree corner with the sides that are just a couple of inches longer and equally straight.

A bit of extremely fine layering allows a smooth curve to develop all around, which sweetens the harshness of the lines and points. The hair color is applied in a marbled pattern that scintillates and captivates. With one targeted swipe, the strict short haircut transforms into an appealing tousled look of refined asymmetry and texture.


Straight and Strong


The finesse sits in the detail. It is the slender, tiny sideburns, the gentle angle of the fringe and the sleek shiny surface with its play of various tones of brown. A metallic sheen accompanies the geometric shape that reminds of the vintage mushroom cuts.

The short avant-garde haircut is transformed radically to a whole new vibe by messing up the straightness with a few drops of product and the fingers. The hair can be pulled against the grain towards one side and ruffled up in the back to create a lot of movement and texture. Who does not like to transform this quickly and thoroughly?


Ruby Red Attitude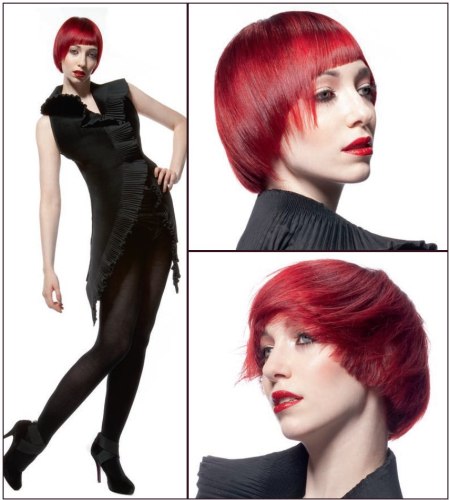 The red hair color is so intense that it can stand on its own without too much activity in a cut. The smooth, neck-long round cut gives it just that. Simplicity in this collection comes with a flashy side and a fine artistry of the cut that allows alternate styling options.

A stunning effect is as thin as a tiny whisper and in the shape of gossamer fine, longer sections breaking up the uniformity to the line. A change of direction of the hair channels the power of nature with a windswept styling. Passion is this hairstyle's middle name, made very clear and blindingly beautiful with the burning sensation of the soulful color.


Fab Fringe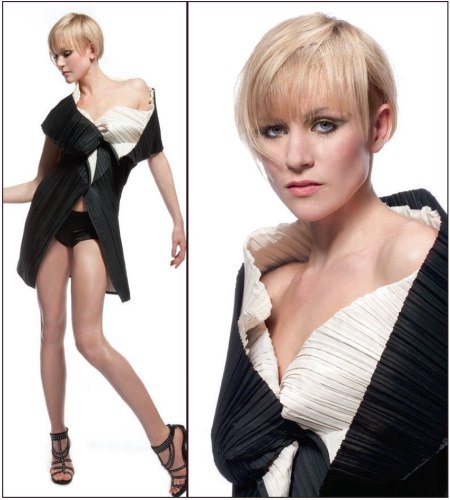 This is what a fringe really wants to be. Smooth, subtle, flexible and with a ton of style. This genius stroke of bangs has a lot going on and truly is the key element that makes this short haircut so special. A semi-transparent center is cut to eye-length and flanked by two longer sections, one even longer than the other and curved into the face in a stylish curve.

This look also allows changes to the styling and gets a different flavor with every direction the flow of hair is guided. A smoky blonde with platinum accents is mellow but not without sharpness.

Hair: JeanLuc Paris
Photography: Masa Yuasa, Berlin
Make-up: Rymma Günther and Manuela Kopp, Berlin
Clothes: Alla Kirchner, Berlin

See also: Short hairstyles