Nuance by Tracey Hughes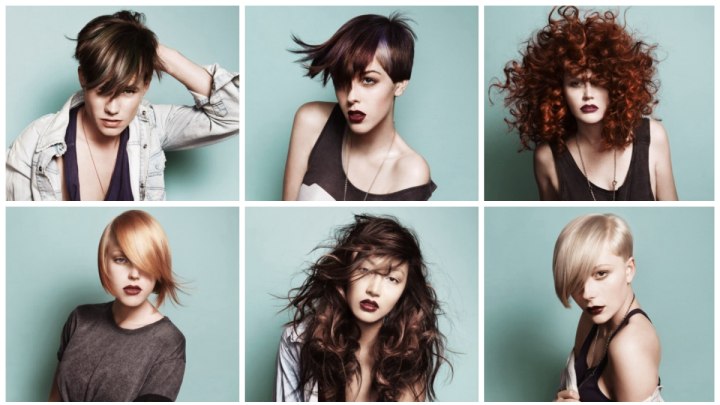 Bold effects and feminine expression dominate this collection by the so very talented Tracey Hughes. Her short, long and curly hairstyles vibrate with energy and style. Their feeling is confident and passionate. This modern elegance with a refreshing amount of casual can make even the most fashion shy person become a believer.

In the world of Tracey Hughes we find classic ideas that underwent a major lift and updating together with intriguing colors, that make a statement, but do not take anything away from the romantic, wild and even futuristic haircuts which are all based on geometric shapes.


Soft Look for Men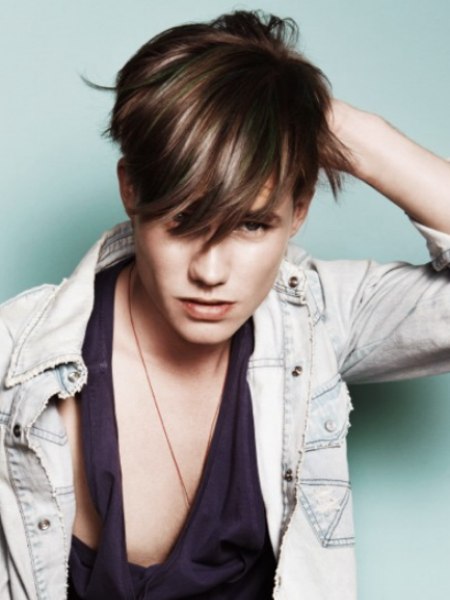 This haircut turns soft with its long fringe and soft, tousled texture. The sides are extremely short and the mild colors are perfectly blended. Dark blonde and a cool, light ashblonde add even more to the soft approach of the look, which at the same time does not lack a bit in the rebellious department.

Roundness does not mean that there cannot be an edge to a style and this one definitely has plenty of attitude. It is easy to restyle at home and one of those amazing hairstyles that can actually be touched and slept on without ruining its charisma.


Geometric Short Haircut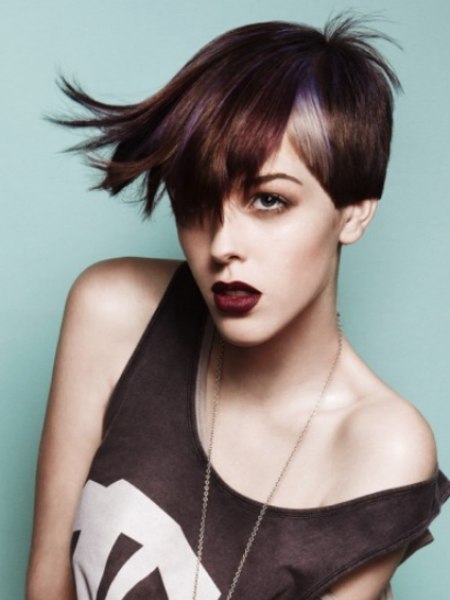 The fun begins once the long fringe is moved to the side to reveal all the finesse that resides just underneath. Short and straight cut sides accentuate the geometric idea for this haircut while a longer and textured top section plays with the senses and uses tousled effects to generate a soft and very trendy appearance.

The colors are finetuned with darker (brown) and lighter (aubergine) shades, softly interspersed, then one bold and bright flash of lavender lightning accentuates the undercut corner between fringe and side.


Wildest Curls Ever


Opulence that makes you want to scream and a red that is almost scandalous. If you do not mind being the star of the party and the center of, especially male, attention, then pump up those curls. They come in smaller and larger sizes and also as corkscrew shapes and are in different stages of dishevelling.



Tousled styles are hot again on the runway and will be everywhere else too. One of the reasons for their popularity is not just that they are super sexy and look like just slept in, they are easy to style even outside of the salon. For this specific hairstyle long layers in the hair help to distribute all of the weight of this mesmerizing, tousled mass.


Flirty New Bob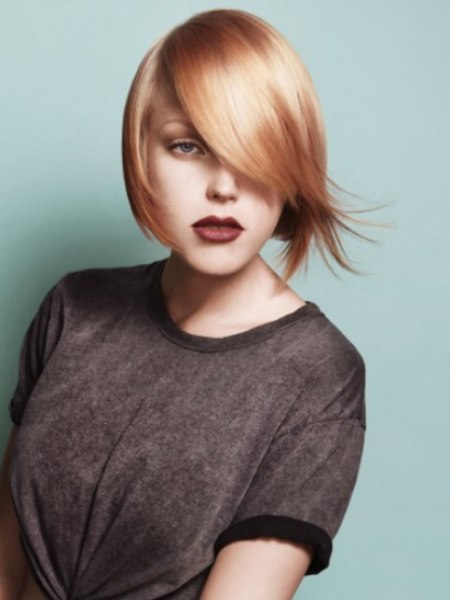 Slinky, blonde and with irregular lenghts ... what more can you wish for? This outburst of elegant elements mixed with modern movement and texture is too delightful to pass up. A short bob is the base of the exotic creation and it turned into classy modern with its elongated sections and the strong sliced texture at the edges in front.

A long fringe shrouds a part of her face to keep the mystery alive and all of the movement is gently directed to one side. The color is a soft and almost rosy shade of gold. Her dark lipstick makes a strong impact in contrast with the light color of her hair.


Tousled Long Hair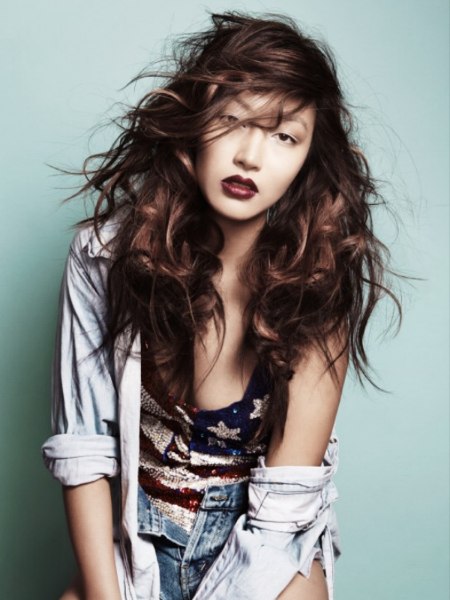 Long layers gone wild! The texture and architecture of this bedazzling long hairstyle reminds of shapes that we can find in nature, in the trees, on land or in kelp forests under the sea. Long, thick strands are teased, frizzed and scrunched all over the place for a sexy tousled style that is artful and extravagant as long hair can be.

The fine nuances in the color, a blurred contrast of caramel and dark brown, add a whole other dimension to it and a very fine touch is the transparent, wiggly veil that shrouds the top quarter of her face.


Short Cut with a Long Fringe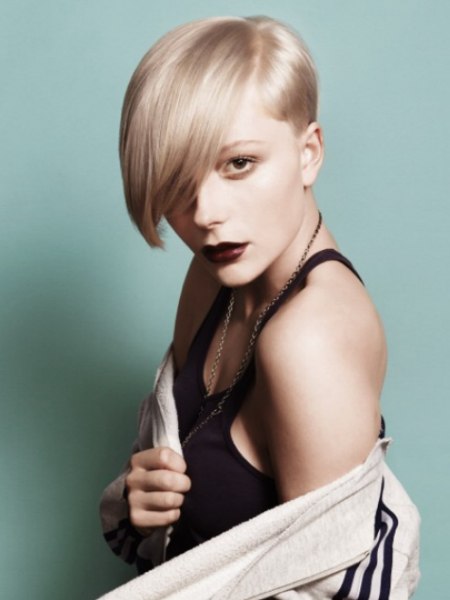 Platinum chic in a new millenium shape. However it is not as new as it may seem since elements of this radical cut have been around since the 1920s, but more for the dapper men of that time. With its long, plunging fringe, the soft texture and gentle yet intense color, the haircut takes on a very feminine vibe. Very sexy is the ultra short neck.

Hair: Tracey Hughes - Mieka Hairdressing
Color: Olivia Zynevych
Make-up: Sue Marshall
Fashion Stylist: Elaine Marshall
Photography: Amber Toms