Tchip - Hairstyles AW 16-17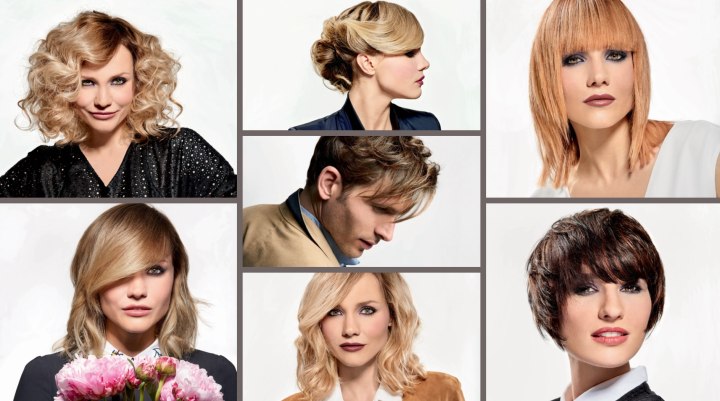 The best way to change your entire look is by changing your hairstyle. A preppy and fun hairdo can uplift your mood better than sunshine and coffee. Medium length and short hair is back in vogue and this time styles are ranging from classy and elegant to fun and wild. There is a haircut for all types of people out there.

This Tchip collection showcases some brilliant ways to wear short and medium length hair. Most hairstyles are colored with an ombré technique to enhance length as well as to add an air of volume to the style. Low maintenance and easy styling are the main idea behind these creative and fun hairdos.



You don't have to spend your money or time on hairdressers to look fantastic every single day. A simple wash and blow-dry is often enough to make you look like a million bucks.


Style for Fine Hair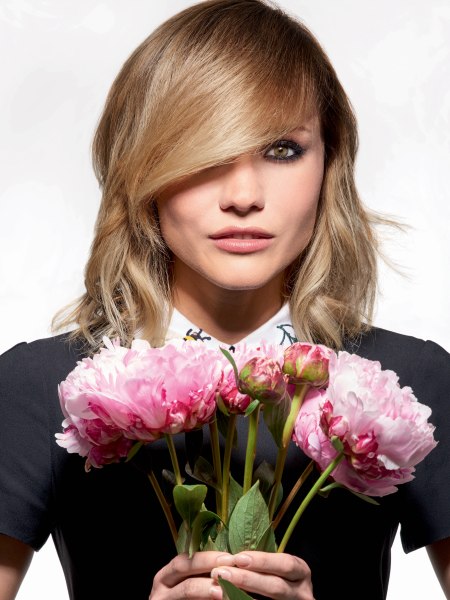 This one is for all the fine haired ladies out there. Since thickness and volume is missing from your hair, you can try this look as it covers the flaws efficiently. Go for medium length hair and avoid both short and long haircuts as they might bring unwanted attention to your fine hair.

From the arch of an eyebrow, bring a straight line into the hair. The exaggerated part and side bangs make the hair drape over the forehead and cover one eye. Gently texture the side bangs and cut them at chin-length. You can always add some curls at the ends for a fuller and more voluminous look.


Voluminous Hair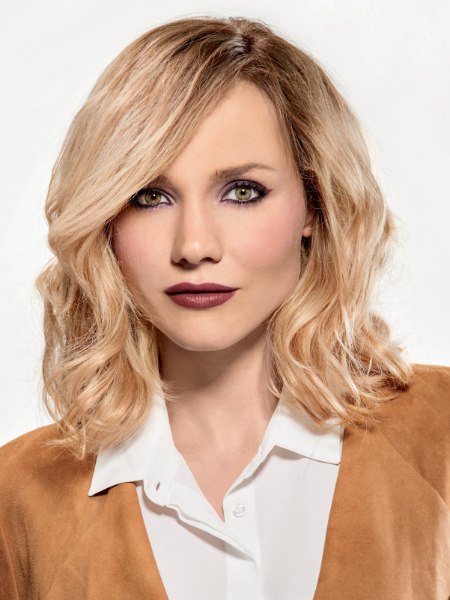 Another take from what we saw previously. This works perfectly on fine hair. A great way to add volume is by creating large spiral curls and scrunching the hair with mousse to keep everything in place. Opt for a wide side part, which is a great way to create an illusion of voluminous hair.

If you want to color your hair, try a gradient technique. This is a fantastic way to create an illusion of longer hair without adding any inches. Try using dark blonde for the roots and lighter blonde for the lengths. You can add very light golden blonde highlights to create shine and softness.


Crazy Curls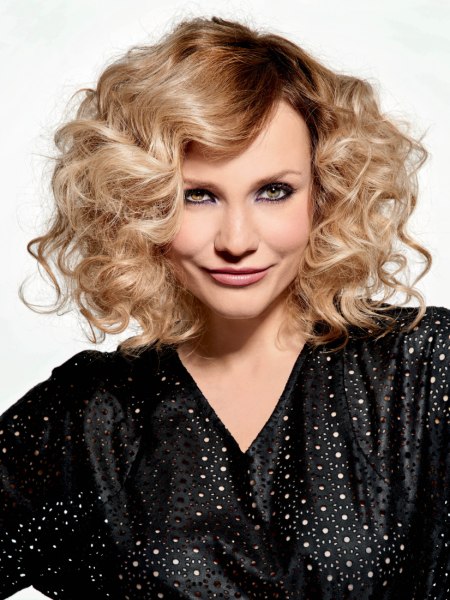 Crazy curls are back with a bang. Create this funky and wild look for a night out with your friends. Start with between shoulder length and chin length hair. Next, use the biggest curling iron or rollers you have and curl the hair up. To copy this hairdo exactly, remember to break the curls and tease the roots for that big hair look.

Last but not least, spray a mighty amount of hairspray to keep everything in place. Since the hair is rather short, you can choose an ombré hair color to add an illusion of volume. Go from dark brown to butterscotch blonde to finally pale golden blonde.


Updo with Side Bangs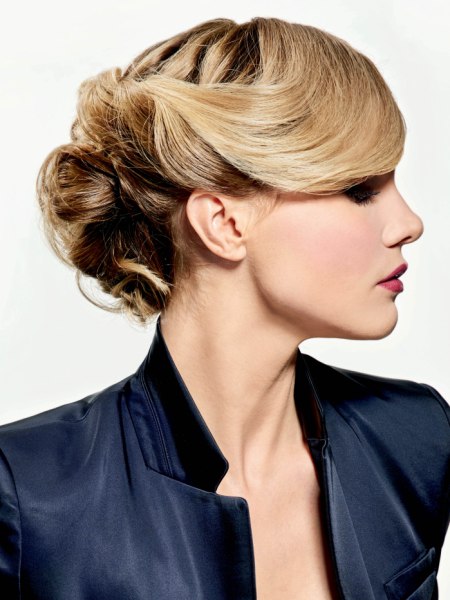 This is brilliantly constructed updo with side bangs that can be accomplished with both medium and long hair. Simply divide the back section and clip away the front layers. Roll a few inches of hair and neatly secure them with bobby pins. Style the front section carefully by spreading the hair and draping it over the side of your face, overshadowing an eye.



This is possible only on squeaky clean and dry hair. You can use a dry shampoo to combat oiliness if you are running late. Try this style for an office party and trust me, everyone will have eyes only for you.


Sharp Angles and Tapered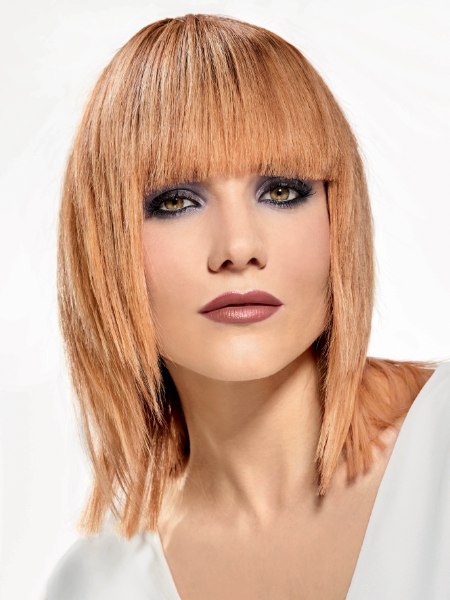 Make a fashion statement by choosing a bright hair color and cutting sharp angles to frame your face. The bangs are cut straight across with razor sharp precision, falling below the eyebrows. They meet the sides at a 90° angle. The sides are tapered below the chin. This haircut is a good choice for a round face shape as it counters the roundness and it lengthens the face.

It is best if one color is used all over the hair as you want to bring all the attention to the beautiful cutting lines. This hairstyle is for people who are bold and brimming with confidence, not for the weak hearted.


Quick Short Hairstyle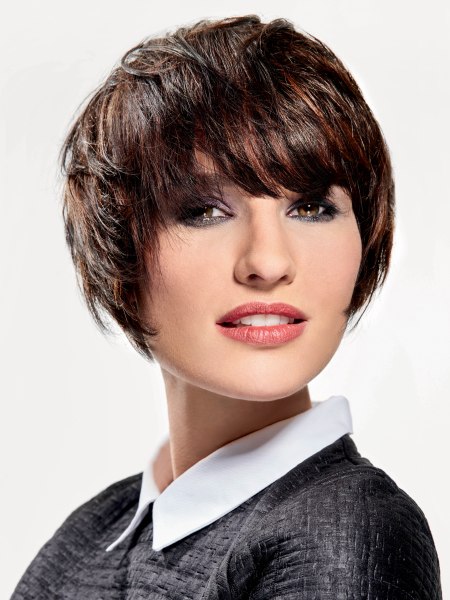 This is a classic short hairstyle that a lot of women love wearing. It is a simple multi-layered back angled bob cut with tapered sides and attractive long bangs. For an effortless stylish look, go for a dark chocolate brown without adding any highlights.

Blow-dry and bring all the hair towards your face. To bring everything together, use your fingers and play with the hair for a purposely casual finishing touch. This is so quick and easy to style every morning. If you are always late for work, then this haircut is most convenient.


Side Bangs for Men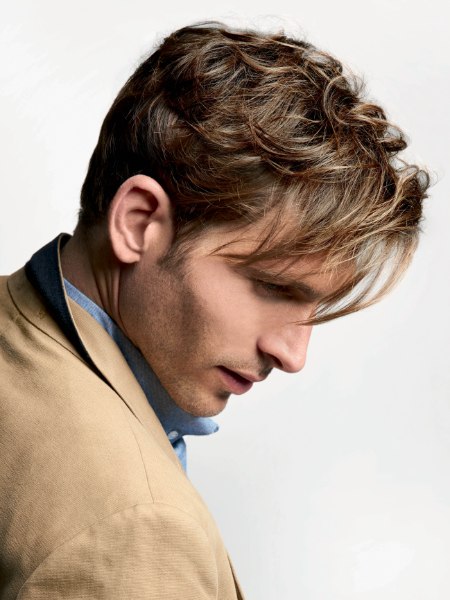 A men's hairstyle with long side bangs might look unusual to some of you, but give us a chance to change your opinion about this hairstyle. The sides and back should be kept fairly short, while the crown section can be longer with textured layers. The front section can be kept extra long and styled sideways, away from the forehead.

Make sure that the front layers are grazing a few centimeters below the eyebrows. A good way to make this haircut stand out, is adding lighter shades with blonde highlights on brown hair.

Hairstyles: Tchip